PHOTO: Wes Welker signs head of thrilled 11-year-old girl
Broncos receiver Wes Welker made the day of an 11-year-old girl on Tuesday.
• 1 min read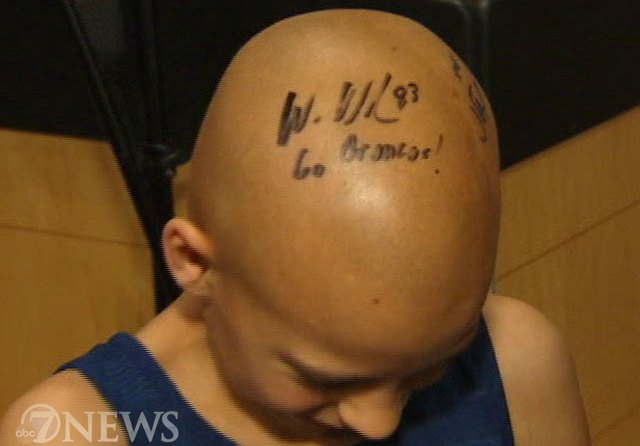 Broncos receiver Wes Welker signed an unusual autograph Tuesday. On the top of an 11-year-old girl's head. And as you can probably tell from the above photo, she looks thrilled to have received his signatur. 
(You also could infer that she might be crying, but she's not. She's ecstatic).
As the ABC affiliate in Denver explains, Welker served as  a celebrity chef on Tuesday at an event at a children's hospital in Aurora, Colo., and that's where he met Delaney Clements, who is fighting stage IV neuroblastoma. She's undergoing treatments that have made her hair fall out.
Thus, Welker signed her head, and afterward, she told the TV station that she planned not to wash her head ever again.  
Make sure to check out the entire video here.
Patriots QB's ring, given to one of his friends/family members, was auctioned off to an anonymous...

If the Redskins get petty, Cousins will try and get his vengeance through a grievance

The Dolphins also donated $100,000 to the victims' fund after the school shooting that killed...
The Cardinals GM explains his process for finding Carson Palmer's successor

Stefen Wisniewski narrowly missed out on a chance to earn $250K, but the Eagles gave it to...

Shazier heads into the Steelers' facility every day and helps with 'personnel stuff'