PHOTOS: 700,000 and one pony show up at Seahawks Super Bowl parade
Marshawn Lynch threw Skittles and a pony showed up as the Seahawks celebrated the franchise's first Super Bowl win with a parade in front of 700,000 people on Wednesday.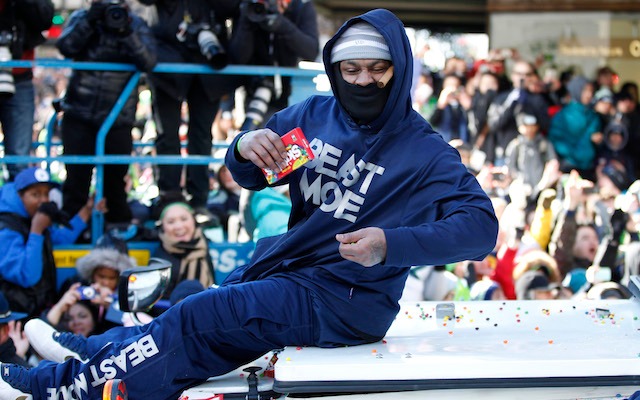 If you're wondering if everyone in Seattle showed up for the Seahawks victory parade on Wednesday, the answer might actually be yes. According to official estimates, over 700,000 fans showed up at the Super Bowl parade. The entire population of Seattle is 634,000.
The Seahawks crowd is also bigger than the Ravens and Miami Heat parades combined. After Baltimore's Super Bowl XLVII win, 400,000 fans showed up for the parade. After the Heat's 2013 NBA title win, 200,000 fans showed up for the parade in Miami. 
Of course, there might have been more than 700,000 at the parade, Super Bowl MVP Malcolm Smith had a slightly higher estimate. 
Wow there are a GAZILLION @Seahawks fans here!! You guys are undoubtedly the best fans in the @nfl (or any sport for that matter) #12thMan

— Malcolm Smith (@MalcSmitty) February 5, 2014
So who was at the parade? Everyone, including a lost 49ers fan and this pony. If ponies are going to be showing up at the Seahawks vicotory parade, maybe we should let Seattle win every year. 
The #12th pony! #Celebrate48 #liveonkomo pic.twitter.com/6yfw2RxI7J

— Photographer Fred (@PhotogFredKOMO) February 5, 2014
Besides the pony, lets take a look at some of the other great pictures that social media had to offer of the Seahawks Super Bowl XLVIII victory parade.
Lets start with celebrities. You remember Wilson, don't you? He was the star of Cast Away. Apparently, he's a big Seahawks fan. 
WILSON!!! @Seahawks fans are the best! #12parade #Celebrate48 http://t.co/JUQCgXTBQX @DangeRussWilson pic.twitter.com/XCKzZwVp6M

— Jenn Banday (@jjbanday) February 5, 2014
Just in case you're wondering, this is what 700,000 people look like. 
Seattle Police estimate 700,000 fans in Seattle for the #Seahawks Super Bowl Parade. Pic: @devpriya #Celebrate48 pic.twitter.com/Wghk2RetaY

— Tim Williams (@12thmanTim) February 5, 2014
Hopefully, no one lost the Lombardi Trophy. That thing can't be easy to keep track of in a crowd that big. 
Congratulations to ALL #Seattle sports fans! The Lombardi Trophy! #Celebrate48 pic.twitter.com/jIjgcMZdzW

— Doug Kimura, SPHR (@DougKimura) February 5, 2014
Seahawks coach Pete Carroll seems to be enjoying the moment. 
Captured @PeteCarroll as the parade began. His expression tells it all. #Celebrate48 #GoHawks pic.twitter.com/ptMkoQNYLk

— Kristi Waite (@kristiwaite) February 5, 2014
If you were being carjacked during the parade, hopefully you were able to solve the problem on your own. 
#BREAKING: City of Seattle asking people to get off cell phones, 911 calls not working due to 700k at #Seahawks Parade - @710ESPNSeattle:

— Tim Williams (@realtimwilliams) February 5, 2014
You can't have a victory parade without a giant Fathead of Russell Wilson wearing a Pilot's hat.
I've watched this video five times and every time I feel more sorry for anyone who had to go to the bathroom during the parade. THERE ARE SO MANY PEOPLE! AND SO FEW BATHROOMS!
This car wasn't in the parade, but it should have been. Marshawn Lynch could have gone Beetle Mode.  
Finally lets end with this picture. It wasn't taken on Wednesday, but it was taken at a parade, so it counts.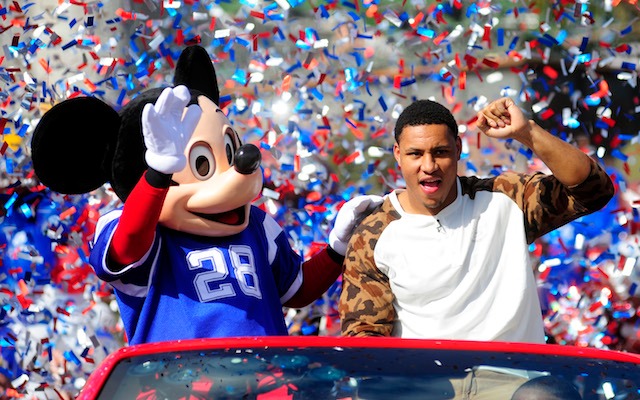 Bill Belichick has had enough of Mexico for now

John Elway hinted that Lynch may wind up under center for the Broncos soon

Our computer model simulated every Week 12 NFL game 10,000 times with very surprising resu...
SportsLine's red-hot NFL expert is all over the Saints and another huge NFL underdog to win...

Do you believe in miracles?

A Dallas Cowboys Salute to Service thermal pullover makes for the best early Black Friday...