PHOTOS: Colts QB Andrew Luck at the World Cup
Colts quarterback Andrew Luck is in Brazil supporting the United States.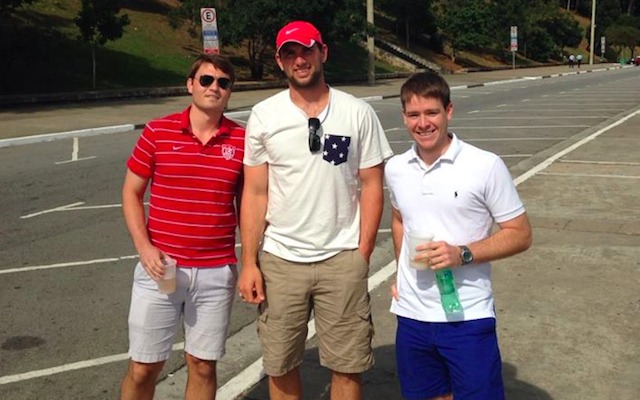 It's been an offseason full of soccer for Colts quarterback Andrew Luck. Back in April, Luck took in a soccer match with teammate Coby Fleener in London where he watched West Ham vs. Liverpool play.
How do you top watching a soccer match in London? By going to the World Cup -- and that's exactly what Luck did this week. 
The Colts quarterback was in Brazil all week and apparently he was willing to take pictures with anyone who asked, like these guys. 
Ran into Andrew Luck on our way to Recife. He's a huge fan of @clint_dempsey ! pic.twitter.com/mOYNi7Ho5k

— Richard Couch (@RichCouch2006) June 25, 2014
Funny that the guy above mentioned that Luck's a big Clint Dempsey fan because...
Ran into Andrew Luck at the airport tonight in Recife Good to see him supporting #USMNT and #Dempsey #usa #lbfbrazil pic.twitter.com/UZSStkxWfe

— Leo Pichette (@aclassicleo) June 27, 2014
Recife is where the United States played Germany on Thursday and it's also where this guy ran into Luck -- who obviously packed a lot of U.S. team jerseys. 
Now we are ready! Welcome Andrew Luck to Recife #passthelove #1N1T #IBelieve pic.twitter.com/oqXDEdxRhS

— Stephen Chriss (@StephenChriss) June 26, 2014
This hotel party then got awesome because Luck AND Steelers lineman David DeCastro showed up. The two played together at Stanford. 
The most badass USA Eve party at our hotel with #andrewluck and #daviddecastro! #USA pic.twitter.com/8gxFHEJs0t

— Ryan Cieply (@RyAn7CiEpLy) June 26, 2014
Luck didn't just watch soccer while he was in Brazil, he also played it. Don't worry Colts fans, this didn't turn into a Robert Edwards situation.  
Andrew Luck's #WorldCup tour continues. Here he is playing beach soccer. (h/t @mibesler) pic.twitter.com/zR8q29QTm0

— Jordan Heck (@JordanHeckFF) June 26, 2014
Wait, we don't have a picture of Luck in a striped U.S. jersey yet. Can we get one of those Twitter? We can! Great.
We've got GREAT #Luck for tomorrow's #USAvsBEL match. Dr. M & Dr. Gerhardt w/ @Colts QB Andrew Luck at @FIFAWorldCup: pic.twitter.com/DgxhvZg0bb

— The Win Within (@TheWinWithin) June 30, 2014
So why is Luck such a huge soccer fan? He explained it to GQ.com in April. 
"I grew up in Europe and soccer was the first organized game I played," Luck said. "When we moved back to the U.S. in the middle of fourth grade, I switched to American football, and stopped playing competitively until [Stanford], when I played intramurals."
Luck on a college intramural soccer team? Jim Harbaugh probably loved that. 
UPDATE: Luck might be moving to Brazil. OK, he's probably not, but it's been over a week and he's still there. The reason for that? The Colts quarterback is hanging around so that he can attend the U.S. match vs. Belgium on Tuesday. 
Andrew Luck is ready! He's with @ussoccer Friends & Family going #USAvBEL in Salvador! Hey @Colts #AreYouReady?? pic.twitter.com/QwHbdYqWSN

— U.S. Soccer (@ussoccer) July 1, 2014
(Wink of the CBS Eye to IndyStar.com)
Zeke reportedly didn't do anything wrong but, given his suspension, this isn't a good look

Cutler's newfound enthusiasm in Miami may seem off-putting to some, but to him it's a new...

'Snacks' Harrison made a point to call out Browns fans on Twitter after the game
Martz unloaded on the Rams for hiring the youngest coach in the league

Jackson is deciding between Brock Osweiler, Cody Kessler, and DeShone Kizer

The Giants star receiver says he hopes his sprained ankle isn't serious after a scary hit Monday...