PHOTOS: It's snowing around the NFL
It's snowing across the Midwest and the Mid-Atlantic where there are a handful of NFL games. Here's some of the best photos taken from those stadiums.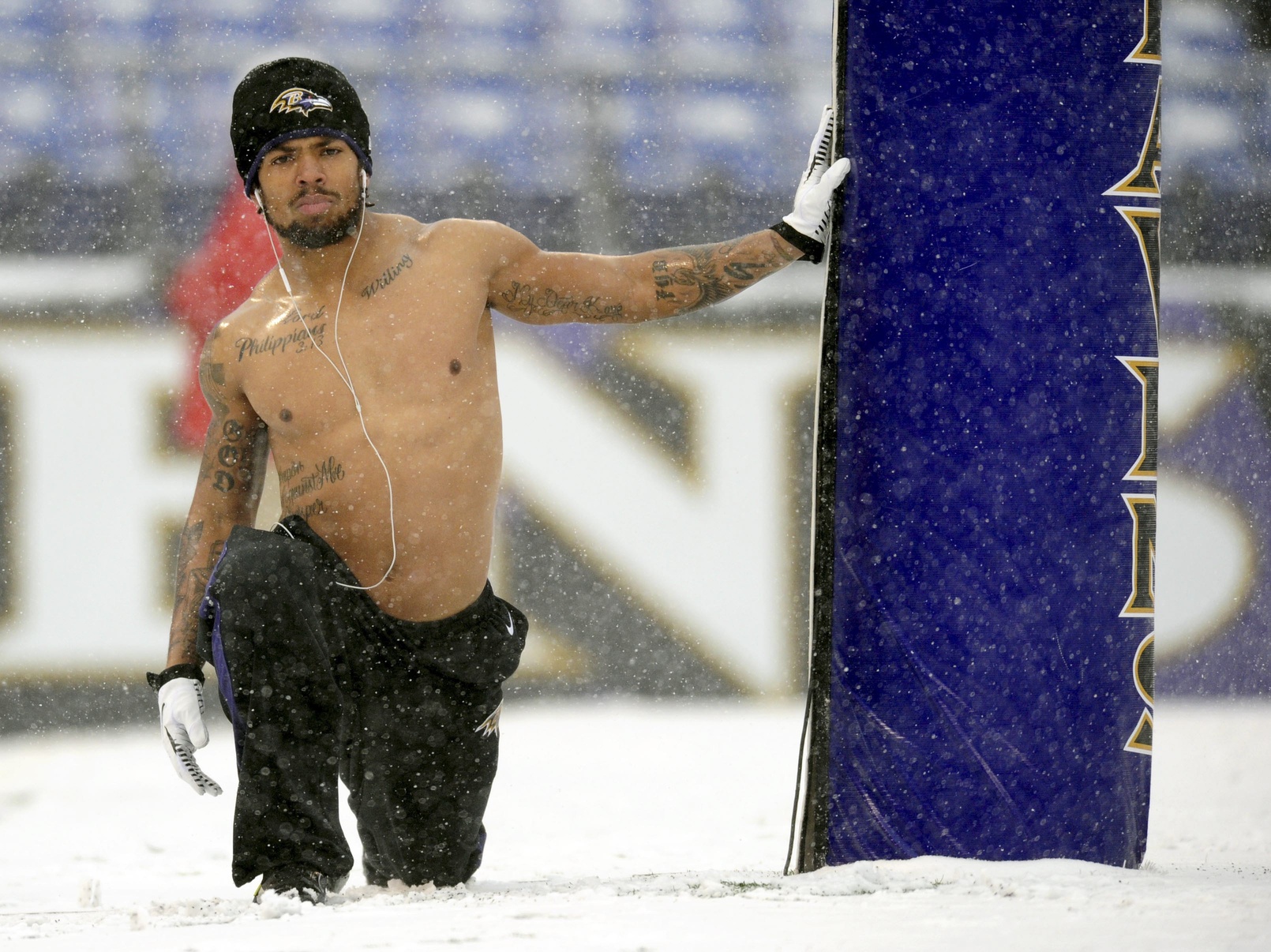 There is nothing better than football in the snow (except maybe the Super Bowl depending on who you ask). Week 14 should provide enough snow football to satisfy the appetite of fans clamoring for some pigskin in the white stuff.
In about a half hour, the Eagles' Lincoln Financial Field went from this...
Starting to stick at the Linc: pic.twitter.com/CUL2qUnbL0

— Les Bowen (@LesBowen) December 8, 2013
To this...
Super Bowl prep. RT @Jeff_McLane more snow at the Linc. Lines mostly whited out now. likely cleared before kickoff: pic.twitter.com/KfmNEDhBad

— Joe Person (@josephperson) December 8, 2013
Guys with leaf blowers trying to make yard lines visible here in Philly. Lions v Eagles pic.twitter.com/Yte8bWaHAh

— Jim Brandstatter (@brandymancan) December 8, 2013
The Eagles mascot is prepared for the snow.
Snow bird. #FlyEaglesFly pic.twitter.com/8HHFYEJxUH

— Philadelphia Eagles (@Eagles) December 8, 2013
The snow is falling in Cincinnati too.
Bengals-Colts might turn into a snowball fight pic.twitter.com/lPrA4o5OtX (via @Fox19MaryKate @Fox19Kelly)

— John Breech (@johnbreech) December 8, 2013
And Green Bay.
Snowfall is getting heavier at Lambeau. pic.twitter.com/sHc2yuzo4W

— Rob Demovsky (@RobDemovsky) December 8, 2013
But the temperature is more of a problem at Lambeau than the snow.
fan ERic Conlon said this took 10 minutes to freeze http://t.co/Vw64ZdOuGq

— Lori Nickel (@LoriNickel) December 8, 2013
Yep, it's that cold outside! Jeff Kahlow sports his Frozen Tundra headgear before Sunday's Packers game at LF. #cold pic.twitter.com/7xZy61uaZe

— Evan Siegle (@PGevansiegle) December 8, 2013
A little snow also won't stop these Redskins' fans.
A little snow won't stop these fans! #HTTR pic.twitter.com/UDu24duPJX

— Washington Redskins (@Redskins) December 8, 2013
It doesn't look like Dan Rooney enjoys the cold weather.
Dan Rooney requires a field-level credential? pic.twitter.com/UFrbrffUmQ

— Eric Kay (@ekaycbs) December 8, 2013
Updating with more photos as the snow falls...
THIS. #snow #nfl #headgear pic.twitter.com/9sUyL334CZ

— Scott Walker (@ScottWalker6) December 8, 2013
Defense doing the Cupid Shuffle to keep warm. Hey, whatever it takes. #DETvsPHI

— Detroit Lions (@DetroitLionsNFL) December 8, 2013
So much for "It's Always Sunny in Philadelphia" !!

— Peter Kostis (@peterjkostis) December 8, 2013
Press Box view for #Lions - #Eagles in 1st Quarter. pic.twitter.com/0mtA5iG4VT

— Rob Maaddi (@RobMaaddi) December 8, 2013
Grab some turkey and get ready for this NFC North showdown

SportsLine's top NFL and college football experts pick a 4-team parlay that pays 10/1

After an epic collapse against the Saints, the Redskins are hoping to right the ship
Brice Irvin is not a happy camper right now

Linda Del Rio is not happy with the president

The former New Orleans Saints wideout leads the NFL in 40-yard catches with New England