PHOTOS: Johnny Manziel takes in Red Sox game with four ladies
Johnny Manziel was at Fenway Park on Wednesday and he brought some friends with him.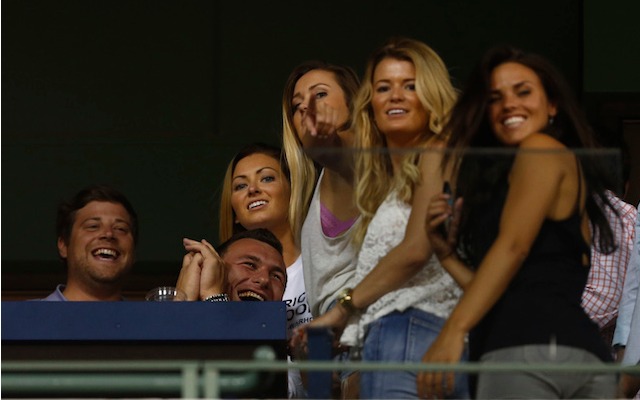 Sometimes one girl isn't enough. And if you're Johnny Manziel, sometimes three girls won't do the trick either -- but apparently four's the perfect number if you're going to a Red Sox game. 
Johnny Football showed up at Fenway Park on Wednesday and as you can see at the top of the page, he brought four girls with him. 
It wasn't all fun and games and girls for Manziel though, apparently someone spilled a drink on him at some point during the game. That's never fun. I'm guessing the girl in the picture is texting a dry cleaner.
Are Manziel's pants soaking wet? They are right? pic.twitter.com/yRaY5I73CA

— Will Brinson (@WillBrinson) July 10, 2014
Don't feel bad for Manziel though, he didn't have wet pants the entire game. Someone took a picture of Manziel before his pants got wet and Johnny Football posted the picture to his Instagram page.
By the way, I have some bad news ladies, Johnny might be off the market. He calls the girl in the picture below his 'Bae.' And it's at least the third time they've been pictured together following this picture from mid-June and this picture from late June. 
On the other hand, if you want to feel bad for Manziel -- he did eventually get ditched by his lady-friends.  
Johnny Football was in Boston to do some work for the Red Sox Foundation. Oh, and just in case you're wondering, Boston beat the White Sox 5-4 on a walk-off single by Brock Holt. 
It's RBI night at the park & some our RBI kids got a unique opportunity to ask Johnny Manziel a few questions! pic.twitter.com/gypQN27wup

— Red Sox Foundation (@RedSoxFund) July 9, 2014
The Steelers didn't have to look far to find their replacement for Todd Haley

The pop superstar will seek halftime show redemption at Super Bowl LII

Our computer model simulated the AFC and NFC title games 10,000 times with surprising resu...
Todd Haley's name has also been floated as a possible replacement

It wasn't the matchup that we expected, but the Jaguars would argue that's everyone else's...

CBS All Access allows viewers to stream every NFL game on CBS in their local market