PHOTOS: Seahawks visit White House to celebrate Super Bowl win
The Seattle Seahawks were in Washington DC on Wednesday to visit the White House.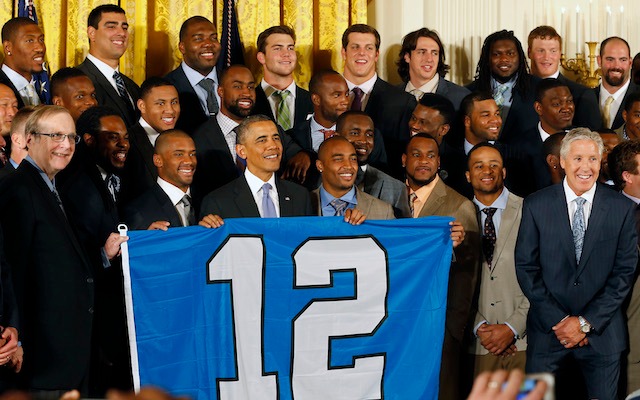 Three months after winning Super Bowl XLVIII, the Seahawks finally got to visit the White House on Wednesday.
The trip included everything you'd expect a Seahawks White House trip to include: There was a 12th man flag, a defensive lineman wore a floral coat and someone even tried to take a selfie with the president even though you're not allowed to take a selfie with the president (Thanks a lot David Ortiz). 
Anyway, lets recap all the fun the Seahawks had at the White House.   
Quarterback Russell Wilson spent the day taking selfies. Like this one he took with Abraham Lincoln.
President Lincoln and I! #Selfie http://t.co/tI6fRpx8xA

— Russell Wilson (@DangeRussWilson) May 21, 2014
Speaking of selfies, Russell Okung tried to get kicked out of the White House by breaking the presidential 'no selfie' policy.
... and they said no selfies. pic.twitter.com/9Rwk3YFHdB

— Russell Okung (@BDR76) May 21, 2014
Speaking of getting kicked out of the White House, it's surprising that didn't happen to defensive lineman Jesse Williams, I mean, look at that coat. 
Award for best floral suit jacket worn by a Seahawks player at the White House today goes to Jesse Williams pic.twitter.com/U0Ne3BzWQA

— John Breech (@johnbreech) May 22, 2014
Seahawks punter Jon Ryan is Canadian, so it's somewhat surprising he was allowed to get this close to the president, right? Or does secret service not pay attention to Canadians? I don't really know. 
What's up Prez? pic.twitter.com/RzKYxEt66F

— Jon Ryan (@JonRyan9) May 21, 2014
The Vince Lombardi Trophy also got to make the White House trip. 
The Vince Lombardi Trophy is poised to meet the President. #superbowlchamps http://t.co/6z00g7Msf8 pic.twitter.com/PWjp2Y5bny

— Seattle Seahawks (@Seahawks) May 21, 2014
I'm not sure if the Seahawks were having a scavenger hunt, but if they were, Doug Baldwin found the napkins first. 
I found the napkins... #WeInHere pic.twitter.com/w3QtFTQmnv

— Doug Baldwin Jr (@DougBaldwinJr) May 21, 2014
Then there was Richard Sherman. He called this his 'Creeper shot.'
If you're wondering who the best president ever is, Derrick Coleman gives his vote to Bill Clinton. And that is Bill Clinton, not JFK, as one fan seemed to think.   
Finally, we leave you with kicker Steven Hauschka reflecting on the season that was...
It's a reflecting pool, Steven Hauschka. So... pic.twitter.com/YLNkIaF3yQ

— Seattle Seahawks (@Seahawks) May 21, 2014
Oh, and Seahawks fans, Robert Turbin said he's going to try and make this happen
I talked to @BarackObama at the @WhiteHouse today & he said he will see what he can do.. #12thMan #SBChamps pic.twitter.com/5i9PyPXnS2

— Robert Turbin (@RobT_33) May 21, 2014
The Falcons are trending in the right direction after a 34-31 win over the Seahawks in Sea...

It's the best division in the NFL and it's not even close

Larry Hartstein has his finger on the Vikings' pulse and made a play for the Thanksgiving Day...
National sports writer Mike Tierney tells you who to pick in your Week 12 football survivor...

For whatever reason Seattle decided to try a fake before the end of the first half

The Giants aren't the only NFC East that might've quit during a game this season