PHOTOS: Thunderstorm in Chicago disrupts Bears-Ravens
Twitter users shared dozens of photos from Soldier Field showing the conditions around the stadium.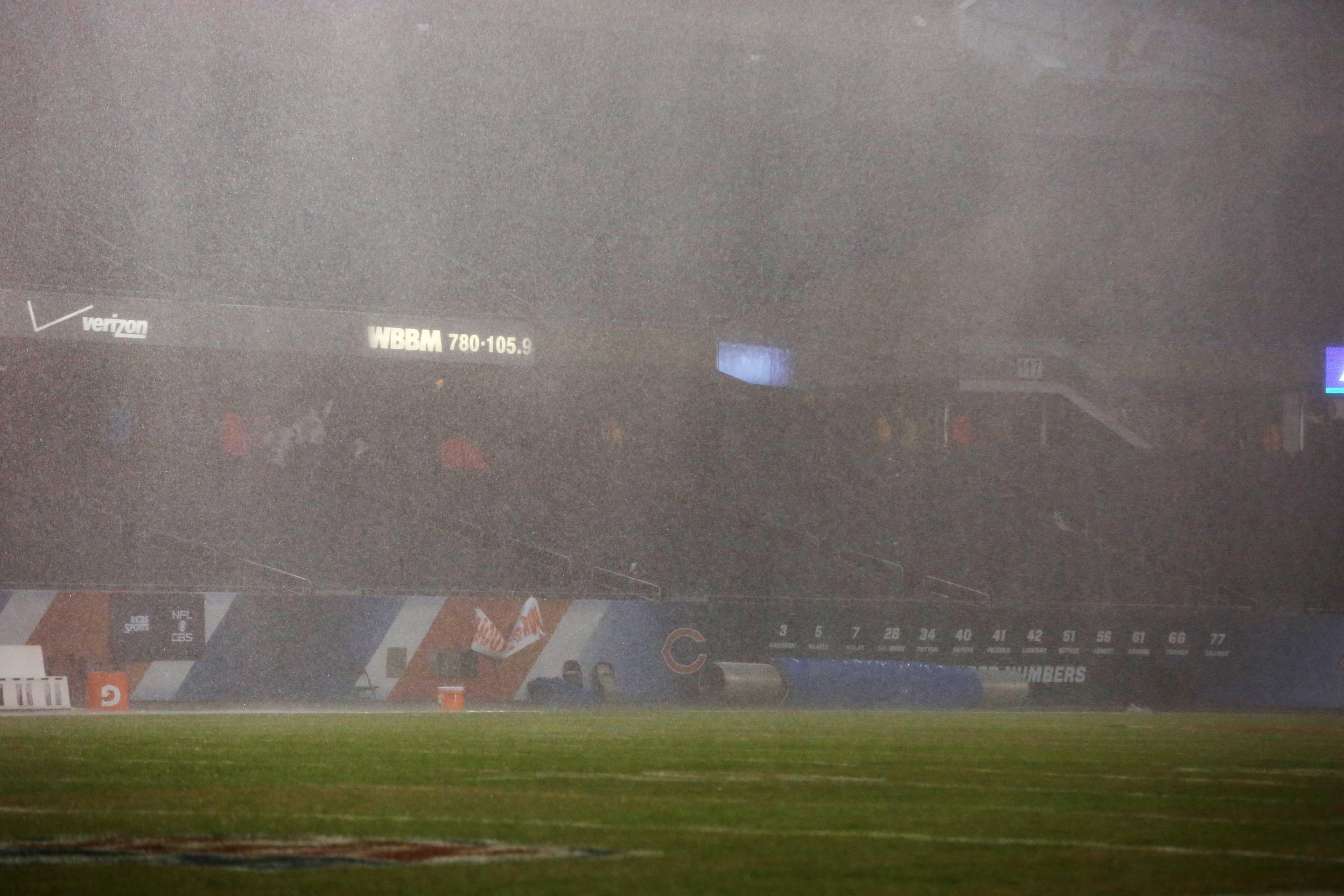 Violent thunderstorms rolling through the Midwest sent the Bears and Ravens into the locker room and fans scurrying for shelter.
During the weather delay, fans and journalists snapped photos of the conditions at Soldier Field in Chicago. Here's a few of the best:
I'm not a meteorologist but that looks bad. pic.twitter.com/H4l9NnjAEv

— World of Isaac (@WorldofIsaac) November 17, 2013
Looks like a White Sox game. ZING. pic.twitter.com/fVlzUIYK63

— Tom Fornelli (@TomFornelli) November 17, 2013
My brothers view at the Bears game. @thedina28 pic.twitter.com/XcPkSr2CRU

— Angelia Rendina (@angeliarendina) November 17, 2013
#Bears saying a possible 3pm re-start time at Soldier Field. Meanwhile, poncho sales have gone up substantially. pic.twitter.com/TB945iffnr

— Dave Furst (@DaveFurst) November 17, 2013
Under cover @ChicagoBears game. Our scene behind sect 252. All concessions closed #bears #tornado pic.twitter.com/y1XUHoH0oN

— Mike Paone (@mjpaone) November 17, 2013
The Ravens-Bears game is in a weather delay as tornadoes circle the area. (via @CindyBoren) http://t.co/MeXZCCNcHQ pic.twitter.com/J33OSXUwkB

— Post Sports (@PostSports) November 17, 2013
OK so weather is effecting the game a bit! #FantasyFootball #Bears pic.twitter.com/a9JnV6yfhi

— FantasySavior (@DaFantasySavior) November 17, 2013
Soldier Field is an ocean. Oh wait, that's the tarp. #bears (Tribune Photo) pic.twitter.com/mouIGA6DJM

— Amanda Kaschube (@amandakaschube) November 17, 2013
There's a reason the concessions are closed...oh the humanity.
Was just told by Soldier Field employee that concessions were stopped because TOO MUCH beer was being sold.

— Amy Jacobson (@AmyJacobson) November 17, 2013
Finally, a little humor to go with the rain.
Don't cross your beams, Chicago! pic.twitter.com/f0RnvvWrGw

— Denny Burkholder (@DennyBurkholder) November 17, 2013
No doubt. RT @RobertKlemko The Bears probably manufactured this weather delay. #RayLewisConspiracyTheories

— Albert Breer (@AlbertBreer) November 17, 2013
Double rainbow hovering over many of Western Suburbs. Winds are gusty and there is a noticeable temperature drop pic.twitter.com/luFrsl640N

— Tracy Butler (@TracyButlerABC7) November 17, 2013
The former No. 2 overall pick drew interest this offseason but did not play in 2017

This matchup isn't quite as glamorous as it looked when the schedule was released in the s...

Patriots-Steelers highlights a week filled with playoff-caliber games
Cleveland's quarterback has recently improved, but his turnovers have been a big part of the...

Warren Sapp was one of several players named in a lawsuit against NFL Network

Check out the uniforms that Denver and Indianapolis will be wearing on Thursday