Players threaten not to wear newly mandated leg pads
If the NFL owners thought they could pass a new rule mandating the use of thigh and knee pads beginning in 2013 -- something they did Tuesday -- and not draw the wrath of the players, they were incorrect in that assessment.
• 3 min read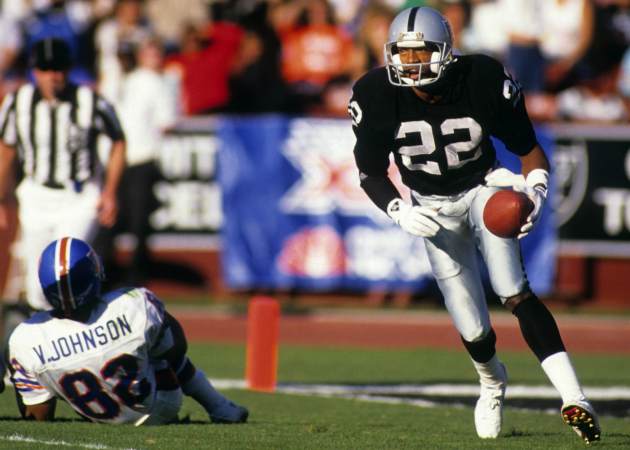 Playing with leg pads didn't stop Mike Haynes from becoming a Hall of Famer. (Getty)
If the NFL owners thought they could pass a new rule mandating the use of thigh and knee pads beginning in 2013 -- something they did Tuesday -- and not draw the wrath of the players, they were incorrect in that assessment (of course, there's little chance the owners and commissioner Roger Goodell actually thought the new law would be smooth sailing).

Because it sounds like some of the players who will have to wear the pads are not pleased with the new rule. And it sounds like some of them don't want to adhere to it (even if they'll be barred from playing the game for not doing so).

"There'll probably be a lot of fines in 2013," Chargers cornerback Quentin Jammer told UT San Diego. "A lot of guys won't wear them."

And by "a lot of guys," he's referring, at the minimum, to Quentin Jammer. Asked point-blank if he would wear leg pads, Jammer said no.

"It's dumb," Jammer said. "Ridiculous to me. I don't think anybody should be required to wear (them). I don't get hit, so I don't need to worry about pads. Offensive players should wear them because we hit them, but I don't think it should be mandatory.


Leg pads, thigh pads, oh my!

"You play this game because you want to play this game, and the risks you take are the risks you take. If you don't want to wear hip pads, knee pads or thigh pads, you shouldn't have to. It should be a choice."

Then, Jarret Johnson, new Chargers linebacker, got in on the act, playing the old "the owners have never played the game before" card (just one time, I'd like to hear the owners retort, "Oh yeah, well, you've never been worth hundreds of millions of dollars and you've never been able to buy, sell and trade players.").

"They're saying, 'Why do players always complain about player safety if they're not going to wear thigh pads?' Well, thigh bruises and knee bruises aren't ending careers," Johnson said.
"This, to me, is a PR stunt … If you get hit in the legs, you're doing something wrong. You're either getting cut or standing there. Usually, when guys are aggressive and they're hitting back, the legs aren't usually getting hit."

Oakland's Ron Bartell, meanwhile, has begun financial planning, because he also says he will decline the pads.

"I'd better put some fine money away," Bartell told the Contra Costa Times.

"It takes away from the speed of the game," Bartell said. "Hip pads, knee pads, thigh pads. They're not going to stop you from tearing an ACL. It may stop a couple of soft-tissue injuries, but a knee pad isn't going to stop a guy from blowing out a knee."

No word, though, on how players who refuse to wear leg pads will respond when they're told they can't play the game without them.

For the record, the NFLPA already has weighed in on the issue, releasing a statement in which the union said, "Any change in working conditions is a collectively-bargained issue. While the NFL is focused on one element of health and safety today, the NFLPA believes that health and safety requires a comprehensive approach and commitment. We are engaged in and monitor many different issues, such as players' access to medical records, prescription usage and the situation with professional football's first responders, NFL referees. We always look forward to meeting with the NFL to discuss any and all matters related to player health and safety."

Meanwhile, the owners say that any safety precaution -- even if it's not going to help with concussions -- is better than not making any safety adjustments at all.

The saga, I imagine, only has just begun. If only for this reason.


I really don't want to wear thigh and knee pads in 2013. My legs will look so fat.

— Josh Scobee (@JoshScobee10) May 23, 2012


For more NFL news, rumors and analysis, follow @EyeOnNFL on Twitter, and subscribe to our Pick-6 Podcast and NFL newsletter. You can follow Josh Katzowitz on Twitter here: @joshkatzowitz.
Larry Hartstein is on an 8-2 NFL run and gives his best three-team NFL parlay for Week 12

Plus baby names, kicker issues and other things of interest from NFL on Thanksgiving

It was foretold, and King delivered
Kareem Hunt has fallen off after a hot start, but he can get back on track against Buffalo

A Dallas Cowboys Salute to Service thermal pullover makes for the best early Black Friday...

It's time to hook up that jersey shirt of your favorite NFL player with some Black Friday...