Playoff Picture: Dallas-Chicago impact
Here's a quick look at the impact of Week 14's Monday Night matchup of Dallas and Chicago.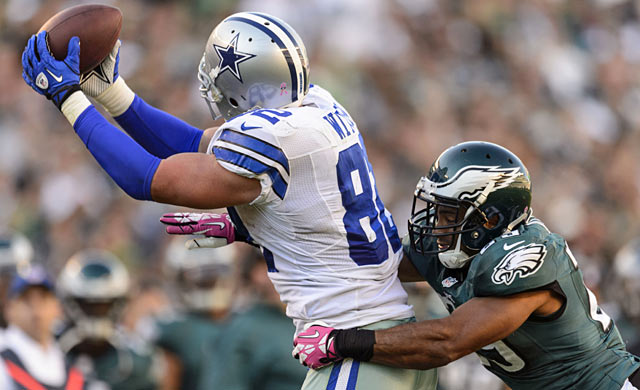 While watching Dallas (7-5 overall, 6-2 conference) at Chicago (6-6 overall, 3-6 conference) on Monday Night Football, keep in mind that this is really about two teams that need to keep pace for a division title.  Both teams have very little chance of making the playoffs as a wild card team, so this is really about matching Philadelphia's win Sunday for Dallas and taking advantage of Detroit's loss in the Philly snow for Chicago.
If Dallas wins:
• Dallas would get to 8-5 and regain tiebreaker advantage over Philadelphia for the division title as the Cowboys have a head-to-head victory over the Eagles.  Dallas would maintain control of its own playoff destiny as division champion and would also get to a strong 7-2 conference record for any future matchups against other division champions for seeding.  However, Dallas' chances of getting a first round bye are challenged since they have a head-to-head loss to New Orleans and even with a win would be 3 games behind Seattle.  If Dallas wins this game, they could lose the Green Bay game and beat Washington and still control their own destiny despite what Philadelphia does as the Cowboys would have division record superiority over the Eagles.
• A Bears loss would put them at 6-7 and place them behind Green Bay (6-6-1) in the division, and it would be their seventh conference loss.  That would officially eliminate the Bears from the wild-card race.  Having been swept by Detroit this year and being a full game behind the Lions, that would put the Bears behind the playoff eight ball overall as they would need to beat Detroit outright and they still have to head to Philadelphia on Week 16 and host Green Bay Week 17.
If Chicago wins:
• A Bears win would get them to 7-6 (4-6 in NFC) and even with Detroi,t but they have to overcome the season sweep to the Lions.  The Bears' very slim wild-card hopes would remain alive but unlikely.  Chicago's best hope is to win out and hope Detroit stumbles along the way against either Baltimore or the NY Giants at home and then finally at Minnesota Week 17.
• Dallas losing (7-6 overall and 6-3 in NFC) would put it in a precarious position for the division title and all but kill its wild-card hopes.  The Cowboys would STILL control their own destiny because a loss against the Bears and then winning out would get them to 10-6 and would give Philly its sixth loss and mean the Cowboys swept the Eagles on the season.  
The list of what-ifs runs long: Will anyone overpay for him? Will Eagles refuse to trade h...

Here's an up-to-date look at the 2018 Pro Bowl roster

New England is 3-0 wearing white in Super Bowls under Bill Belichick
Bettors are favoring the Eagles to keep Super Bowl LII close, but the Patriots remain clear...

No one wants to give the Eagles any respect

The three-time Grammy winner will sing before Super Bowl LII on Feb. 4