Playoff scenario notes: Week 13 games in 1 p.m. ET window
These are notes to follow along the Playoff Picture during Week 13 Sunday games.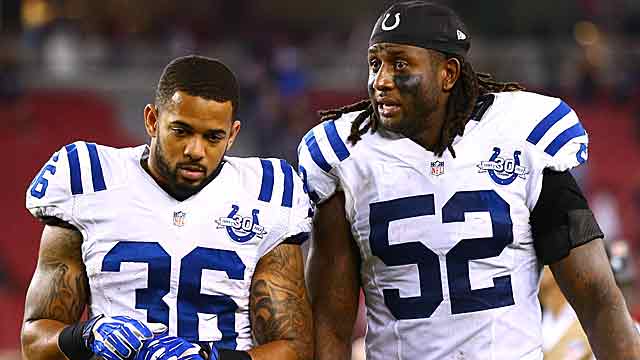 Let's walk through the Sunday NFL windows (1 p.m., 4 p.m. and 8:30 p.m.) one window at a time to check matchups as they relate to the playoff picture and scenarios.
Let's start at 1 p.m. ET  
Titans at Colts: Probably the biggest AFC game in this window. Indianapolis can create breathing room in the AFC South race with a win (three-game lead and a season sweep over Tennessee with four games left).  For the Titans, a win keeps them in the lead for the AFC's No. 6 seed, and they can get within a game of Indy in the division race. Tennessee's Achilles' heel is its division record (0-3; the Colts are 3-0).  That means the Titans likely would have to win the division to make the playoffs.
Other teams interested in this outcome are others in the race for No. 6: Steelers, Chargers and the Jets, all of whom lost to Tennessee head to head.
Patriots at Texans: New England is coming off their huge OT win over Denver and are looking to lock up the AFC East, land a first-round bye and potentially the AFC's No. 1 seed. The Patriots should root for Denver at Kansas City. They have that head-to-head win in hand and it benefits New England for Denver to stay ahead of KC, and would give New England common-opponent advantage over the Chiefs (Houston and Denver are common opponents). Regardless of the outcome of the Jets-Dolphins game, a Patriots win allows them to maintain a three-game division lead with a superior division record and only four games left.
Houston is eliminated from playoff contention with a loss PLUS a Cleveland win or tie OR a San Diego victory.
Dolphins at Jets: First of two matchups between these teams with the final matchup in Week 17. The winner will have a leg upin the AFC No. 6 seed race -- especially if it's Miami as it would have only three conference losses (all other No. 6 seed contenders have four or more conference losses). The Dolphins have wins over Cincinnati and San Diego but also have a key loss to Baltimore. The Jets' conference record is only 2-6, but they have division record advantage over Miami (2-2 vs. 0-2).  Miami has more control over its destiny as it faces Pittsburgh next week and has that strong conference record.
Jaguars at Browns: If the Jaguars lose, they elminated. Cleveland can keep slim playoff hopes alive with a win; the Browns would be only a game back of Baltimore and the Dolphins-Jets winner, but would still have a subpar 4-5 conference record.  The Browns play Miami and Pittsburgh the final two weeks.
Cardinals at Eagles: Easily the best game 1 p.m. NFC game, as the Eagles are fighting to stay tied with Dallas for the division lead and would match the Cowboys with a 6-2 conference record. The Eagles' biggest problem is Dallas' 4-0 division record; even if Philly beats Dallas in Week 17 to split the season series and get to 4-2 in the division, they still would need the Cowboys to lose to Washington to match them on the division side with two losses.
As for the Cardinals, they are playing inspired football and can maintain control of their own destiny in the NFC wild-card race. Arizona plays San Francisco in Week 17, and if they win out also would have a shot at the No. 5 seed as they have head-to-head wins over Carolina and Detroit.
Bears at Vikings: Minnesota is eliminated with a loss. The Bears can keep pace with Detroit with a win here at 7-5, but Chicago already has been swept by Detroit. Chicago has a 3-5 conference record and a loss would put them in a tough spot with a sixth conference loss and at least a game and a half behind the eventual Arizona-San Francisco winner. The good news for Chicago is it controls its own destiny with upcoming games against Dallas, Philadphia and Green Bay.
Buccaneers at Panthers: Carolina is riding a seven-game winning streak including a road win at win at Tampa Bay. The Panthers are currently the NFC No. 5 seed but have their sights set on a NFC South crown as they have two games left vs. the Saints in Weeks 14 and 16. Their other games are against the Jets at home and at Atlanta, so a win this week against the Buccaneers and win over the Saints would put the Panthers in the drivers seat. Carolina does have a loss against Arizona earlier -- keep that in mind as the race plays out.
Tampa Bay is eliminated from playoff contention with a loss.
Check back for thoughts on 4 p.m. ET window games as early games are played.
Everything you need to know about the Packers-Panthers game on Sunday afternoon

The Lions will be wearing their Color Rush uniforms for the first time on Thursday

The Lions look to maintain playoff positioning while the Bears attempt to play spoiler
The Panthers have hired an outside law firm to conduct the investigation

Here's every official injury designation for each NFL team for Week 15

Bennett was one of the few players who escaped punishment after Sunday's melee in Jacksonv...