Possible Raiders move to Los Angeles is gathering steam
Mark Davis, Jerry Jones and Hollywood mogul Michael Ovitz teamed up for the cameras, and it was no accident. There's momentum to put an NFL team (or two) in Los Angeles and enough money and influence to get it done.
• 4 min read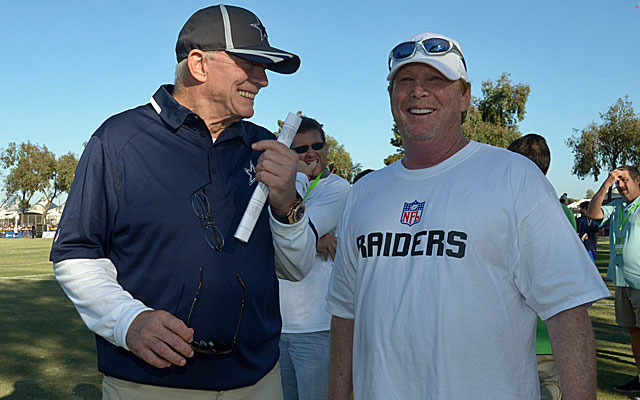 More: Davis talks to San Antonio officials | Training Camp updates
OXNARD, Calif. -- Perhaps it was all mere coincidence. It was just quirky timing that, with his franchise again a free agent after the season, and his efforts to get a stadium in Los Angeles taking on a more fevered pitch, and with him openly flirting with San Antonio to up the relocation ante, now, of all times, Mark Davis's Oakland Raiders happened to travel to Southern California for two days of practices with the Cowboys.
  But, as they stood on a field at a training complex roughly 60 miles from downtown LA, it was surely no coincidence that as soon as practice was over Cowboys owner Jerry Jones, as slick of a media maven as they come, sought out a robust gathering of reporters, and threw his arm around Davis and Hollywood mogul Michael Ovitz. Then he launched into a soliloquy about his deep relationship with Davis, and his high esteem for an LA stadium model that Ovitz conducted  and its viability to house an NFL franchise (or two, ultimately, if the NFL gets its way with this market).
This seemed like anything other than an improv act – nothing from the Actor's Studio – but rather more akin to in-your-face performance art, as the overtones of Raiders-back-to-LA were impossible to miss. Oh, and Magic Johnson (who knows a thing or two about ownership and was once represented by Ovitz) happened to be standing a few yards away, and Tommy Lasorda was sitting at a sideline-chair in a VIP area off to the side. Jones was all smiles, and the vocal – and borderline manic – Raiders fans who outnumbered Cowboys fans here and screamed as the team busses pulled up and chanting "Cowboys suck" for a good part of the afternoon made for quite the sonic backdrop to a fairly surreal scene that at times seemed like an infomercial for the NFL in LA.
Jones waxed nostalgic about Ovitz's stadium model, which cost "seven figures" to produce. He and Ovitz joked that model remains "the only stadium anyone is playing (football) in," while Davis stood on the opposite side of Jones, somewhat awkwardly. Taking the bait after the line of questioning turned to the Cowboys' recent minor transactions and Orlando Scandrick's drug suspension, I asked Jones, "Could that model still serve as a viable option for an NFL team in LA?"
"It would make a beautiful stadium," Jones said, outright beaming. "Yes it would."
 Davis, for his part, spoke of Jones almost like a father figure, in the same reverential tones both men spoke of Davis's father, Al, one of the game's great builders and a Hall of Famer. "It's a great relationship," Davis said of his bond with Jones. "I look to him for answers on everything." This was another instance in this briefing that begged for a follow up -- "Have you conferred with Jones about San Antonio?", a market Jones has dubbed as Cowboys Country.
  "We haven't talked about that yet, but we'll see," Davis said.
 Davis has no long-term viable options in the Bay Area, short of perhaps sharing Levi's Stadium with the 49ers, which he remains diametrically opposed to. He would love to move to Los Angeles and has intensified his desire to do so in recent months, spending oodles of time in the area, sources have said. The NFL, however, would prefer to give another ownership group the rights to Los Angeles -- make no mistake, the road to LA goes through the league office in New York -- as the Davis family already pulled out of Southern California once, and Davis doesn't have the real estate, marketing and overall business expertise the league would demand for the coveted market.
Of course, having Jones, maybe the most influential owner in the league, work with him to build a consortium of business giants and Hollywood elites might make that option more viable. Make no mistake, the sense of urgency of several parties to get to LA has increased, and will only consider to do so. The Rams are also lease free agents after the season and their owner, Stan Kroenke, already owns a huge parcel of land in LA that could house a stadium, and the Chargers, the franchise closest to Los Angeles, are not burdened by massive financial hurdles in their lease, either.
 Jones is among the owners who continue to speak regularly about the importance of getting a team to LA -- imagine spinning one of the league's bottom three revenue generators into a top-five earner for the shared revenue pie? -- and don't expect that to change anytime soon. He looked comfortable as ever in the salesman role, and no doubt Davis loves having him as his wingman, doing the talking for him.
 Maybe it amounts to nothing in the end, but Davis is clearly becoming increasingly visible and vocal about his dalliances with other locales, and no doubt he covets Los Angeles above San Antonio or anyplace else.
Gordon's various suspensions will once again prevent him from truly reaching free agency

The Colts traded for Brissett prior to the start of last season due to health concerns for...

Colvin was a big part of Jacksonville's defensive improvement but is likely moving on
Vinatieri is about to finalize a deal to return for his age-46 season

Freddie Roach is one of the most decorated boxing trainers there is

Gruden knows about the pressure of his new gig, and he isn't shying away from it