LAS VEGAS -- If the Raiders decide to make the move to Las Vegas, the NFL better be ready to embrace gambling because there's going to be no way to avoid it: The proposed stadium site in Sin City is practically on the Vegas strip. 
The $1.2 billion domed stadium proposed by Las Vegas Sands would be built on a 42-acre plot owned by UNLV. The new stadium would seat 65,000 people and serve as the home to UNLV's football team. 
If the Raiders also decided to play in the proposed stadium, that means they would be located less than a mile from the MGM Grand.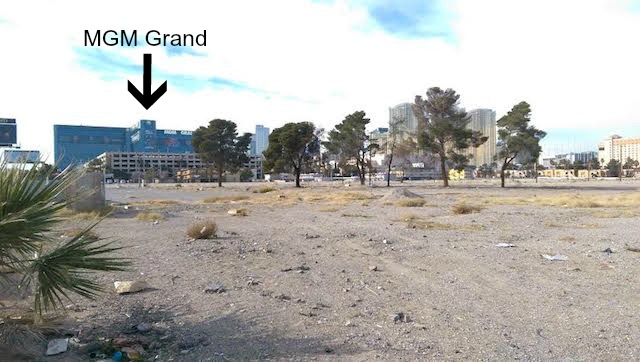 The stadium site is also right next door to McCarron Airport. In the clip below, you can see the airport, followed by the 42-acre site, followed by the strip. 
It's unclear how serious Raiders owner Mark Davis is about moving his team to Vegas, but we do know this: Things are serious enough that he visited with Las Vegas Sands CEO Sheldon Adelson on Friday.  
Our chairman Sheldon Adelson had a great visit w/ Mr. Mark Davis. Looking forward to future conversations. #Respect pic.twitter.com/M3hB2DoWp2

— Las Vegas Sands (@LasVegasSands) January 29, 2016
Adelson's company would spearhead the stadium project and although the Sands will likely still build the stadium even if the Raiders don't move to Vegas, it's clear that Adelson would like the team to move there, and it's also clear that Davis is at least somewhat interested.
Told by source idea of #Raiders moving to Vegas is very real. Mark Davis and Sheldon Adelson have been discussing it for two years.

— Jason Cole (@JasonColeBR) January 29, 2016
One of the biggest obstacles for a potential Raiders move to Vegas is the NFL. The Sands is a casino giant that operates The Venetian and Palazzo and the league probably wouldn't want the Raiders to get involved in a project with them. 
However, there's also the possibility that the league would be willing to overlook the gambling issue if Vegas is willing to build a stadium. In January 2015, NFL commissioner Roger Goodell was asked if he thought Vegas could sustain an NFL team and he didn't exactly shoot the idea down. 
"I haven't had any dialogue with officials in Las Vegas about how that could happen successfully for Las Vegas and for the NFL," Goodell said. "A stadium would be a big component to that. I'm not sure that exists right now. I do understand the passion of the fans in Las Vegas and their interest in football."
Goodell left the possibility open if Vegas was willing to build a stadium. Now that the city appears prepared to do that, it will be interesting to see what the commissioner has to say about the Vegas situation when he meets with the media on Feb. 5, two days before Super Bowl 50.
If things ever do get to a point where the Raiders start finalizing a deal to move to Vegas, don't look for sportsbook operators to make any concessions to help the deal. 
Jay Kornegay, who runs the Westgate Las Vegas SuperBook, the largest sportsbook in Vegas, says there's no way sportsbooks would stop taking Raiders bets if they moved to Nevada. 
"We've taken wagers on UNLV and Nevada games for 15 years and had absolutely no issues," Kornegay told CBSSports.com. "It would be awkward to accept wagers on our college games but not our pro teams. I would love to see a team here as long as they don't entertain the idea of keeping the games off the board as a concession."
Bettors in Vegas have been allowed to gamble on UNLV and other Nevada colleges since 2001.
One more thing to keep in mind is that even if the Raiders don't go to Vegas, that doesn't mean another team won't try. 
Andy Abboud, the senior vice president of government relations and community development for the Las Vegas Sands, told the Las Vegas Review Journal that the Sands has spoken to officials from multiple teams.