Power Rankings: Resilient Seahawks move to top of the charts
The Chiefs and Broncos brace for a Rocky Mountain showdown, but both are a notch or two behind the impressive Seahawks.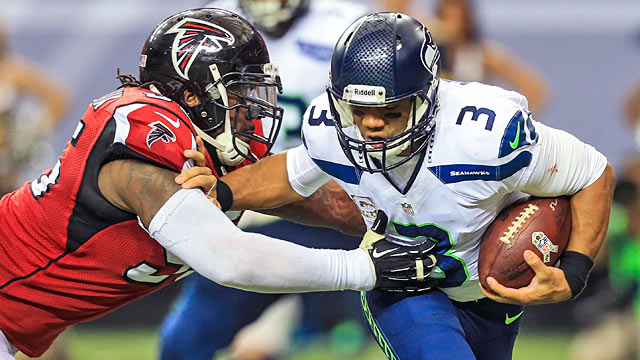 Many have doubted the real credentials of the 9-0 Kansas City Chiefs , but this well could tell the tale. A head-to-head matchup with the Broncos in Denver could be one of the games of the year.
For now, the Chiefs rank one slot ahead of their AFC West rivals, but both are slotting in just behind the impressive Seahawks.
1. Seattle Seahawks : Seattle is 8-2 in their last 10 road games and they don't lose at home. Missing three of their starting offensive linemen went into Atlanta and put 33 points on the board.
2. Kansas City Chiefs: Off a bye, the 9-0 Chiefs are preparing for a showdown with the Broncos this week. A win this week will be an even stronger statement than the Panthers' win over the 49ers.
3. Denver Broncos : Scoring just 28 points is odd for a team that averages 43 per game. Manning might not be 100 percent after a late injury. The Broncos need to protect him this week against Kansas City; home field throughout the playoffs could be at stake.
4. New England Patriots : The Patriots were on a bye weekend but were starting to show significant signs of returning to the aggressive offense of previous years.
5. New Orleans Saints : The Saints machine at home is almost impossible to stop, and 49 points on the Cowboys was a great reminder. Unless they do a better job out on the road this team is not going to make it back to a Super Bowl.
6. Detroit Lions : The door was open to take the lead in the NFC North with the injury to Aaron Rodgers and a chance to sweep the Bears. The Lions are in the driver's seat.
7. Carolina Panthers : The Panthers were on a four-game winning streak heading into San Francisco, but the opinion about this team was they hadn't played anyone. They just held the 49ers to nine points and now are top ten team. Carolina has given up 57 points in the last 5 games.
8. Indianapolis Colts : No one saw a 38-8 beating at home against the Rams coming but it happened, and there are questions about how good this team really is without Reggie Wayne . The Colts rushed for 18 yards against the Rams.
9. San Francisco 49ers : The Niners have a good defense and will be a playoff team, but their offense is a question mark, especially if Kaepernick has to win with the passing game. He was sacked six times in 28 pass plays.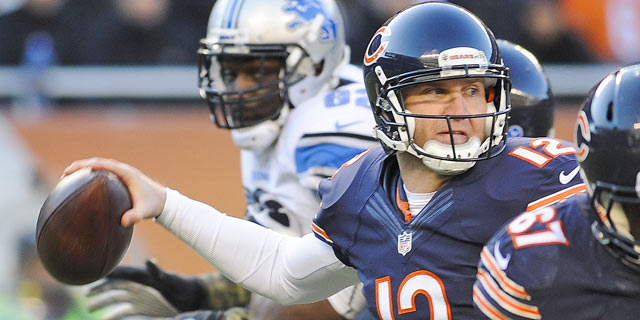 10. Chicago Bears : The Bears might have been better off using Josh McCown for another week than Cutler, who was not 100 percent and had a setback in the loss to Detroit.
11. Cincinnati Bengals : The Bengals aren't there yet as an elite team. They are good but inconsistent because of their youth and quarterback. Dalton has now thrown nine interceptions in the four losses.
12. Philadelphia Eagles : Nick Foles is really starting to turn the Eagles into a front runner for the NFC East title: 8-8 might win this division and the Birds already have five wins. Foles has thrown 10 touchdowns in the last two games.
13. Green Bay Packers : I think Scott Tolzien is a better option than Seneca Wallace , but without Rodgers for four or more games, the season is headed in the wrong direction.
14. New York Jets : Coming off a bye, they have a chance to be a wild card if Geno Smith can be more consistent. The defense shows up and the run game is much improved.
15. Dallas Cowboys : The Cowboys are in a four-game, win-loss-win-loss situation. The defense plays hard up front but the injuries and lack of solid play in the back seven was an issue Sunday. They are headed to a much needed bye.
16. Baltimore Ravens : The Ravens' pride came through loud and clear in the win over Cincinnati at home. This week a game in Chicago will be difficult, but it is followed by three very winnable home games. Baltimore could climb back in the race this month.
17. San Diego Chargers : The Chargers defense is a group on no-name players, and even though they lost to the Broncos, they held them to 28 points. In the past four weeks the Chargers have given up 65 points (16 per game). The Chargers will hang around the playoff race for most of the season.
18. Tennessee Titans : You don't lose at home to Jacksonville 29-27 and be taken seriously as a playoff contender. Now they have to go without QB Jake Locker .
19. Cleveland Browns : The Browns are coming off a bye and have a chance to sweep the Bengals in Week 11. A win like that and they become serious contenders in the AFC North. Jason Campbell has settled this team down and they already have a good defense.
20. Arizona Cardinals : The Cardinals have five wins ... that's right five wins. Now they head to Jacksonville. They already have wins over Detroit and Carolina.
21. Washington Redskins : With just three wins, they are not out of the NFC East race, but it isn't looking good. Giving up 34 points last week to the Vikings isn't a good sign and neither is the fact they have given up over 30 points six times this year.
22. St. Louis Rams : The Rams are getting better play from backup QB Kellen Clemons, and if you can't block their pass rush you will get beat by the Rams. This could be a dangerous team in the last six games of the season.
23. Miami Dolphins : With all that is going on with the Dolphins, what gets lost is they were a 4-4 team heading into Tampa with a legitimate chance to make the playoffs, but they are headed in the wrong direction now.
24. Oakland Raiders : Contain Terrelle Pryor and you beat the Raiders. I give them an A for effort, but they need more talent.
25. Pittsburgh Steelers : Two weeks ago the Steelers gave up 55 points and last week they gave up 10. It's always a question which Steelers team will show up. They are 5-11 in their last 16 games.
26. New York Giants : The G-Men are on a three-game winning streak and the return of Andre Brown has saved their running game. Next up are the Packers without Aaron Rodgers.
27. Minnesota Vikings : The Vikings put a stop to a four-game losing streak with a win over the Redskins last week but now head to Seattle. It's going to be hard for this team to win six games this year.
28. Buffalo Bills : Everything the Bills are doing is to prepare for 2014. Their rookie QB, EJ Manuel , needs lots of playing experience, and one more good draft and they will be contenders.
29. Atlanta Falcons : Mike Smith isn't going anywhere, according to my sources. Simply put the Falcons need to get healthy and rebuild the defense. 2013 is an ugly chapter in a good book.
30. Houston Texans : No one saw this coming, but it's here: a seven-game losing streak averaging 16 points a game is awful.
31. Tampa Bay Buccaneers : Finally a win, and it is clear to me Mike Glennon is getting better with all the game experience he is getting. It's a shame they lost another running back this week.
32. Jacksonville Jaguars : My hat's off to the Jaguars for never giving up and getting a win on the road this week. They still may be the team with the first pick in the draft.
Stephen Hauschka explains why it's important for white people to understand racial inequal...

Surgery is going to end Jason Verrett's season for the second year in a row

There's still a couple of celebrations you're not allowed to do in the NFL
NFL players aren't very happy with Donald Trump

NFL commissioner wasn't thrilled with the president's comments from Friday

Mike McClure, a DFS pro with more than $1M in winnings, gives optimal DraftKings and FanDuel...