Pre preseason notes: Dunlap deal, Lake Tahoe golf, FA updates
A few bits of preseason news, including how the Bengals' Carlos Dunlap deal limits their options on another key D-lineman (Michael Johnson) and updates on Jay Cutler, Josh Freeman, Eric Winston and Lake Tahoe.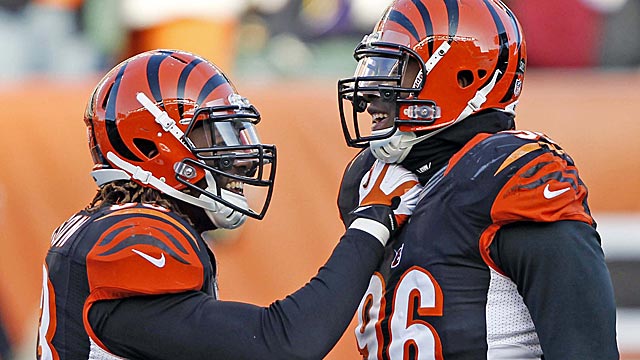 It doesn't get much slower in the NFL than mid-July, yet a few things going on caught my interest this week:
1: I'm happy for Carlos Dunlap and his new contract with the Bengals, reportedly worth $40 million. But it seems to me that if they got that deal done a week or two ago, the Bengals would have had some potential options with Michael Johnson.
With James Harrison under contract and a solid pass rusher, second-round defensive end Margus Hunt on the roster from the draft and Robert Geathers on the roster as a backup, Cincinnati could have put Johnson on the trade market. Of course, an interested team would have had to negotiate a long-term deal with Johnson before any deal would have been consummated, but guys like Johnson are hard to find. Consider that the former third-round pick is 26 years old, had 17 1/2 sacks in the last two seasons and has rare size at 6-foot-7, 270 pounds. A number of teams would or should be interested. Now that the deadline for signing franchise players has passed, no one will do a deal and the Bengals are positioned to let him walk next year for no compensation.
I doubt they'll put another franchise tag on Johnson, which would pay him over $13 million in 2014, especially with defensive tackle Geno Atkins scheduled for free agency. I had a personnel director tell me "Atkins will reset the market for defensive tackles, not Ndamukong Suh." A team like Tampa Bay or Atlanta could have locked up Johnson as their right defensive end for the next five years. A deal that would have sent a second-round pick to the Bengals that would have become a first if Johnson topped his 11 1/2 sacks this season would have been worth it. Sure those clubs will get a shot at him in free agency, but so will everyone else.
2. Lake Tahoe: I'm heading to Lake Tahoe to cover the celebrity golf classic this weekend. It's an event loaded with NFL players and former players. It's the last event of the summer before most camps open. I do my Sirius Radio show from the driving range and always get the players to sit and talk about the upcoming season and, of course, their golf game. I'm looking forward to spending some time with Alex Smith, Aaron Rodgers, Carson Palmer, Sebastian Janikowski and A.J. Hawk among others. I will report on football issues of interest.
3. Is there really a wait-and-see game to be played? Bears and Bucs fans feel like they want to wait and see how Jay Cutler and Josh Freeman perform before new deals are put in front of the players. Both guys are considered to be in the gray area when it comes to contract extensions. As one GM said this week with a smile on his face, "Those two guys wouldn't last a week on the open market; sign them now or pay even more." I hope the clubs don't announce the silly unwritten rule about not negotiating during the season. Like it or not, quarterbacks cost a lot of money and Cutler and Freeman aren't settling for something a lot less than Tony Romo or Matt Stafford got.
4. Eric Winston, the right tackle who played well for the Texans especially in the run game and spent one year with the Chiefs, is still looking for work. I talked with Winston this week and he remains patient and confident something will happen in the next few weeks. He's not a guy trying to skip out on camp and show up a week before the opener. He hasn't missed a start in six years and never misses practice. Winston is 29 years old and still has a few good years left in his career. The challenge for clubs is waiting until they incur an injury at offensive line -- if so, the leverage switches to Winston -- or signing him now when he might take less to be on a roster for camp.
The NFC is going to be a blast to watch down the stretch, but don't sleep on the Patriots'...

The Dolphins just created a serious shock in the AFC and MVP races by beating the Patriots

With their 2017 season basically over, it's time for Texans fans to turn their attention to...
Now 10 different players have intercepted Tom Brady multiple times in one game

Brady lofted it between two defenders and Lewis snatched it with one hand