Preseason finale gives Michael Sam chance at lasting impression
The Rams are expected to give Michael Sam a heavy workload in Thursday's preseason game at the Dolphins, to see whether the NFL's first openly gay player should make the final roster.
• 1 min read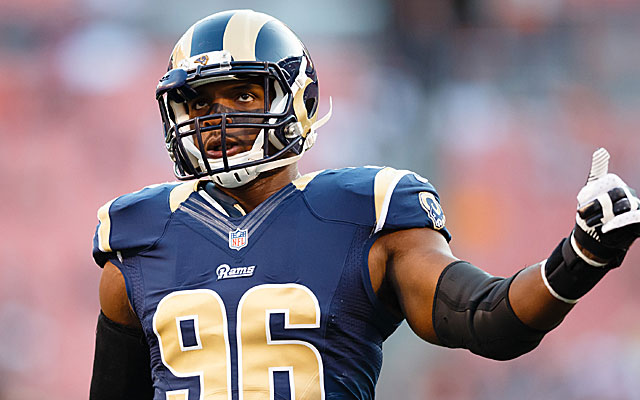 The fourth NFL preseason game is among the more meaningless enterprises in pro sports, and following a rash of injuries last week the Rams intend to rest a vast majority of their starters Thursday night.
For rookie defensive end Michael Sam, however, Thursday's game at Miami will be vital to determining whether he makes the 53-man roster.
Sam is scheduled for a heavy load. The Rams are deep in the defensive front -- it's among the best stocked in the NFL -- and whether Sam makes the final roster is very much in debate, sources said. He has flashed at times on the pass rush but questions remain about his ability to hold up under more significant workload and as to whether keeping him over a more versatile lineman would be in the best interest of the club.
"He can play in the league," one member of the organization said, "and there's probably a roster spot out there for him."
The question remains whether Sam can crack the Rams roster at this position. Sam is a tweener -- not particularly big or fast -- and the game against the Dolphins will be a final opportunity for him to make a statement.
The reaction to Sam, the first openly gay player in the NFL, has been universally positive among his teammates and coaches, and there is no shortage of people rooting for him to make the team and have a productive NFL career. Coach Jeff Fisher supports him wholeheartedly and has the authority to more or less carve out a roster spot for him if he chooses to, but at its core this will be a football decision and in that regard Sam still has something to prove to cement a spot on the team, sources said.
The Green Bay Packers quarterback seems to be a go for the Carolina Panthers game

Shazier's season might be over, but he still wants to help his team

The young head coach took the blame after a heartbreaking loss to the Eagles
Our computer model simulated every Week 15 NFL game 10,000 times with very surprising resu...

Britt is going from the worst team in football to a Super Bowl contender

With three weeks to go in the regular season, the MVP race is wide open