Preseason Musings: Read-option QBs should prepare to get blasted
NFL teams have spent a lot of time on read-otpion defenses this summer, and the consensus is that quarterbacks are about to be hit a lot more.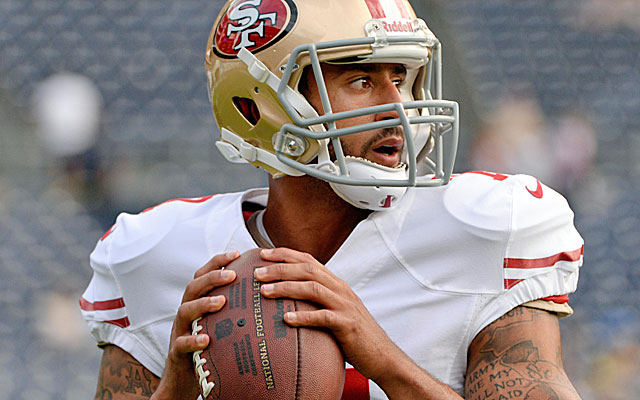 After four weeks traveling for camp and preseason games, I thought it a good time to take a look back at some of the things that I gathered, saw, discussed and evaluated on my travels.
The first, as you might expect, involves the read-option.
Read-option quarterbacks take note: You are about to get hit. A lot. It will happen over and over and over again.
NFL defenses have spent the offseason working on ways to combat the read option. And after talking with many coaches and players this summer, the consensus is that the quarterbacks will take many more shots this season when they run the read-option, including when they play out the fakes.
"When these guys carry out the fakes, and don't show that they don't have the ball, they are going to get hit," one NFC coach said. "I think that's what defenses will be designed to do. He's got it tucked down off play action like he has it he's going to get hits."
"I wouldn't want to be a read-option quarterback," one NFC defensive end said. "They're going to get smacked."
This has become such a concern with some teams that use the read-option that they've talked with the NFL officiating department about how they will police the hits.
The rule states that if the quarterback is carrying out a fake, he can be hit. If he shows he doesn't have the ball, he is off-limits. The San Francisco 49ers, who run read-option with Colin Kaepernick, have already talked with the league about this, according to one source.
It's a smart move. They want to protect their franchise player.
"You can hit him," another NFC coach said. "And we will. The Ravens tried it in the Super Bowl with their ends, but they didn't really hit him. This time, people are going to hit those guys. Those hits are like body blows by a puncher in a fight. They will help take the air out of them, wear them down. They can be effective."
I have a strange feeling we're going to see more 15-yard hits on the quarterback than we have in a long time.
So get ready, read-option quarterbacks. They will be taking a lot more of those pain killers than normal this season.
Slow the train down
The hype over second-year quarterbacks Andrew Luck, Robert Griffin III, Russell Wilson and third-year quarterback Kaepernick is out of control. You know it's bad when a certain network manufactures a story that has one of the best analysts in the business stating Kaepernick could be one of the greats.
Uh, he has 10 starts, counting three in the playoffs.
I also think Kaepernick has what it takes to be special. But he needs to show me more. So does Wilson. So does Luck and so does RGIII.
We are so fast to put these guys into the Hall, and the reality is nobody knows if they can do it again. We think they can, but we don't know.
You would think by the hype they all threw for 4,500 yards, 30 touchdown passes and won rings. Not one of them hit any of those targets.
Yet here we are talking about their greatness.
I think they all have a chance to be really good. But please, can we slow it down some?
Let them go around the league another year before we start building busts for all of them. The odds are that one of them will have a down second season as a starter. Who will it be? That's to be determined, but I will predict one of them isn't who we think he is right now.
Odds and ends from the camp tour and the preseason
• NFL backup offensive lines are horrible. It's hard enough to get five guys functioning together when they are the starters. But it's even worse when you look at the depth of the league's lines. Where are all the offensive linemen? "I think it's because all the big hits get on TV now, and sack guys get paid, so guys are gravitating to defense," one AFC personnel director said. "Playing on the offensive line doesn't get you commercials." Come to think of it, the starting lines weren't great in the preseason. But getting cohesion takes time. That's why some offenses struggled during the summer.
• We will see a record number for points scored this season. With all the spread offenses and up-tempo teams now, it's going to be a wild ride. We will see teams put up huge numbers. There will be a lot of shootouts. We have a lot of coordinators who aren't afraid to take chances on offense. I like that. It's fun. Enjoy it.
• The fullback is being phased out in a big way. Teams are using more one-back sets, which means the once-glorified position of fullback is dying out. You still need a short-yardage blocker, but teams are more apt to move a tight end into that role now.
• The preseason has to be cut down, maybe even eliminated. It's just too risky for players and it is an eyesore for fans. After the first half of the first game nobody cares. Football is back, and then is fizzles. So cut it down to two games or even eliminate it. Back in the day, teams needed it. Now they don't. Please make it go away. Replace it with intra-squad work for two weeks with little contact.
• Head shot or knee shot? Neither? But if a player had to take one, it would be the shot to the head. I've asked many a player in recent years, and several recently, what they'd prefer. To a man, it's the head hit. Knees are money. The head hits could be an issue down the road, but they care about the now. Even a high school player, playing for nothing, would take a head shot over a torn ACL. They just want to play.
Gimme five
Five biggest areas of concern still remaining for some of the power teams
1. Falcons right side of the offensive line. They lost Mike Johnson, the schedule right tackle starter, for the season. That leaves untested Lamar Holmes as the starter. He has struggled, but I do think he can develop.
2. Broncos rushing attack. Ronnie Hillman and rookie Montee Ball haven't exactly lit it up in the preseason.
3. Patriots receivers. Who catches the outside passes from Tom Brady. Danny Amendola will be fine in the slot, but the Patriots are young outside. That might not be a bad thing.
4. Texans outside pass rush. Where does it come from this season? With J.J. Watt, you'd think they'd be able to pressure better from the outside. They need more from Whitney Mercilus and Brooks Reed.
5. 49ers receivers. Yes, they have Anquan Boldin. What else? Nobody has stepped up in a big way to take over opposite him.
Five players ready for national attention
1. Robert Quinn, DE, Rams -- His teammates rave about him. Aaron Rodgers did too. He can be special.
2. Muhammad Wilkerson, DE, Jets -- He is a force on that defensive line and could be ready for a huge season.
3. Harrison Smith, S, Vikings -- I love rangy safeties and he is that. Smith is also a willing tackler. This second-year player could be ready for Pro Bowl stuff.
4. Kevin Zeitler, G, Bengals -- He started as a rookie, had some moments where he struggled, but he is stronger and knows what to do now. He could be a Pro Bowl player.
5. Michael Brockers, DT, Rams -- He has trimmed some body fat and the Rams expect huge things from the player with the long beard.
Five players who should have their fans concerned
1. Arian Foster, RB, Texans -- He was bothered by leg and back injuries during camp and he's piled up a ton of carries the past three seasons.
2. Santonio Holmes, WR, Jets -- He is just now back on the field with that foot injury and says he has a ways to go. Anytime the foot is an issue, that's concerning for any player, but especially a receiver.
3. King Dunlap, LT, Chargers -- He is the blindside protector for Phillip Rivers, but is he good enough? He has struggled at times with the Eagles in pass protection the past few years.
4. Trent Cole, OLB, Eagles -- He will be 31 in October and is coming off a down season. He's also making the move frown down end to stand-up linebacker.
5. Ed Reed, S, Texans -- He missed the entire preseason as he battles to come back from hip surgery.
Five non-first-round rookies who have caught my eye
1. Jaguars CB Dwayne Gratz -- He competes. And he will start. He is a physical corner who will excel in Gus Bradley's press-man scheme -- even if he might have some growing pains without much of a pass rush.
2. Patriots TE Zach Sudfeld -- I liked him coming out of Nevada, but he had injury issues. Now he looks to be the Patriots' go-to threat in the middle of the field.
3. Packers CB-S Micah Hyde-- He seemed to have a great instinct for rushing the quarterback as a nickel back. That is something Charles Woodson used to do well. Hyde isn't a burner, which is why he can't play corner, but he is a damn good football player.
4. Kenbrell Thompkins, WR, Patriots -- At a position of need, this rookie has come in and earned a starting job. He has been impressive.
5. Giovani Bernard, RB, Bengals -- I love air backs. He will give them a Darren Sproles-type of dimension to the offense.
Five biggest impact injuries
1. Dennis Pitta, TE, Ravens -- The reason they let Anquan Boldin go was because Pitta was expected to pick up the slack in the middle of the field. When he went down for the season, it left a big hole for the offense.
2. Rob Gronkowski, TE, Patriots -- He is still rehabbing from back surgery and has not taken part in practice. There is a chance he will go on the PUP list.
3. Bryan Bulaga, LT, Packers -- With Bulaga out for the season, the Packers will start rookie fourth-round pick David Bakhtiari. He impressed me when I watched him work against the Rams.
4. Jonathan Cooper, G, Cardinals -- This first-round pick was already starting and impressing, but he is out for 10-12 weeks with a broken leg. The Cardinals line is a concern anyway, so losing him is a hit.
5. Stephon Gilmore, CB, Bills -- This was the year I expected him to take his game up to a high level. But his broken wrist will limit him for probably half the season.
The Chargers, after starting 0-4, can take first in the AFC West with a win Sunday

The Lions cruised to a victory but will need to win out to have any chance of reaching the...

Here's every official injury designation for each NFL team for Week 15
This might go down as the best catch of Week 15

Our computer model simulated every Week 15 NFL game 10,000 times with very surprising resu...

Ryan Shazier and the Steelers were the big winners in Pro Bowl voting that was unveiled on...