Prisco's Pro Bowl picks: Peyton Manning, Drew Brees edge Brady
The NFL's Pro Bowl teams will be announced Friday night. Pete Prisco gives you his picks following the new league format. It's no more AFC vs. NFC.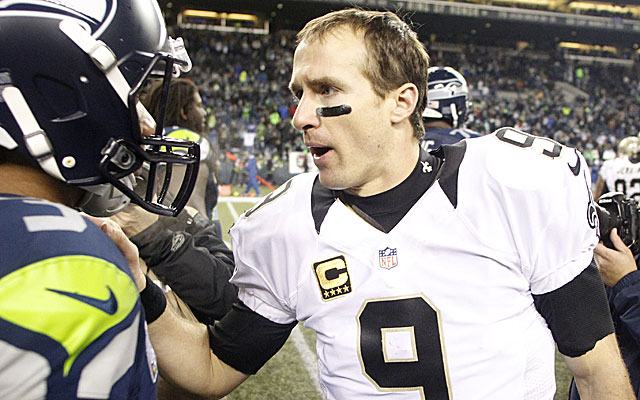 The NFL will reveal the Pro Bowl teams Friday night. Or should I say popularity-­contest teams?
That's what they have become, thanks in large part to the fan vote and the players not really knowing as much about their opponents as you would think.
Unlike past years the Pro Bowl teams won't be broken down by conference. The NFL is changing the way teams are picked. The top vote getters at each spot, regardless of conference, will go to the Pro Bowl. The teams will then be divided up in a draft.
Here's how I think it should go down:
I was considering picking full teams for both conferences, but decided to follow the NFL blueprint. I get it. They're trying to drum up interest in a game that means nothing.
Of course, it means a lot if you don't get picked.
My teams have left and right tackles and left and right guards. That's the way you play the game, right? It's tough because the right tackle spot is down in both leagues, yet I won't give in and put another left tackle in as a starter. They are different positions.
So pick it apart ­­ you will ­­ and when the NFL Popularity teams are announced compare and contrast. I bet you'll like my teams a lot better ­­ even if it isn't AFC vs. NFC anymore.
Offense
Quarterback -- Starters: Peyton Manning, Broncos; Drew Brees, Saints. Backups: Tom Brady, Patriots; Philip Rivers, Chargers; Ben Roethlisberger, Steelers; Russell Wilson, Seahawks.
Just Missed: Nick Foles, Eagles; Tony Romo; Cowboys; Cam Newton, Panthers.
Running Back ­­ -- Starters: Jamaal Charles, Chiefs; LeSean McCoy, Eagles. Backups: Adrian Peterson, Vikings; Matt Forte, Bears; Marshawn Lynch, Seahawks; Knowshon Moreno, Broncos.
Just missed: Ryan Mathews, Chargers; Eddie Lacy, Packers.
FB ­­ -- Starters: Marcel Reese, Raiders; Mike Tolbert, Panthers.
Just missed: Anthony Sherman, Chiefs.
Wide Receiver ­­ -- Starters: Josh Gordon, Browns; Calvin Johnson, Lions; A.J. Green, Bengals; Alshon Jeffery, Bears. Backups: Demaryius Thomas, Broncos; Antonio Brown, Steelers, Pierre Garcon, Redskins; Dez Bryant, Cowboys.
Just missed: Julian Edelman, Patriots; Brandon Marshall, Bears; Jordy Nelson, Packers; Andre Johnson, Texans.
Tight End -- ­­ Starters: Jimmy Graham, Saints; Vernon Davis, 49ers. Backups: Julius Thomas, Broncos; Tony Gonzalez, Falcons.
Just missed: Antonio Gates, Chargers; Jordan Cameron, Browns; Jason Witten, Cowboys.
Tackle -- ­­ Starters: Joe Thomas, Browns (LT); Jordan Gross, Panthers (LT); Orlando Franklin, Broncos (RT); Phil Loadholdt, Vikings (RT). Backups: Trent Williams, Redskins (LT); Andrew Whitworth, Bengals (LT).
Just missed: Nate Solder, Patriots; Tyron Smith, Cowboys; Cordy Glenn, Bills.
Guard ­­ -- Starters: Evan Mathis (LG), Eagles; Louis Vasquez, Broncos (RG); Andy Levitre, Titans (LG); Larry Warford (RG), Lions. Backups: David DeCastro, Steelers; Josh Sitton, Packers.
Just missed: Marshal Yanda, Ravens; Jahri Evans, Saints.
Center -- Starters: Alex Mack, Browns; Jason Kelce, Eagles. Backup: Manny Ramirez, Broncos.
Just missed: Chris Myers, Texans; Dominic Raiola, Lions; Travis Frederick, Cowboys.
Kicker ­­ -- Starters: Matt Prater, Broncos; <player idref=er, Ravens.
Defense
End ­­ -- Starters: J.J. Watt, Texans; Muhammad Wilkerson, Jets; Robert Quinn, Rams; Greg Hardy, Panthers. Backups: Cameron Wake, Dolphins; Calais Campbell, Cardinals.
Just missed: Carlos Dunlap, Bengals; Kyle Williams, Bills; Cedric Thornton, Eagles; Cameron Jordan, Saints; Arthur Jones, Ravens; Sheldon Richardson, Jets; and Chandler Jones, Patriots.
Tackle ­­ -- Starters: Gerald McCoy, Bucs; Jurrell Casey, Titans; Ndamukong Suh, Lions; Marcell Dareus, Bills. Backups: Jason Hatcher, Cowboys; Dontari Poe, Chiefs.
Just missed: Damon Harrison, Jets; Brandon Mebane, Seahawks; Terrance Knighton, Broncos; Randy Starks, Dolphins.
Outside Linebacker ­­ -- Starters: Lavonte David, Bucs; Justin Houston, Chiefs; Robert Mathis, Colts; Vontaze Burfict, Bengals. Backups: Mario Williams, Bills; Tamba Hali, Chiefs.
Just missed: Ahmad Brooks, 49ers; Brian Orakpo, Redskins; Thomas Davis, Panthers; Elvis Dumervil, Ravens.
Inside Linebacker ­­ -- Starters: Luke Kuechly, Panthers; NaVorro Bowman, 49ers. Backups: Patrick Willis, 49ers; Karlos Dansby, Cardinals.
Just missed: Daryl Smith, Ravens; Sean Lee, Cowboys; Derrick Johnson, Chiefs; Jerrell Freeman, Colts.
Cornerback ­­ -- Starters: Richard Sherman, Seahawks; Patrick Peterson, Cardinals; Brent Grimes, Dolphins; Dominique Rodgers­-Cromartie, Broncos. Backups: Vontae Davis, Colts; Jimmy Smith, Ravens; Darrrelle Revis,  Bucs; Joe Haden, Browns.
Just missed: Aqib Talib, Patriots; Keenan Lewis, Saints; Alterraun Verner, Titans; Captain Munnerlyn, Panthers.
Safety ­­ -- Starters: Earl Thomas, Seahawks (FS); Devin McCourty, Patriots (FS); T.J. Ward, Browns (SS), Eric Berry, Chiefs (SS). Backups: Eric Weddle, Chargers; Kam Chancellor, Seahawks.
Just missed: Antrel Rolle, Giants; Mike Mitchell, Panthers; Donte Whitner, 49ers.
Punter -- ­­ Starters: Brandon Fields, Dolphins; Thomas Morstead, Saints.
Kick Returner -- ­­ Jacoby Jones, Ravens; Cordarrelle Patterson, Vikings.
Special Teams ­­ -- Jeremy Lane, Seahawks; Justin Bethel, Cardinals.
The winner of Sunday's game will he headed for Super Bowl LII

SportsLine's Mike McClure, a DFS pro with more than $1M in winnings, gives optimal lineup...

Super Bowl tattoos are never a good idea until your team has actually won the Super Bowl
A couple of dogs emerge victorious in the Conference Championship round

Our computer model simulated the AFC and NFC title games 10,000 times with surprising resu...

If the past 18 weeks are any indication, Tom Brady could be in trouble Sunday