Prosecution in Aaron Hernandez case wants judge to recuse herself
The prosecution has issued a formal request to have the judge in the Aaron Hernandez murder case recused. The motion to recuse Judge Susan Garsh will be heard on Oct. 21.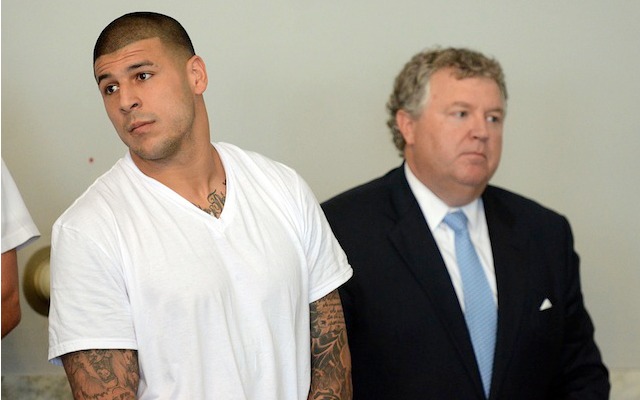 If the prosecution in the Aaron Hernandez case has its way, a new judge will be on the bench when Hernandez's murder trial eventually starts. At a pretrial hearing on Wednesday, the prosecution made it known that it would like Judge Susan Garsh to recuse herself. 
Reasons for the request weren't detailed in court, but according to a case filing obtained by the Associated Press, there's a 'well-known and publicly documented history of antagonism' between Garsh and Bristol County Assistant District Attorney William McCauley. 
According to the Fall River Herald News, the tension between McCauley and Garsh dates back to a 2010 murder trial where McCauley believed Garsh made rulings on evidence that handcuffed the prosecution. At the time, McCauley said Garsh "exhibited antagonism to the commonwealth's case through the trial."
McCauley didn't believe that Garsh had the judicial background to preside over the 2010 murder case, which involved a man shooting a 15-year-old boy to death on New Year's Eve in 2008. 
The motion to recuse Garsh will be heard on Oct. 21. 
As for Hernandez, he remains behind bars as he waits for his murder trial to start. Hernandez is facing a first-degree murder charge stemming from the June death of 27-year-old Odin Lloyd. 
Warren Sapp was one of several players named in a lawsuit against NFL Network

Check out the uniforms that Denver and Indianapolis will be wearing on Thursday

The Cowboys are going to need a few things to go their way to get into the postseason
Rudolph will be put under the microscope in Mobile by clubs looking for a quarterback early...

This fan is taking the Saints to court for using 'football games as a platform for protest...

Can Aaron Rodgers get the Packers to the postseason? Even if they win out, they'll need he...