Q&A: J.J. Watt eyes new defensive benchmark, MVP
J.J. Watt achieved each of his goals last year, except the Super Bowl. The Texans DE opens up about his next mission, being a homebody and even his diet.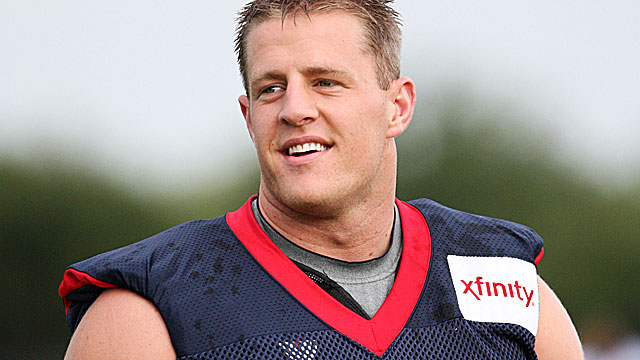 HOUSTON -- Dwarfing the little chair he squeezed his body into here inside Reliant Stadium, Houston Texans defensive end J.J. Watt sat down with me for a 30-minute, wide-ranging interview that showed me that he is as focused, driven and grounded as any NFL player I've encountered in my 20-plus years covering the league.
Watt is coming off his breakout season, a 20 1/2-sack season that made him the NFL Defensive Player of the Year. But if you think this is a player who will rest on his accomplishments, think again.
"I have a lot more to do," Watt said.
Don't doubt him. When I sat with the third-year player, we discussed a variety of topics and I learned he hates most vegetables, he wants to create a special club, he plans to be considered the best defensive player ever, and is basically a homebody of sorts. I also asked about the talk of his using PEDS.
Watt is becoming one of those recognizable faces in the NFL. Even on a trip to Ireland this offseason, fans sought him out.
That's what stardom does. But if any player can handle it, this is one who can.
Watt gets it. He knows that if he puts in the work for 10 years, grinding day by day, he could very well walk away as the greatest of all time, and then retreat to Wisconsin, his home state, to do what he plans to do in the second chapter of his life.
"Coach high school football," Watt said.
For now, it's about taking down the single-season sack record of 22 1/2, which he missed by two of tying last season, and trying to get to the Super Bowl.
Q: Were you at all shocked by the way you played in your second season in 2012?
Watt: I think that's what I expected. Nobody else was expecting it, but I was. Each year, I write out a goal sheet with what I expect. If I showed anybody else my goal sheet, they would have said I was crazy. No way it happens.
Q: So what was the sack goal?
Watt: It wasn't quite 20. I think it was 17. That's not the only one. I had goals for tackles for loss, batted balls, being Defensive MVP and Super Bowl. I reached every single goal except for the Super Bowl. And I was a little frustrated that there were plays I left on the field. I wanted the record, obviously.
Q: And this year's goals?
Watt: People will still think I was crazy if I showed it to them this year. Maybe even more crazy. The Super Bowl is the top goal. I want the sack record.
Q: So 25 sacks is the goal?
Watt: My goal is I want to create the 20-20-20 club: 20 sacks, 20 tackles for loss, 20 batted balls. I was close last year but didn't make it. Nobody has ever gotten close to that. It's like the football triple crown. That's what I am going for. Last year, I led in every category (he had 23 1/2 tackles for loss and 16 batted balls), but I didn't get the 20-20-20. That's my goal this year.
Q: Those are lofty goals for a guy who was delivering pizzas in 2007 after leaving Central Michigan. Did you even think about things like that back then?
Watt: I think I would have said that's the plan, that's the goal. Since my sophomore year in high school, I knew I didn't want to do anything but be a professional athlete. I knew when I got to college there was no way anybody was going to stop me from being an NFL player. Every step of the way, I set more and more goals. Eight years ago, I never set the goal to be Defensive Player of the Year. In high school, it was to be a starter on the varsity, then first-team All-conference, then first-team All-State. Then it was a Division I scholarship, then start, all-conference, All-American, first-round pick. Now in the league, it's starter, All-Pro, Pro Bowl. Defensive MVP. There's still a couple of things left.
Q: Aside from Super Bowl, your stated top goal, what's left?
Watt: I want to be the defensive player to break the MVP barrier. I want to break barriers. I want to do things when people tell me I can't. A lot of people told me 3-4 defensive ends don't make plays. I went out to destroy that mindset. I like when people say I can't.
Q: You look more cut up? Are you leaning up?
Watt: That's the nice thing about the NFL, I can afford to eat healthy. In college, with the scholarship checks, you have to try and get by and get the food you can. Now that I am in the NFL, I can afford to put the proper fuel in my body. I can eat properly. That's why I am getting more cut up and leaner. That's exactly what I want.
Q: So you don't eat junk food? What do you eat?
Watt: One day a week, I give myself a little junk food. I eat lots of protein. And especially now in the league, I am learning more about fats like avocados and fish oils and how you need all that stuff. But I do mainly all real food. I am not a supplement guy. I enjoy learning about eating right.
Q: So a lot of fruits and vegetables?
Watt: Love fruit. I can't stand vegetables. I eat them if I have to, but I can't stand them. I get them down, but I don't enjoy it. I recently started to like avocados. I can't eat them straight up though. I've become so in-tune with my body that my body can tell me if it likes something or not. Even if it tastes terrible and my body responds to it and really feeds off if it and takes it in, I start to enjoy it. I really didn't like avocados when I first started eating them, but I could tell my body felt good. And then I started liking it.
Q: What can't you get down your throat?
Watt: Any vegetable besides avocados and broccoli. I can't eat carrots. Cauliflower, I am not a big fan of. Not a big peppers guy.
Q: So you've changed your diet in the past year, and you feel good and feel better?
Watt: You can see the difference too, which is cool. In the offseason, when I am working out, it's cool to be able to see where I am now compared to a couple of years ago. My weight hasn't changed. At the combine, I was 290. And I weighed in today at 290. I want to be as muscular and as fast and as quick and strong as I can be while staying at the same weight. I am quicker. I am stronger. I am faster. I am definitely leaner.
Q: So you're even better?
Watt: Yeah, I am better. That's what I like. Any article you see, or anybody on TV, they will say I had a good year, but I have to regress. Teams will double him. Teams will triple him. Why can't I be as good? Why can't I be better next year?
Q: How much more doubling and tripling of you can they do?
Watt: Exactly, but that's one of the things I focused on this offseason. Looking at offenses. Planning for what they're going to plan for. I watched tape and watched different blocking patterns to see what they might do, and what I can do to counteract that. I think that's a part of my game that I am proud of, the mental aspect, the film watching. It's almost like I am playing against the players physically, but against the coaches mentally. It's kind of cool.
Q: How many times in the second half of last season were you single-blocked?
Watt: I would say 20-percent or less of the time. If I get single-blocked, my mentality is don't lose. A single block to me is a play I have to win. If I am watching a game, and I don't win a single block, I am furious with myself. I've had triple teams. I get a guard and tackle at the same time and the running back or tight end from the backside. Or you get guard-tackle and get the center coming from the side. The Packers tripled me. That's one that stands out. I got tripled-teamed a few times in that game. I still had two sacks, and two tackles for loss in those games. If they're going to triple me, it means two extra guys are on me and it means two extra guys aren't blocking somebody else or aren't going out in routes. That's' what I love about my defense. If you want to focus three guys on me, we have 10 other playmakers you have to worry about. I will gladly take three guys on. You're not guaranteed to stop me with three. It will be tough (for him), but you're not guaranteed to stop me. If you try to triple me, you're going to make yourself vulnerable in other spots.
Q; Teams in your division seem to be drafting and signing free agents with you in mind.
Watt: I like it. That's pretty cool. That's what you hope for. That's cool.
Q: On any of your papers listing your goals, is there one that says you want to be known as the greatest defensive player of all-time?
Watt: Absolutely. That's my No. 1 goal. I don't play this game to be average. I don't play this game to be a good player. I have one goal and that's to be the best ever. If you're not trying to be the best ever, you are wasting your time. I go on the practice field and try to have every single play be mine. If I don't want to be the best ever, why am I practicing? Why am I waking up early to go to the weight room? Why I am eating all this food I don't like? Why am I doing all this? I want to be the best ever?
Q: So not hitting the town for beers with the fellas?
Watt: Not here. I can't. Anything I do gets put on the Internet. So I stay in my house a lot. I don't drink often at all, and don't do much drinking at all during the season. You can use your fame in two ways. You can act like you don't have it and still party and do those things. But you see what happens with guys like Johnny Football (Johnny Manziel) or Gronk (Rob Gronkowski) and all of a sudden their parties become big stories. Or you can use your fame for good. I try to use my fame for the community. I try to use it for charity. And I try and use it the right way. My family and my friends and my name will always be important to me. Do I have to stay in my house more? Yeah. People come to my house and wait for me to come home. I am not a gated-community guy. But I am looking now and I might have to move to one. They want a picture or an autograph. It's annoying. There are two places I don't sign autographs. When I am sitting down with my family for dinner or at my house. Everywhere else, if I go out to the grocery story, I fully know I am going out in public and I am appreciative of the fans. I will sign autographs and take pictures. But if I am at dinner or at the house, I won't."
The Cowboys owner joined in a demonstration with the Cowboys players before Monday night's...

Look for Ezekiel Elliott and Dak Prescott to rebound after a rough outing in Denver

Quarterback Russell Wilson was one of the chief proponents for the Seahawks staying in the...
The Steelers offensive lineman was only on the field by accident during Sunday's national...

It was an emotional day in Philadelphia for the parents of kicker Jake Elliott

Nick Kostos, a.k.a. 'Mr. Monday Night,' has owned Monday Night Football