QB Sam Bradford: Rams are on cusp of making playoffs
Rams quarterback Sam Bradford thinks 2014 will be the year his team takes the next step.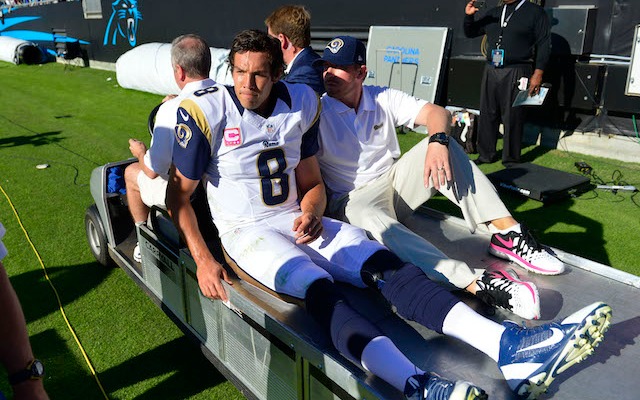 More NFL offseason: League minicamp dates | Latest news, notes
The Rams haven't made the playoffs since 2004 and they've never had a winning record with Sam Bradford as their starting quarterback, but that doesn't mean Bradford's not confident going into 2014.  
In an interview with NFL Network this week, Bradford said he thinks the Rams are on the cusp of making the postseason for the first time in 10 years.
"Obviously this is a big year for this organization, we really feel like we're right on the cusp of taking that next step and becoming a playoff team," Bradford said. "And I think everyone in our building and our locker room believes that we can do that and that's why we're out here giving it everything we have right now, just trying to lay that foundation so we can take that next step this year and become a playoff team."
A key for the Rams will be whether Bradford can stay healthy, something he's had trouble doing in his four-year career. After winning offensive rookie of the year in 2010, Bradford went on to miss six games in 2011 thanks to a nagging ankle injury. 
The former No. 1 overall pick also missed nine games last season after tearing his ACL in Week 7. Bradford says the injuries have been frustrating. 
"Obviously it's really frustrating, especially coming in my first year and taking every snap, playing all 16 games," Bradford said. "Obviously, that's the goal and that's what I would like to get it back to. Unfortunately, you can only control what you can control. Some of those injuries, there's not really much you can do about them and you've got to deal with them the best that you can."
Despite the fact that the Rams have never made the playoffs with Bradford, coach Jeff Fisher said there's no pressure on his quarterback. 
"I don't think he's feeling any pressure at all," Fisher said on Thursday. "He just wants to win. All of this stuff is being generated that this is his year, things like that; if you do the projections off of last year, if he'd have stayed healthy he would have had some very impressive numbers. So no pressure on Sam."
Even if Bradford stays healthy, the Rams still have to contend in a division that has produced the NFC's last two Super Bowl participants in San Francisco and Seattle. The Rams are 4-11-1 against those two teams since drafting Bradford in 2010. 
Smith says the NFL's ratings decline cannot be ignored

The former Jets and Giants quarterback wants to know whether you think the Earth is round

Zach Ertz is one of the NFL's best tight ends but Philadelphia could lose his backup to free...
Second-year coach Sean McVay says his players know exactly what the expectations are

Steelers didn't trade Bryant then and they aren't looking to move him now

It had been rumored that the Jaguars might cut ties with Bortles, but instead he'll stay in...