QB shuffle heats up with Flynn and (potential) Palmer moves
Oakland has been a black hole for QBs, and now Matt Flynn gets his shot to right the Raiders' ship while Carson Palmer appears headed to Arizona. Jason La Canfora says the QB shuffling isn't done yet.
• 8 min read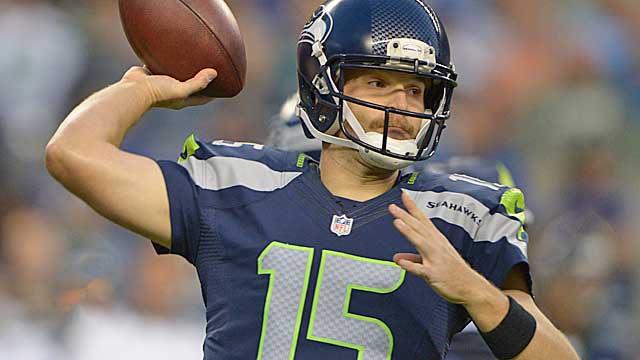 No move for a quarterback in this league exists in a vacuum. With so few men equipped to play the position and demand always so high, things are cyclical in this small circle. For every action, there is an equal and opposite reaction, and, well, one general manager's trash is another's potential treasure, depending on the level of desperation.
More on the Raiders
Related Stories
So, just when things had settled with the initial waves of free agency and trades, it only stood to reason that another flurry of activity would culminate when the Seahawks were nearing on a trade of backup Matt Flynn to Oakland on Friday.

Immediately, the Cardinals began exploring a deal for Raiders starter Carson Palmer, which appeared close to being finalized Monday. As of Monday night, no deal had been completed, according to a source with knowledge of the situation. The sides have been deep in talks, with Palmer willing to take on a reduced salary in 2013, but the source noted things "have hit a snag" and a deal is still not done. The source said it is difficult to say whether the hurdle can be overcome, though there was significant momentum toward a deal through the day.

The Seahawks would be looking for a backup, and the Cardinals would have five quarterbacks on their roster and, well, another cycle of the quarterback carousel would begin again.
And while some of the names involved might not be all that well known, and some might scoff at them, the reality is guys like Tyler Thigpen and Brian Hoyer might soon only be one injury away from having to start games for a team with Super Bowl aspirations. Thus, any move at this position has the potential to be major. The quarterback scramble would certainly look like an indictment on this already much-maligned draft class at this position -- and indeed I, too, take it that way -- but I still expect Geno Smith to end up in the top 10, if not the top five (enough need still exists), and we'll still see two or three passers go in the first round overall.
(Brief aside -- back at the combine, I wrote about this being the year of the trade -- real, significant football trades -- and it just keeps coming. Colt McCoy was sent from the Browns to the 49ers on Monday. And we still haven't seen the culmination of l'affair de Revis, and a guy like LeGarrette Blount still could get shipped out as well. A combination of a lackluster free-agent class and a stagnant draft -- and with a quarter of the league needing quarterbacks -- make conditions ripe for all these swaps, with Alex Smith and Percy Harvin and Matt Flynn and Carson Palmer among those dealt. The trade market was markedly more interesting than free agency in March.)
I applaud the Raiders for getting out of the Palmer business by any means necessary. He has become pouty and malcontent and is years away from looking like a winning quarterback, with his demands and stances putting himself above the team. He orchestrated his way out of Cincinnati, agreed to a new hefty deal with the Raiders, and it became pretty clear he wasn't enamored with the Raiders situation, either.
He wasn't helping Oakland win football games, his age and injury are concerns and, with Oakland still rebuilding and its regime saddled by the Palmer contract through nothing of their own doing, it was time to ship him out if he wouldn't agree to a more suitable, reworked deal. Your quarterback needs to be a leader of some sort, and no one was buying Palmer as the face of the Raiders in this circumstance.
As for the Cardinals, Godspeed with this one. On paper, Palmer to Fitzgerald would make sense as a vertical tandem, if the arm is still there and if anyone can keep Palmer upright. I can understand why Bruce Arians, after years of seeing Palmer in his prime when Arians was in Pittsburgh and Palmer was a Bengal, would be enamored, but far too much of what has gone on with Palmer the past few years gives me significant pause.
Lack of support in pass protection and the run game could be big issues on a Cardinals team under new management and in a rebuild of its own. How selfless will Palmer be if he's mired in another losing situation -- albeit one that he has firmly put himself in dating back to his threats of retirement in Cincinnati.
Conversely, I can understand Oakland's interest in Flynn, who is considerably younger and lacks the injury history of Palmer and who is sincerely pumped about being a Raider and finally getting a chance to play football. General manager Reggie McKenzie was a part of Green Bay's brass when Flynn was drafted and developed, he knows the player and, with both he and head coach Dennis Allen entering just their second seasons on the job but already on the hot seat, they needed to do something to put their stamp on the quarterback position (they inherited Terrelle Pryor as well, remember).
Flynn is unproven but has potential, and getting him now allows a full offseason of development. Shipping away late picks in 2014 and 2015 allows them to keep what picks they have this April because, again, the Palmer trade and other moves made before their arrival left them bereft of selections already. Compared to what else was out there, I'd take my chances on Flynn.
So what now for the Seahawks?
They are looking for a backup who can deliver a skill set in the range of what Russell Wilson does as their starter, someone who could, if need be, perform in a read-option scheme should Wilson go down. They liked Josh Johnson, sources said, who ended up signing with the Bengals, where he could immediately be the No. 2 (Seattle still had Flynn on the roster a few weeks back when Johnson made a decision) and they like Tyler Thigpen, who is very athletic and has flashed well at times. Pat White, who has been getting workouts recently after flaming out in his initial brief foray into the NFL, might be worth kicking the tires on, following his visit to rival San Francisco last week.
The Cardinals now have a glut of quarterbacks, though, none much distinguished recently. And while they will surely release a few, Brian Hoyer could have some trade value. The Cardinals placed a second-round tender on the restricted free agent, preventing teams from poaching him, but they gave Drew Stanton good money in free agency and now have Palmer, so Hoyer should be shopped for whatever they can get (the Cards still could take a quarterback on the second day of the draft).
Hoyer has impressed some scouts, but, again, the timing makes things tricky. If Palmer was moved sooner, they likely would have placed a low tender on Hoyer and he would have already signed with Pittsburgh or Cleveland. Now, the Steelers already signed Bruce Gradkowski, the Browns finally signed Jason Campbell last week, and Hoyer's tender around $2 million could be prohibitive. Teams also know if he's just plain released, no need to trade for him.
It puts Hoyer in a bind not at all of his own creation, though Cleveland in particular could be worth monitoring. Putting him in the mix with Campbell and out-of-favor incumbent Brandon Weeden might not be a bad idea, either.
As for the notion that these recent moves -- including Kevin Kolb signing with Buffalo -- spells draft-day doom for West Virginia's Geno Smith, I don't buy it. He is the consensus top quarterback in the draft. Teams remain willing to take chances in this ridiculously-cap friendly CBA in regard to first-round picks. And if this offseason has taught us anything, it's that the structure of almost all of these contracts, quarterback or otherwise, provide ways for most teams to get out of the deal with relative ease after only one season. So that won't preclude them from taking a quarterback high.
The Chiefs and Jaguars, with the top two picks, are open to many trade scenarios. And though most conclude their considerable time with Smith is a smokescreen, someone still might jump up to get Smith in the top five. And if he does fall some, I suspect it doesn't take him out of the top 10 picks. And with the second round now held on Friday, as Thursday night comes to a close, teams will be angling to move up and grab a quarterback before the first round concludes.
In reality, most teams that like Smith already realize that they cannot, or will not, get him. So the need to have something in place exists, strongly. Only one team will get him, period, and teams that can't will need a fallback plan, preferably one that is about to join their offseason workout plan. Smith is it in terms of top-of-the-first-round quarterback talent, and that's not going to change. Hoping you might be able to trade up and get him is one thing, or hoping he is there when you pick ... but that's never guaranteed, especially on April 1. So in the meantime, you best do something before the draft sorts itself out. 
If anything, quarterbacks tend to rise up draft boards the more time they spend with owners and coaches, touring facilities and being wined and dined. They're generally polished and comfortable and accustomed to being in pressure-filled situations. All the recent quick success of rookie quarterbacks only adds to their appeal.
So, fear not. We still have another wave of quarterback intrigue to come.
Some teams might have found a temporary fix or two, but in many organizations, the search for long-term stability at the position remains.
The Steelers didn't have to look far to find their replacement for Todd Haley

The pop superstar will seek halftime show redemption at Super Bowl LII

Our computer model simulated the AFC and NFC title games 10,000 times with surprising resu...
Todd Haley's name has also been floated as a possible replacement

It wasn't the matchup that we expected, but the Jaguars would argue that's everyone else's...

CBS All Access allows viewers to stream every NFL game on CBS in their local market