Quarterback competitions put both team and signal-callers in tough spot
One of the toughest situations coaches create for themselves is a quarterback competition.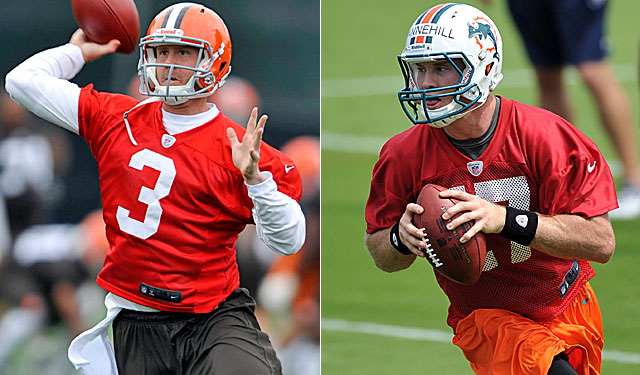 Browns appear settled on Brandon Weeden. Miami should do the same with Ryan Tannehill. (US Presswire)
One of the toughest situations coaches create for themselves is a quarterback competition. It is part of the DNA of most coaches to want players to fight it out on the field and let the best man win. It sounds great and it's the American way, right?
But it presents a problem. With reduced practice time it may be an antiquated way of preparing a team. There's a reason Peyton Manning takes 99 percent of the practice reps at quarterback. He needs the work to get ready to do his job. The idea that the team can give  lesser QBs reps all summer so coaches get a better idea of who gives them the best chance to win -- or that a staff can even truly create a level playing field for multiple candidates to compete is probably unrealistic. Yet, at least five teams are considering a QB competition this summer.
More from Kirwan
Related links
Cleveland sounds like it may be close to ending their competition, which is a good thing if the Browns want to be as ready as possible for opening day against the Philadelphia Eagles. If the organization is leaning toward rookie Brandon Weeden, then give him the majority of work starting right now. One-hundred percent of the work is still won't be enough to prepare a rookie -- but it helps.
Think of the blessing Andy Dalton received when Carson Palmer refused to show up last season, forcing the Bengals to give Dalton all the work. Dalton went 6-2 to start the season. A year ago no one thought the Bengals were going anywhere with a rookie second-round QB under center.
I wonder how the Seahawks, Dolphins, Titans, Cardinals and Jets will get enough work for the quarterbacks in question and get the team ready for the opener.
The Jets claim Mark Sanchez is the starter but say Tim Tebow will get more work than a normal backup this summer. That works against both players.
In Tennessee, the Titans think they can manage Matt Hasselbeck and Jake Locker in a competition during the greater part of the summer and arrive at the guy "that gives them the best chance to win now."
Barring injury. that would be Hasselbeck. But if you don't think he can take you to the Super Bowl, then maybe it's time for Locker. The Titans really have to decide that before they waste too much practice time. It's a difficult by necessary decision. In their shoes, I might ask this question: Which guy can come off the bench with the least amount of work and be effective? Locker only threw 66 passes as a rookie and was a first-round pick. He can't beat out Hasselbeck in a summer showdown but he needs to be the long-term answer.
As for the Dolphins, Matt Moore is better right now. But is he the long-term answer? Sorry, Dolphins, but you have to make the same tough call. If it is even close between rookie Ryan Tannehill and Moore it probably should to be Tannehill. Taking your lumps now gives him enough work to stand a fighting chance on Sundays. There's no doubt Tannehill needs every rep in practice just to function. Plus, Moore has been coming off the bench his whole NFL career.
The Seahawks say there's a three man race between Tarvaris Jackson, Matt Flynn and Russell Wilson. Good luck with that one. In the Seahawks' first eight games at least seven of the opposing quarterbacks will be getting a minimum of 90 percent of the reps all summer (Cowboys, Packers, Rams,  Panthers, Patriots, 49ers, Lions). The Cardinals (Kevin Kolb and John Skelton) are the only team the Seahawks face in the first half of the season playing the quarterback competition game.
Back in the day we were in camp mode from July 6 until Aug. 27 -- with more practices than we knew what to do with -- and we scrimmaged at least one team before the four preseason games. We had double sessions in pads for days on end and could get enough work to evaluate multiple quarterbacks and I still didn't think the procedure gave us enough time to evaluate QBs.
Those days are gone and tough decisions have to be made in an office rather than on the field. I don't like it but it's true.
R.J. White, who nearly won the Las Vegas SuperContest, locks in his pick for the NFC Championship...

Mike Tierney has owned NFL totals and has a strong pick for the AFC Championship Game

The Saints coach wasn't in the mood to answer questions about Drew Brees on Tuesday
This is footage that you'll definitely want to see

It wasn't the matchup that we expected, but the Jaguars would argue that's everyone else's...

The Eagles quarterback and the Vikings quarterback have paths that have crossed many times