Quarterback Desperation Rankings: How screwed is your NFL team?
Are you a Bills, Titans, Browns or Jets fan? Yeah, your team is screwed. Your QB situation stinks. We rank all 32 teams, from best to worst, by who's under center.
Nobody will dispute the fact that quarterback has become far and away the most important position in football, if not all of sports. Hall of Fame candidates named Tom Brady , Peyton Manning , Eli Manning , Ben Roethlisberger , Drew Brees and Aaron Rodgers have won 10 of the last 12 Super Bowls, with the other two going to Joe Flacco and Russell Wilson , who had a combined 14 touchdown passes and zero interceptions in seven playoff games during their teams' championship runs.
With that in mind, and free agency starting in just a few days, let's audit each team's quarterback situation by assessing how desperate each should be entering the 2015 league year.
32.

Indianapolis Colts
Top 2012 draft pick Andrew Luck is turning into a superstar, just as everybody expected. Luck's numbers have steadily increased in each of his three NFL seasons, and the 25-year-old is on track to receive an earth-shattering contract extension in the near future. Barring a shocking development, the Colts won't have to worry about the quarterback position for at least a decade to come.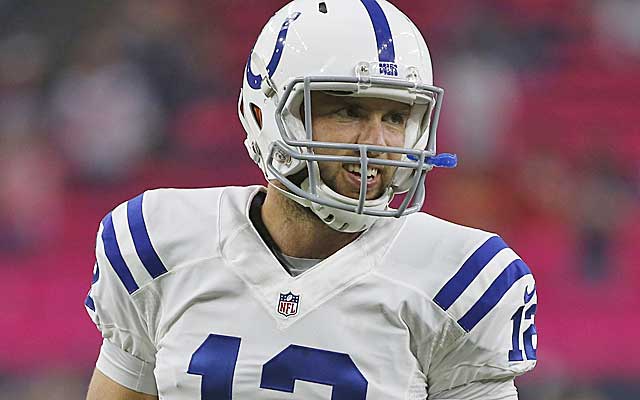 31.

Green Bay Packers
Reigning MVP Aaron Rodgers is the highest-rated passer in NFL history by a silly margin of 8.4 points and is only reaching his prime as he enters his eighth season at the age of 31. Remember, he had a late start after holding a clipboard for Brett Favre, so there's plenty of tread left on Rodgers' tires.
30.

Seattle Seahawks
Russell Wilson's numbers are right there with Luck's, but he's also a Super Bowl champion. I don't know if the 26-year-old's trajectory points quite as high as Luck's after a season in which most of his numbers declined, but the 2012 third-round pick looks as though he's a keeper.
29.

New England Patriots
Tom Brady will be 38 before he plays another game but he's the reigning Super Bowl MVP and was still the fifth-highest-rated passer in football in 2014. No reason for the Patriots to panic under center, especially as they groom 2014 second-round pick Jimmy Garoppolo .
28.

Pittsburgh Steelers
Ben Roethlisberger is still only 32 years old, which is basically prime age for quarterbacks, and is coming off the best year of his career. Big Ben's 103.3 passer rating ranked third among qualified quarterbacks, and he set new career highs in terms of completion percentage and yardage, touchdown-to-interception ratio. Plenty of gas left in that tank, so no reason for the Steelers to even think about successors right now.
27.

Miami Dolphins
A report from David Hyde of the Sun-Sentinel suggests the Dolphins are already discussing a long-term contract extension with 2012 first-round pick Ryan Tannehill . There's no big rush with Tannehill's fifth-year option still on the table, so that's an indication Miami is extremely satisfied with the 26-year-old. His numbers have increased from year to year just like Luck's, and he competed 66.4 percent of his passes last season, so Miami looks as though it has a franchise quarterback in the early stages.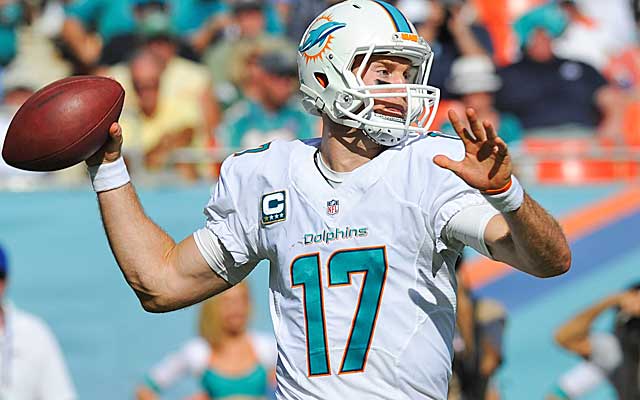 26.

Dallas Cowboys
Tony Romo will be 35 in April but is coming off the best season of his career. Like Rodgers, he got a late start and appears to have plenty left in him, especially while playing behind a jacked-up offensive line in one of the league's best offenses. The Cowboys don't have to worry about quarterbacks at all right now, but Romo's still getting up there in age and has had some back issues.
25.

New York Giants
Eli Manning is a year younger than Romo but has less tread on his tires and hasn't been close to as productive the last few years. Still, he's their man and he could be in for a big second year in that new offense, especially if Victor Cruz and Odell Beckham Jr. can live up to the hype as a healthy and productive receiving duo.
24.

Kansas City Chiefs
Alex Smith is still only 30 and is under contract through 2018. General manager John Dorsey seems to think Smith remains the long-term answer, and he's coming off a decent enough season within a so-so offense. The Chiefs have no reason to look at quarterbacks, especially with Terrelle Pryor and Aaron Murray on the roster.
23.

Minnesota Vikings
First-round draft pick Teddy Bridgewater had a promising rookie season, completing 64.4 percent of his passes. And he got better as the season wore on. During the final five weeks of the year, the 22-year-old was the league's second-highest-rated qualified passer, behind only Romo. He completed 72.1 percent of his passes and averaged 8.8 yards per attempt, winning three of five games during that span. The Louisville product deserves a full sophomore season to prove he can be the next franchise quarterback in Minnesota.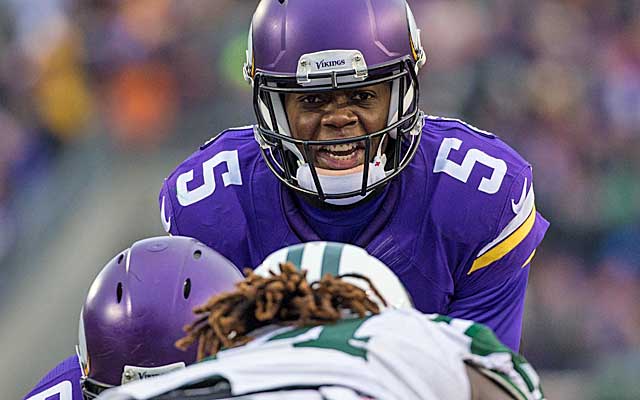 22.

Atlanta Falcons
Matt Ryan is still only 29 and has done a decent job despite Atlanta's struggles the last couple years, earning a Pro Bowl nod after completing 66.1 percent of his passes in 2014. The Falcons need a lot of help, but the key will be adding support for Ryan, rather than finding replacements.
21.

San Diego Chargers
Philip Rivers had a rough finish to the 2014 season but has usually looked like an elite QB the last two years, bouncing back from a mid-prime rut. He's still only 33 and should be expected to sign a long-term extension with the Bolts before his contract expires next offseason.
20.

Denver Broncos
Peyton Manning will be 39 and coming off one of the worst stretches he's had in years as the Broncos kick off the 2015 season. The reality is he's quickly running out of time, so the Broncos have to see what they have in 2012 second-round pick Brock Osweiler . The 24-year-old has thrown just 30 passes in three seasons.
19.

Jacksonville Jaguars
Blake Bortles ranked dead last among 33 qualified quarterbacks with a passer rating of just 69.5 in 2014, but the Jags knew he'd be a project when they spent a No. 3 overall selection on him one year ago. It'll help if Jacksonville can add some weapons in free agency and the draft, and getting Justin Blackmon back couldn't hurt. They owe Bortles a full sophomore season.
18.

Oakland Raiders
And you can say the same thing about the Raiders with Derek Carr , who averaged only 5.5 yards per attempt in 16 starts as a rookie. The second-round pick out of Fresno State looked more comfortable as said season progressed, and needs a full second campaign to prove himself. Hopefully for his sake, the 23-year-old will have more support.
17.

Carolina Panthers
Cam Newton is still undoubtedly Carolina's franchise quarterback, but the 25-year-old former No. 1 overall pick took a step backward statistically in 2014. Injuries were certainly a factor, but Newton's still never had a passer rating above 90. He's in need of more support, but if he doesn't deliver in his fifth season in 2015, the Panthers should consider bringing in competition.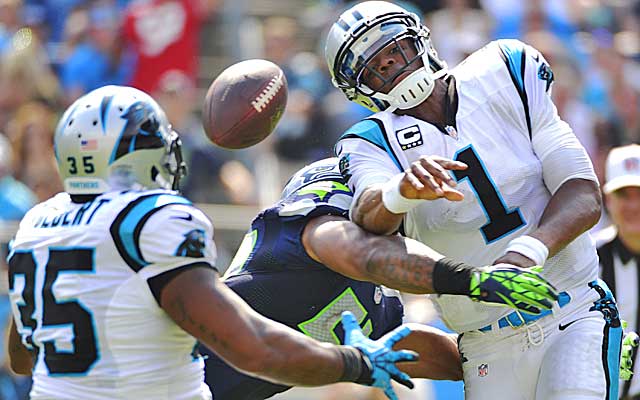 16.

San Francisco 49ers
Colin Kaepernick 's numbers dropped basically across the board as the 49ers crashed and burned in 2014. He'll be given a chance to be the man again in 2015, especially with only Blaine Gabbert and Josh Johnson behind him, but it might be a make-or-break year for the 27-year-old.
15.

Baltimore Ravens
Joe Flacco was the Super Bowl MVP just two years ago, but Flacco has never been particularly good outside of that one championship run. Among the 20 quarterbacks who have started at least 40 regular-season games since 2011, Flacco has the league's worst passer rating. The 30-year-old did heat up late last season and is stellar in the playoffs, but it couldn't hurt to add a flier not named Tyrod Taylor .
14.

New Orleans Saints
Only Drew Brees and Eli Manning have thrown more than 80 interceptions since the start of 2010. It's not as though Brees has been bad during that span -- he's been to the Pro Bowl all five years -- but he's won just two playoff games since that 2009 Super Bowl and he's no spring chicken at 36. With no realistic successor candidates on the roster, it might be time to start searching for potential replacements.
13.

Arizona Cardinals
Carson Palmer was solid when healthy last season but only played in six games, and he had a sub-87 passer rating in each of the previous seven seasons in Cincinnati, Oakland and Arizona. He's 35 now and could be running out of gas. They'll roll with Palmer in 2015 and have 2014 fourth-round pick Logan Thomas , but they were a disaster without Palmer last year and have to be on the lookout for long-term replacements.
12.

Cincinnati Bengals
The Bengals insist that they're fully behind Andy Dalton , which is a good thing considering they signed him to a seven-year, $97 million contract last offseason. But that's essentially a pay-as-you-go deal, so Cincy can move on if Dalton continues to deliver mediocre results in 2015. With AJ McCarron the only other quarterback on the roster, the Bengals should be mining the draft for more options.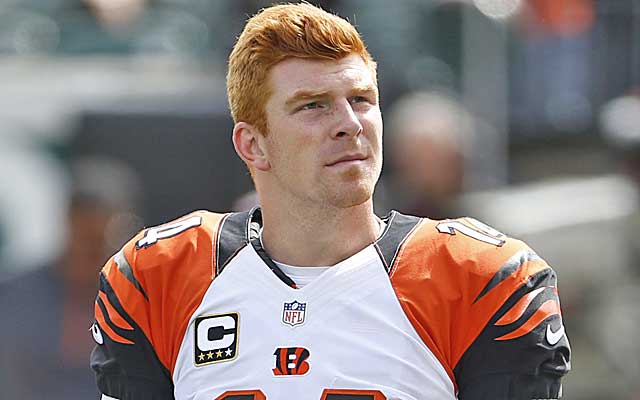 11.

St. Louis Rams
Sam Bradford was off to a superb start in 2013 before a torn ACL ended his season after seven games. Then he re-injured the same knee in 2014, causing many to wonder if Bradford will ever be able to stay healthy enough to lead the Rams. St. Louis has a lot of good pieces in place and Bradford still has the team's support, but it's safe this is his final chance with the Rams.
10.

Tampa Bay Buccaneers
I might be the only person left on the continent who thinks Mike Glennon has starting potential. But even if you don't believe in Glennon, the Bucs can't be considered too desperate for a QB while holding the top selection in a draft that features Marcus Mariota and Jameis Winston.
9.

Detroit Lions
What more could Matthew Stafford ask for? He's got one of the best receivers of all time, a stellar group of complementary weapons in the passing and running game and a decent offensive line. And yet Stafford completed just 60.3 percent of his passes for a passer rating of 85.7 in his sixth NFL season. Stafford has never won on the road and is 3-33 all-time against teams with winning records. Although he's well-paid, another weak season from the former No. 1 overall pick should cause the Lions to consider other options.
8.

Chicago Bears
You get the feeling the Bears realize they won't compete for championships with Jay Cutler at quarterback, but there's still a chance they keep the mistake-prone 31-year-old on the roster. If they do, they'll be stuck with an expensive signal caller who is good enough to prevent Chicago from landing a high draft pick but can't seem to do much more than that. If they do cut or trade Cutler, they suddenly become very desperate for someone other than Jimmy Clausen . We'll see what happens there, in free agency and when they're on the clock with the No. 7 overall pick in April.
7.

Washington Redskins
The Redskins have indicated Robert Griffin III will be given at least one more year to prove he can lead the franchise, but by all indications he has regressed the last two years. Kirk Cousins and Colt McCoy have both failed when given shots to replace RG3, so Washington shouldn't be shy about swinging the bat on QBs who might be capable of challenging Griffin in the very near future.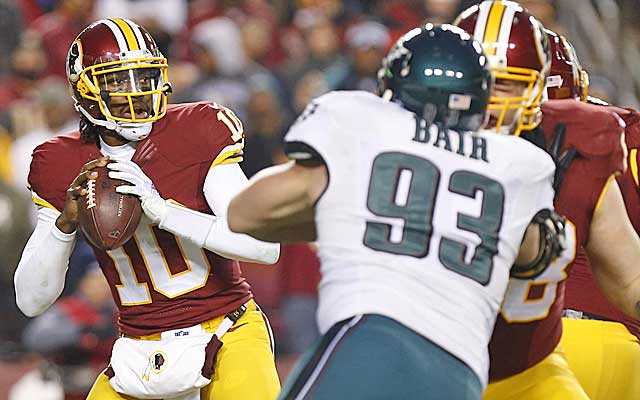 6.

Philadelphia Eagles
Nick Foles posted the third-highest passer rating in NFL history in 2013 but followed that season up with a mistake- and injury-filled mess of a 2014 campaign. Now we're already hearing rumors the Eagles could be considering a run at Heisman Trophy winner Marcus Mariota, which probably indicates they aren't sold on Foles. There's a real chance his 2013 season was an aberration, because the 2012 third-round pick has some clear flaws.
5.

Houston Texans
They've got some guys with potential in Ryan Mallett (assuming they re-sign him) and 2014 fourth-round pick Tom Savage , but there's a good chance none of those guys will become a true franchise quarterback. The Texans can't afford to waste J.J. Watt 's best years because they don't have a reliable starter under center, so they have to keep swinging the bat. They should use another draft pick on a signal caller this spring.
4.

New York Jets
Geno Smith 's been given 29 starts to prove himself and has made very little progress two years into his NFL career. Still, the Jets might not be ready to spend another early pick on a quarterback, so Smith might get a shot to start once more in a new-look offense. Understandable, but the Jets don't have any other options on the roster so they should at least use a mid-round pick on a QB.
3.

Cleveland Browns
We can't totally deem Johnny Manziel to be a bust after one season in which he threw only 35 passes, but he's gotta be close considering news that he's entered rehab. And subbing in Josh McCown , who had the second-worst passer rating among 33 qualified quarterbacks in 2014, for Brian Hoyer doesn't do much. McCown turns 36 this offseason and has to be viewed only as a stopgap. Cleveland should strongly consider drafting another QB this spring.
2.

Tennessee Titans
A poor contract year for Jake Locker probably means the former first-round pick is done in Tennessee. It's too early to completely give up on 2014 sixth-round pick Zach Mettenberger , who was half-decent in limited action as a rookie, but the Titans probably realize that they'll have to look elsewhere for their future franchise QB. Good thing they hold the second overall pick in April's draft.
1.

Buffalo Bills
Based on what we've seen from him the last two years, EJ Manuel would be one of the worst starting quarterbacks in the league entering 2015. Kyle Orton has retired, Jeff Tuel isn't the answer and Matt Cassel couldn't cut it in Kansas City or Minnesota. To boot, they lack a first-round pick while having limited money to spend on the free-agent market. The shame of it is that with that stacked defense and an offense featuring Sammy Watkins and LeSean McCoy , the Bills would be a contender if they just had a steady presence under center.
Brad Gagnon has covered the NFL since 2007. You can also read his work at Bleacher Report, Awful Announcing and This Given Sunday. In order to sound more professional, he wrote this blurb in the third person. Follow him on Twitter. Or don't. It's entirely your choice.
Madden season is almost here again. Here's everything you need to know.

The Rams' No. 1 pick is anything but phased after taking his lumps during a brutal rookie...

Breaux, who emerged as the Saints' No. 1 cornerback during the 2015 season, could miss 4-6...
The No. 1 pick in the draft will have an immediate impact in Cleveland, according to his c...

Text exchanges in the NFL's report show Tiffany Thompson contemplating how to get money from...

Smith was drafted in 2016 with a nerve injury, and he's finally getting a chance to play