Raiders almost blow first win with sack celebration
A crazy sack celebration almost cost the Raiders their win on Thursday.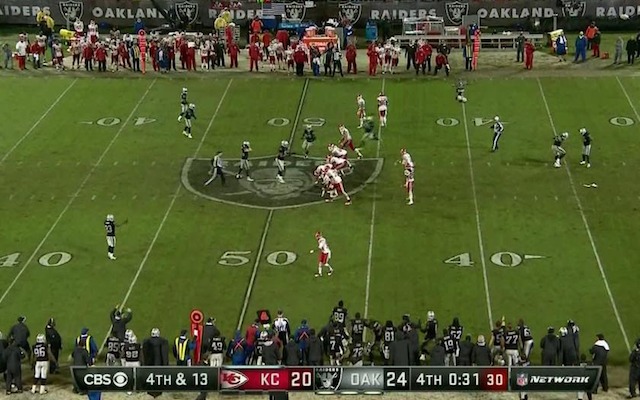 The Raiders were 0-10 going into Thursday night's game against Kansas City, so when they had the lead with under a minute left in the game, you could almost hear America collectively wondering, "How are they going to blow this?"
And that was exactly when they almost blew it. 
On third-and-6 for the Chiefs with under a minute left and the Raiders clinging to a 24-20 lead, Sio Moore sacked Alex Smith for a 7-yard loss. OH MY GOD, THE RAIDERS ARE GOING TO WIN. 
There was only one problem though, Moore and Khalil Mack celebrated the sack 13 yards behind the line of scrimmage and they didn't seem to notice that there was still a game going on behind them. 
Smith quickly rushed to the line of scrimmage and did this, hoping for a 5-yard penalty. 
It was quick thinking by Smith, but he was foiled by Justin Tuck, who did some quick thinking of his own and called a timeout just before Smith snapped it.
The timeout was called literally a split-second before the snap. However, the Chiefs were out of timeouts, so the Raiders basically gave Kansas City a free timeout with 31 seconds left.
Fortunately for Raiders fans, things worked out.
After the timeout, the Chiefs failed on a fourth-and-13 and then everyone in Oakland got to celebrate for real.
All of the best highlights from Week 15 are right here

The Colts quarterback may have to deal with more issues if he suffers a setback

Will the Bengals be able to land a big fish? Let's take at look at seven potential candidates...
One of Tom Brady's favorite targets will be sidelined with a shoulder injury vs. the Steel...

Emory Hunt has his finger on the pulse of the Boys and locked in a strong pick for 'Sunday...

Carolina will not be allowed to conduct an internal investigation