Raiders coach Dennis Allen: Matt Flynn didn't play well
Raiders coach Dennis Allen didn't have too many positive things to say about quarterback Matt Flynn's performance against the Washington Redskins on Sunday.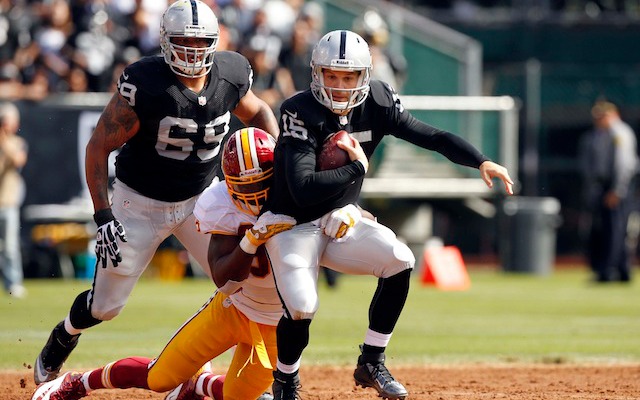 Oakland Raiders quarterback Matt Flynn struggled in the Raiders 24-14 loss to Washington on Sunday. Flynn threw an interception, fumbled twice and only led one offensive scoring drive against a Redskins defense that was statistically the worst defense in NFL history after three weeks. 
When asked about Flynn's performance, Raiders coach Dennis Allen didn't sugarcoat anything. 
"I don't think he saw the field very good," Allen said, via the Raiders team website. "Offensively, we didn't get it done and that's really the bottom line. Matt didn't play well and we have to move on."
Although Allen didn't think Flynn saw the field well, Flynn seemed to disagree with that assessment, "I don't know, I felt like I was seeing things fairly well," Flynn said. "I didn't think I wasn't seeing the field; I just didn't make the plays."
Flynn was sacked seven times in the game, something Allen didn't completely blame the Raiders offensive line for, "I think [Flynn] was obviously part of some of the sacks that we gave up in the game," Allen said. "Some of those sacks are partly on him and partly on protection. Everybody is involved in that, but that's what I'm talking about."
Allen doesn't sound like a coach that want to move forward with Matt Flynn as his starting quarterback, so the question becomes, when will Terrelle Pryor return? Pryor missed the game on Sunday due to lingering effects from a concussion he suffered in Week 3. 
"I'm very hopeful," Allen said of Pryor playing against the Chargers in Week 5. "We were at the point where we were just about ready to say, 'he's got it,' but we just didn't feel comfortable going ahead and letting him play [against Washington]."
After just one game, fans in Oakland sound like they've had enough of Flynn: Flynn was booed in the second half of Sunday's loss. 
Plus the catch rule's still terrible, the Panthers quashing the Packers' hopes at playoffs...

Week 15 provided a lot of clarity to the NFL postseason

The Cowboys move to 8-6 and are still in the playoff race with two regular-season games to...
The Steelers lost to the Patriots in controversial fashion after the 'Calvin Johnson Rule'...

The Raiders lost on a bizarre final offensive play

Here are the Week 15 grades for every team that played Sunday