Raiders' Dennis Allen: Matt Schaub is on par with other AFC West QBs
Oakland Raiders coach Dennis Allen thinks his team finally has a quarterback who's 'on par' with the other quarterbacks in the AFC West.
More NFL offseason: NFL Mock Drafts | Prospect Rankings | Top free agents
If someone asked you to rank all the quarterbacks in the AFC West, you probably wouldn't rank Matt Schaub at No. 1 -- or No. 2. And maybe even not No 3. Don't tell that to Raiders coach Dennis Allen, though, because he feels his new quarterback is just as good as any quarterback in the division. 
"It's pretty obvious that we feel good about Matt Schaub as our starting quarterback," Allen said on Tuesday, via the San Jose Mercury News. "We have a quarterback now that's on par with the quarterbacks in this division."
In case you need a quick reminder, the other quarterbacks in the AFC West are Peyton Manning, Philip Rivers and Alex Smith. Schaub threw more picks in eight starts last year (14) than Manning (10), Rivers (11) and Smith (7) did over the entire season.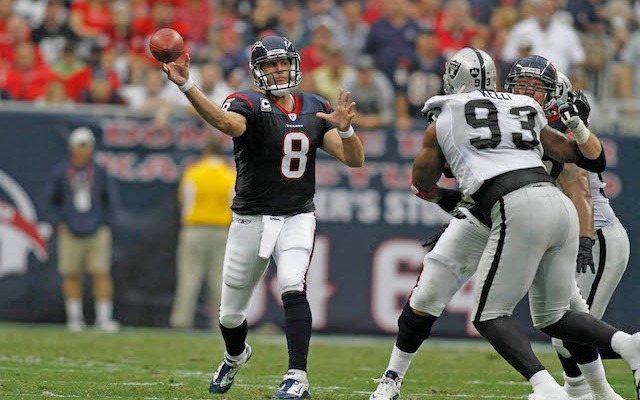 Allen feels that the best way to win in the AFC West is to keep Manning, Smith and Rivers off the field and he believes his team can do that with Schaub. 
"The best way to stop those offenses No. 1 is to keep your defense off the field," Allen said. "And I think with some of the things we've been able to do up front, both from a protection standpoint, from an ability to run the football, I think those things are going to help us. Obviously I think the quarterback's going to help us."
Raiders general manager Reggie McKenzie is high on Schaub too. McKenzie said it wasn't Schaub's fault the Texans were bad, it was the entire team's fault. 
"The guy can play," McKenzie said. "He had some good plays last year. Take away some of the bad throws, and he looked alright. Things just didn't go right with that whole team. And then players, Matt included, started to press and things got worse."
Whatever you think of Schaub, though, he should be a step up from Matt McGloin or Terrelle Pryor, just ask former Raiders defensive end Lamarr Houston. Before signing with with Chicago, Houston told McKenzie that he was leaving because the Bears had a better quarterback situation. 
Houston ended up signing with Chicago on March 11, just 10 days before the Raiders sent a sixth-round draft pick to the Texans for Schaub. 
The Steelers are trying to accomplish something they rarely do: Beat the Patriots

There's no need for eliminated teams to trot out veteran quarterbacks

All of the best highlights from Week 15 are right here
The Steelers' most dangerous player went down in the second quarter and won't return

Shazier suffered a scary injury a couple weeks ago, but appeared to be in good spirits at Heinz...

With their 2017 season basically over, it's time for Cardinals fans to turn their attention...