Raiders fans will honor Manti Te'o's fake dead girlfriend with banner
Lennay Kekua will get some love in Oakland on Sunday night. Raiders fans plan to honor Manti Te'o' fake dead girlfriend by hanging a banner at O.co Coliseum.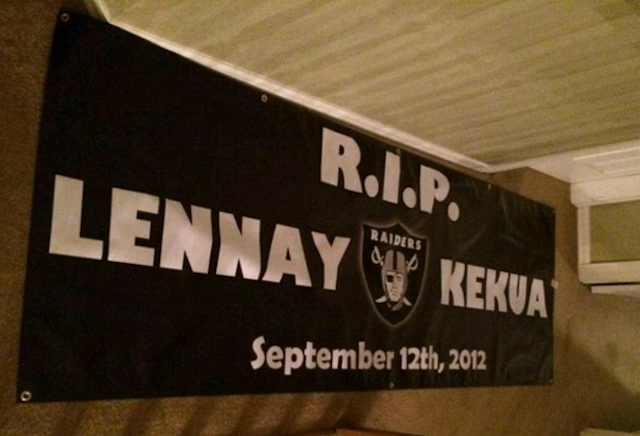 Playing your first NFL road game is tough enough, playing your first NFL road game in Oakland when your past includes having a fake dead girlfriend definitely doesn't make things easier.  
Raiders fans in the 'Black Hole' section at O.co Coliseum plan to honor the dead fake girlfriend of Chargers linebacker Manti Te'o on Sunday with this banner. That's right, Lennay Kekua will have her very own RIP banner at the Chargers-Raiders game. 
It's a very touching tribute and something Raiders fans should be commended for. Actually, it's none of those things and really, it's just kind of funny.  
If you need a refresher on who Lennay Kekua is -- or isn't -- feel free to click here. The celebration of Lennay will be a two-day affair, at least in the eastern time zone. The Chargers-Raiders game kicks off at 11:30 p.m. ET on Sunday.
The game in Oakland is the first road game of Te'o's NFL career. The second-round draft pick out of Notre Dame missed San Diego's first three games with a foot sprain. Te'o played in the first game of his career in Week 4 at home against the Cowboys. 
(Wink of the CBS Eye to the San Francisco Chronicle and Oklandraida84 on Twitter)
The young head coach took the blame after a heartbreaking loss to the Eagles

Our computer model simulated every Week 15 NFL game 10,000 times with very surprising resu...

Britt is going from the worst team in football to a Super Bowl contender
With three weeks to go in the regular season, the MVP race is wide open

The Eagles are sticking with Nick Foles

We all deal with devastation in different ways