Raiders owner Mark Davis meets with San Antonio officials; possible move?
If the city of Oakland doesn't work out for the Raiders, owner Mark Davis apparently has his eye on San Antonio.
More NFL: Photos |  Videos & GIFs |  Training Camp updates | Manziel watch
If the Raiders don't get a new stadium, the team could be making the move from Oakland to the Alamo. According to MySanAntonio.com, owner Mark Davis met with San Antonio city officials in mid-July to discuss possibly moving his team to Texas.
The Raiders' lease at O.co Coliseum expires after the 2014 season and at that point they would theoretically be free to move anywhere, although 24 out of 32 NFL owners would have to approve any possible relocation. 
According to MySanAntonio.com's report, Davis took a helicopter tour of San Antonio and also visited the Alamodome, the stadium where the Raiders would potentially play if they made the move. The Alamodome could be upgraded to NFL standards in time for kickoff of the 2015 season. 
The Raiders currently play in the country's sixth-largest media market while San Antonio is the 37th largest.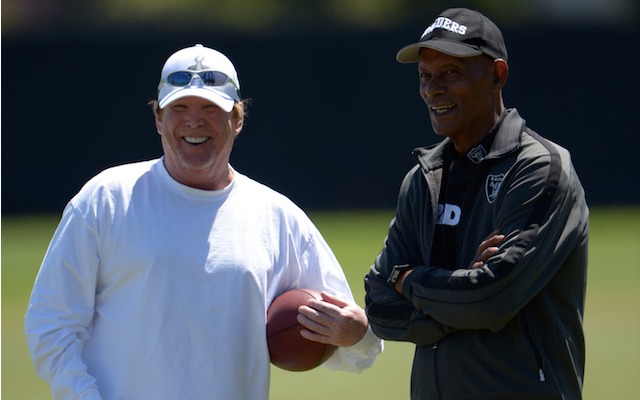 NFL spokesman Greg Aiello told MySanAntonio.com that he had not heard about Davis possibly heading for Texas. 
"We don't have any information about (Davis' meeting in San Antonio), so there is no reason for us to comment," Aiello said. "We have received no applications from any of our teams to relocate at this point, so there is nothing for us to respond to."
If he moves to San Antonio, Davis would want a small, intimate stadium where he could put up a statue of his dad, former Raiders owner Al Davis.
Davis didn't have much to say when asked on Tuesday about his visit to San Antonio.  
Davis said former San Antonio mayor Henry Cisneros is a friend and he met with San Antonio officials at his suggestion. Has no other comment

— Jerry McDonald (@Jerrymcd) July 29, 2014
According to the Raiders website, Davis was in San Antonio to see long-time Raider Cliff Branch inducted into a local Hall of Fame. 
Henry Cisneros was asked by MySanAntonio.com if he thought the Raiders would end up moving to his city, "You'd have to ask [Davis]," Cisneros said. "I didn't press that point, but we want to give him things to think about and options should he need to make a decision." 
Davis has repeatedly said that he wants to keep the team in Oakland, but that the Raiders need a new stadium. Davis had reportedly hoped that he could tear down O.co Coliseum and build a 50,000 seat stadium at the same site. 
However, those hopes were likely dashed in early July, when the the city of Oakland and MLB's Athletics came to an agreement on a 10-year lease. Davis had felt that if the A's got a long lease, it would be impossible for his team to get a new stadium. 
The A's and the city of Oakland tentatively agreed to a lease in late June, before finalizing it on July 23. Davis' visit to San Antonio was believed to have taken place on July 18. On that same day, NFL commissioner Roger Goodell was in Santa Clara, Calif., where he suggested the Raiders could play at Levi's Stadium, the new home of the 49ers.
Davis has made it clear he doesn't want to share Levi's stadium with the 49ers. Of course, if all else fails, there's always Portland.
The winner of Sunday's game will he headed for Super Bowl LII

SportsLine's Mike McClure, a DFS pro with more than $1M in winnings, gives optimal lineup...

Super Bowl tattoos are never a good idea until your team has actually won the Super Bowl
A couple of dogs emerge victorious in the Conference Championship round

Our computer model simulated the AFC and NFC title games 10,000 times with surprising resu...

If the past 18 weeks are any indication, Tom Brady could be in trouble Sunday