Raiders QB Matt McGloin expected to start final three games
Raiders coach Dennis Allen said on Monday that undrafted rookie Matt McGloin will finished the season as the team's starting quarterback.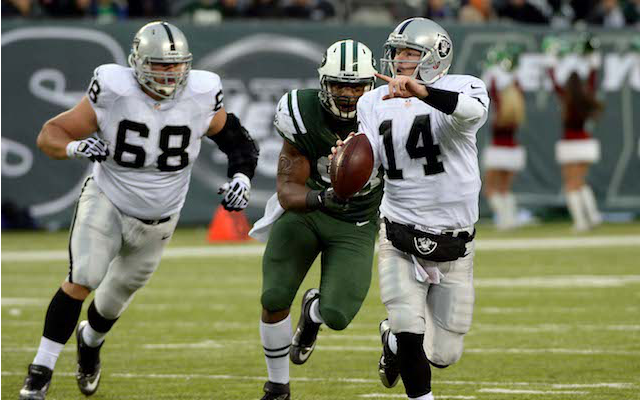 There's no quarterback controversy in Oakland. Raiders coach Dennis Allen announced on Monday that barring unforeseen circumstances, Matt McGloin would remain the team's starting quarterback for the rest of the season. 
McGloin split time with Terrelle Pryor at quarterback in the Raiders 37-27 loss to the Jets on Sunday and Allen said that Pryor will continue to get snaps whenever the team can use him, according to CSN Bay Area. 
Pryor played one series against the Jets, a first half series that ended with a 41-yard field goal by Sebastian Janikowski. McGloin played all other offensive drives and finished 18 of 31 for 245 yards and two touchdowns. Pryor finished 2 of 5 for 20 yards in his limited time on the field. 
After the game, Allen was asked if he had thought about letting Pryor play at all in the second half, "Not after watching the way that we played in the second half offensively," Allen said, via the Raiders official website. "We moved the ball down the field and converted third down and were able to score points, so we weren't going to change anything there."
McGloin has four starts under his belt this season and the Raiders are 1-3 in those games. In his lone win, the undrafted rookie threw for 197 yards and three touchdowns as the Raiders beat the Texans 28-23 in Week 11. 
Improving that 1-3 record won't be easy, the Raiders close the season with 10-3 Kansas City, 6-7 San Diego and 11-2 Denver. 
The Seahawks are trying to beef up their offensive line with George Fant out

Tom Brady had an interesting Sunday

Cutler's teammates rave about his arm and football IQ but can he keep playoff hopes afloat...
Odell Beckham broke all the rules for watching the solar eclipse on Monday

For the second straight year Siemian has won the starting job in Denver

The soon-to-be Las Vegas Raiders played in Los Angeles from 1982-1994 before moving back to...