Raiders QB Terrelle Pryor: 'We'll get to the playoffs'
Despite Oakland's Week 6 loss to Kansas City, Raiders quarterback Terrelle Pryor is still confident his team can make it to the playoffs.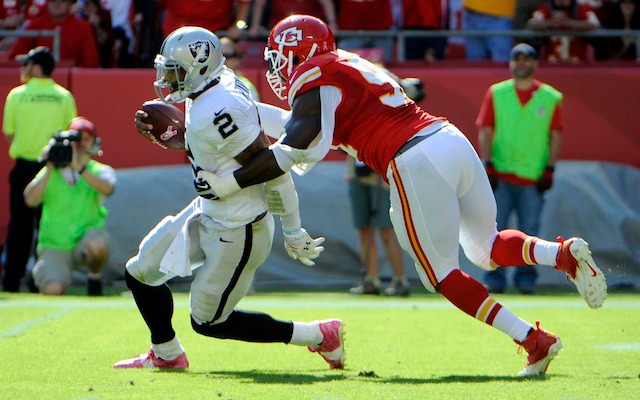 Raiders quarterback Terrelle Pryor might have been sacked 10 times in Oakland's loss to Kansas City on Sunday, but that didn't do anything to dampen his enthusiasm about the future of the 2-4 Raiders. Pryor thinks that future will include the team's first playoff berth since 2002. 
"We have to come together and start creating," Pryor said, via CSNCalifornia.com. "We'll be back; 2-4; we'll get to the playoffs."
That's definitely better than your quarterback saying 'we won't get to the playoffs.' 
We can probably agree that the Raiders won't be getting to the playoffs by winning the AFC West, but a Wild Card berth isn't completely out of the question. The Raiders only trail Miami by 1.5 games for the No. 6 spot in the AFC and Oakland's remaining schedule isn't exactly difficult.
Over their final 10 games, the Raiders only play two teams that are currently over .500 (Denver, Kansas City). That means Oakland still has eight games left against teams that are currently .500 or below. 
Even with the favorable schedule, the Raiders aren't going to do anything this season if Pryor doesn't play better and he seemed to realize that after Oakland's 24-7 loss to Kansas City.
"Defensively, we played great. Offensively, we played great," Pryor said, via the Contra Costa Times. "It was just [me]. That's the only way I'm going to get better is taking the blame that's really my blame. I can't play like I played [against the Chiefs] or I won't be here very long."
If it sounds like Pryor was completely blaming himself for the loss, he was. 
"What disappoints me is we lost the game because of me; that's how I look at it," Pryor said. "I deserved them hits, because I didn't get the ball out, and on one play I called the wrong protection. You make mistakes like that, you deserve to get pile-driven into the ground."
The Raiders will have a bye in Week 7 before starting their renewed playoff quest at home against the Steelers in Week 8. 
Steelers and Haley part ways; keep an eye on Munchak, who canceled his forthcoming Cards i...

The Oakland Raiders coach once told Case Keenum he would get his shot

Each signal-caller can help to silence his critics during a week spent in Mobile, Alabama
Super Bowl LII will feature a pair of underdogs that everyone counted out

'We appreciated the turnovers you gave us over our season,' the Florida shop says

Vegas legend Micah Roberts has his finger on the pulse of Doug Pederson's team