Raiders RB Maurice Jones-Drew considered retirement after 2013
Instead of testing free agency, Maurice Jones-Drew almost retired after the 2013 season.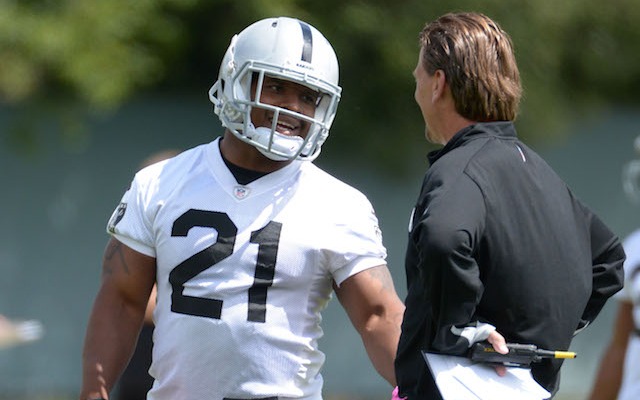 If the Jaguars don't want you, maybe it's time to hang up your cleats. When Maurice Jones-Drew became a free agent after the 2013 season, Jacksonville decided to let him test the open market. 
Instead of exploring his free agent options though, MJD almost decided to do something else: retire. 
"For awhile, I was contemplating retirement because I just didn't feel like I had it anymore," Jones-Drew told the Los Angeles Times. "But that wasn't the case. My trainer helped me get back in shape and gain that foundation that I'd lost with the surgery."
MJD missed 10 games in 2012 and underwent foot surgery after the season, an operation that had him contemplating retirement before 2013. That means Jones-Drew has vocalized his retirement thoughts twice in the past 12 months. 
Don't worry though Oakland, you're not getting a retirement-inclined running back who only signed with the Raiders to collect a paycheck. MJD says he's rededicated himself to football. 
"I'm in the best shape of my life now, running fast, running hills, pulling sleds, cutting, jumping," Jones-Drew said. "I've rededicated myself to my craft again."
When Jones-Drew is healthy, he's one of the best running backs in the game. In 2011 he led the NFL with 1,606 yards rushing. However, with eight seasons and a serious foot injury under his belt, there's no guarantee the 29-year-old will ever return to his 2011 form. 
The man who's training Jones-Drew, Mike Blasquez, thinks he can. 
"You challenge Maurice, man, game on," Blasquez said. "When he's like that, good luck. He is one competitive dude, and he's on a mission."
The Steelers didn't have to look far to find their replacement for Todd Haley

The pop superstar will seek halftime show redemption at Super Bowl LII

Our computer model simulated the AFC and NFC title games 10,000 times with surprising resu...
Todd Haley's name has also been floated as a possible replacement

It wasn't the matchup that we expected, but the Jaguars would argue that's everyone else's...

CBS All Access allows viewers to stream every NFL game on CBS in their local market