Raiders RB Maurice Jones-Drew: London deserves an NFL franchise
Raiders running back Maurice Jones-Drew played in London in 2013 and he thinks the city deserves an NFL team.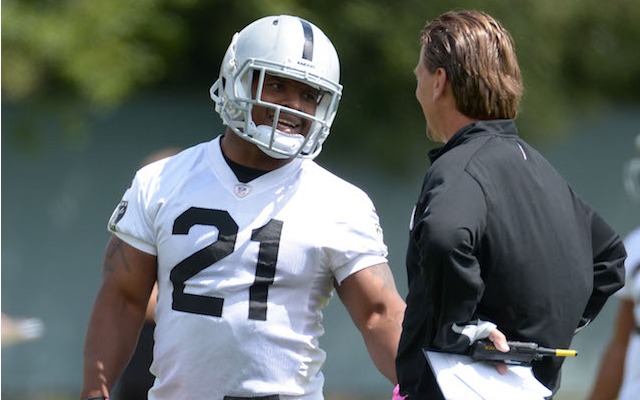 It appears that NFL players and NFL owners finally agree on something: There should be a football team in London. Cowboys owner Jerry Jones said in February that he's 'very much for it.' 
Falcons owner Arthur Blank said in June that the league 'ought to have a team there.' The latest person to weigh in is Raiders running back Maurice Jones-Drew who told BritviewNFL.com that he thinks London 'deserves' an NFL team.
"You know what? I think they deserve one," Jones-Drew said. "It's just the toll it takes on the body because it's so hard to fly across the pond. I think the fans deserve it and London deserves it because it is a great city."
MJD knows something about the toll a London trip can take on the body. The former Jaguars running back played in London in 2013 when Jacksonville played the 49ers. Jones-Drew says that before a London team happens, some transportation logistics will have to be figured out. 
"My only worry is the toll it would take for a team to go back and forth and how would you get that done?" MJD said. "There are some things they would have to work on -- they might have to bring the Concorde back and cut that time in half. But you never know."
The Concorde, of course, was a supersonic passenger jet that could make a transatlantic trip in half the time of a standard passenger plane. The airliner was retired in 2003. 
MJD and the Raiders could probably use a Concorde this year. Oakland will travel 36,106 miles this season, the most in the NFL and a number that's 10,000 miles more than the next closest team. 
The Raiders 36,000 mile travel plans in 2014 will include a Week 4 trip to London to take on the Dolphins. That will game will be one of three that the NFL plays in England next season. The other two games include the Lions and Falcons in Week 8 and the Jaguars and Cowboys in Week 10. 
Look for Ezekiel Elliott and Dak Prescott to rebound after a rough outing in Denver

It was an emotional day in Philadelphia for the parents of kicker Jake Elliott

Nick Kostos, a.k.a. 'Mr. Monday Night,' has owned Monday Night Football
The Steelers weren't actually in their locker room for the national anthem

Players weren't the only ones protesting in Week 3

From London to Sunday Night Football, teams around the league demonstrated in response to...