Ralph Wilson once questioned bad officiating, subsequent $50k fine
Ralph Wilson, once described as the 'conscience' of the league, was also known for his 'grit, determination and resolve.' This manifested itself in 1998 after a Bills-Patriots game.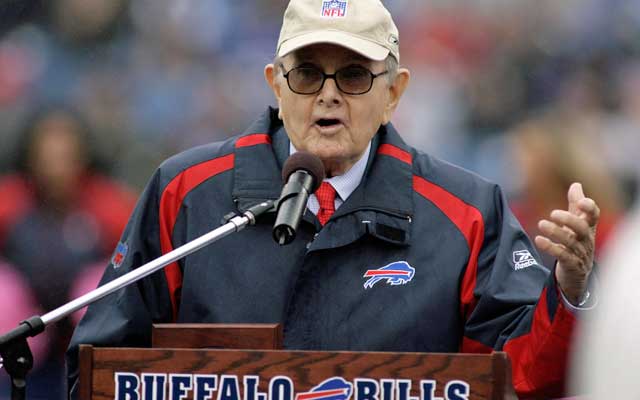 More NFL offseason: Mock Drafts | Prospect Rankings | Pro days | Top free agents
Bills owner Ralph Wilson died last week at the age of 95. Not only was he one of the original American Football League owners, he was instrumental in negotiating the merger the NFL and AFL, and helped grow the league into what it is today.
Wilson, once described as the "conscience" of the league, was also known for his "grit, determination and resolve," as Bills general manager Russ Brandon explained in a statement recently. This manifested itself in 1998, after two controversial calls -- including a suspect pass-interference penalty as time expired -- led to the Bills losing a close game to the Patriots.
Afterwards, an apoplectic Wilson said, ''I've been watching football for six decades. Pass interference? What was that? We got robbed. It's awful. Before the last play, I turned and told my daughter, Linda, 'Look, Bledsoe is going to throw a Hail Mary and we're going to get called for pass interference.' And that's what happened! I wish I could call the stock market like that! It's awful.''
Wilson's remarks led to a $50,000 fine from then-NFL commissioner Paul Tagliabue. Typically, that would be the end of it, but Wilson wasn't your typical owner. Instead, he issued following statement (via TheMMQB.com):
"The commissioner lecturing to me as if I were a novice, instead of one who has been involved in football infinitely longer than he has, contends that criticizing a call has 'destructive and corrosive effects on the game.' What is more destructive and corrosive—errant calls in front of millions of viewers or my statements of opinion?
"People all over the country registered shock at the way the officials, however honorable their purpose, took the game away from us. Even the league has admitted to us that the calls near the conclusion of the game were incorrect. On Monday morning, the commissioner can sermonize on destruction and corrosion, but he has never experienced the pain of blowing a crucial game due to officiating. I have yet to decide whether I will pay or challenge the fine. But, at 80, I know I don't need pompous lectures from the commissioner and I feel that the $50,000 is not only unwarranted, but punitive in nature. The next time he may ask me to sit in the corner."
That was Ralph Wilson, an old-school owner who apparently wasn't afraid of anything.
The Steelers have struggled against the Patriots during the Belichick-Brady era

R.J. White is in the top 9 percent of the nation's top handicapping tournament and picks P...

Everything you need to know about Week 14 of 'Monday Night Football'
SportsLine either really believes in Nick Foles or the team around him

Meanwhile, one of Bortles' teammates compared him to Tom Brady

Here's an early look at the lines for all NFL games being played in Week 15