Rams camp observations: Even younger, faster and dangerous
The Rams are flush with young, speedy talent, but will it translate to wins? Jason La Canfora says Sam Bradford, with his new weapons, looks primed to lead a playoff push.
• 8 min read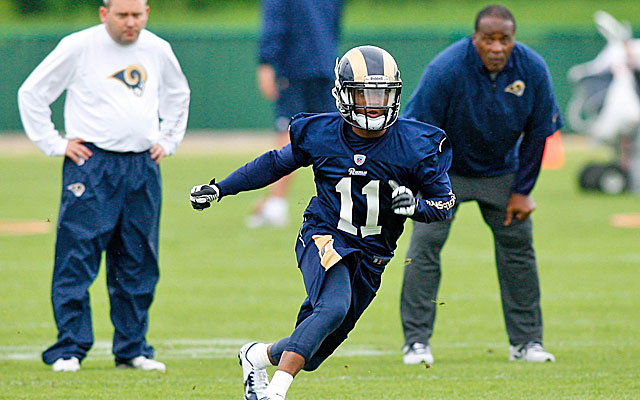 EARTH CITY, Mo. -- The St. Louis Rams were the youngest team in the NFL last year, loaded with rookies and rising stars still on their rookie contracts, yet they quietly executed one of the best turnarounds in the NFL. Only a tie game with NFC Champion San Francisco kept St. Louis from a .500 record.
So it only stands to reason that the Rams will be older, if not wiser and more experienced, in 2013, right?
"It sounds impossible, mathematically," Rams COO and VP of football operations Kevin Demoff said, "but we actually project to be younger this season." Huh?
Yes, it's true. If the 53-man roster breaks down as expected, the Rams will have even more rookies and younger players this season. And they'll continue to be a better football team, too.
"Somebody told me we have the potential to be the youngest team in NFL history," coach Jeff Fisher said, himself seemingly not yet totally getting his head around the concept. "This is a young, young football team … So there's a lot of things to be excited about, but we're also focused on our depth. That's the issue; when you change so much and go young, your depth is not there."
With the bounty of picks from the 2012 trade with Washington (dealing the second-overall pick that became Robert Griffin III ), the Rams continue to rework their roster. Oh, and they have two more first-round picks already lined up for the 2014 draft, when the Griffin bonanza finally comes to an end.
They tied for the NFL lead in sacks a year ago -- again with few noticing -- but look even faster on that side of the ball, with Alec Ogletree now at linebacker. The bulk of this offseason, however, was spent adding cornerstones to give quarterback Sam Bradford the infrastructure he's long been lacking. That included trading up into the top 10 for explosive receiver/returner/possible running back Tavon Austin , getting an athletic tight end, Jared Cook , in free agency (himself still just turned 27), and finally landing what they believe will be a stable left tackle in Jake Long .
"We don't have a receiver or running back over 25," Demoff said.

Demoff admits "it was a little scary" in January when the Rams came to grips that they would probably lose top receiver Danny Amendola and longtime feature back Steven Jackson to free agency. But they knew they would be aggressively seeking reinforcements.
"The fact that Jeff got the defense there so quickly," Demoff said, "we were able to spend a majority of our resources this offseason on offense, which is where it needed to be."
I was high on this group a year ago, and believed the Rams were primed for good things after they had one of the best offseasons in the NFL. This year there is no reason to believe that won't continue.
A second year under Fisher's strong, experienced staff will only help. And there is a very strong sense from all areas of this building during training camp that Bradford is primed to absolutely take off. Their effort and investment in him doesn't waver, and won't, and the Rams now have the quickness on offense to match that of their defense (and they play their first five games in domes, on a fast surface).
"It's easy to see this is the fastest group of skill players we've had since I've been here," said Bradford, eager to see this offense expand as he enters his fourth season.
This should be his breakthrough year for Bradford, who also benefits from finally having two years under the same coordinator, the very capable Brian Schottenheimer.
"Sam is walking around more confident, like he knows, 'Hey, I'm that guy,'" said linebacker James Laurinaitis , one of the elder statesmen on this team though himself just entering year No. 5 in the NFL. "And at quarterback you have to be that guy. It's maybe not in the same style as Tom Brady , but when he speaks up, people are going to listen more. He's embraced that more and he's more comfortable in it. He just seems way more comfortable in that."
If the Rams' offense can come close to mimicking the gains their offense made in Year No. 1 under Fisher, this team could very well find itself in the thick of the playoff race. And if they are as good within the division as they were a year ago, then they just might find themselves battling for a division title.
They might not be the Greatest Show on Turf just yet, but the Youngest Show on Turf isn't bad for now.
Observations
• The Rams will only continue adjusting to the read-option defensively. They stifled RG3 in Week 2, and their approach to Russell Wilson and Colin Kaepernick provided a blueprint for other teams. They held Kaepernick to 13 points and beat Wilson and got after him another time. The way they played physical against read-option attacks, crashing their ends on the quarterback and attacking him, won't change.
"They're going to keep evolving and so we're going to have to keep evolving," Demoff said. "But I look at it that of our 11 starters, nine are under contract at least through the next two seasons. And they're all 27 or younger. So they're going to grow together."
Fisher is very high on former first-round pick Michael Brockers , who was slowed for much of 2012 due to a high ankle strain but came on late.
"He's changed his body, he's much stronger," Fisher said. "He's going to be eventually one of those dominant type of defensive tackles."
Overall, the pass rush that tied for the NFL lead in sacks should be improved, and once again defensive line coach Mike Waufle is doing an excellent job.
"We were tied in sacks with Denver, but in sacks-per-pass play we were way up there," Fisher said, "and we didn't go into every game with a 14- or 21-point fourth quarter lead like they did." Good point.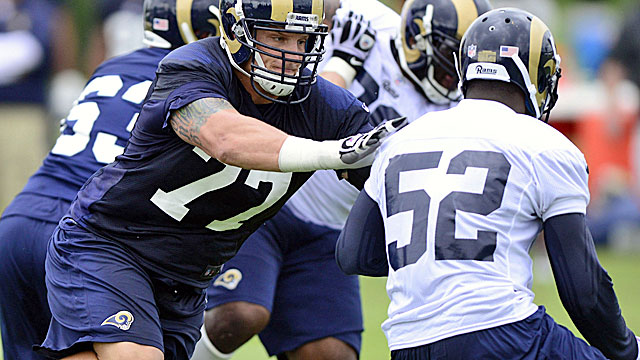 • Health issues have dogged Jake Long, and it's rare a rebuilding team lets its former first-overall pick and former Pro Bowl left tackle get away in free agency at age 28. So obviously there are fingers crossed around here about Long's knees. But Long is already an upgrade over anything the Rams have had in a long time. Rodger Saffold is adjusting to right tackle and the entire offensive line seems way more settled than it has been for a long time. Former tackle Chris Williams is making a nice transition to left guard and could win that position battle.
"Thus far, it's panned out," Fisher said of signing Long. "He's healthy, he's playing well, he's really talented, and he is a great teammate."
The Rams are enthused that center Scott Wells appears to be over his health woes as well and he looks very good in camp, too. "We've taken what was a problem area last year and we've potentially turned it into one of the strengths of the team," Fisher said.
• I would expect the Rams to be shopping some running backs, or putting backs on waivers who get claimed elsewhere once cuts begin. They have six on the roster Fisher believes are NFL-worthy, and the hopes are high that second-year backs Isaiah Pead and Daryl Richardson will take big steps this season. "I think they've grown up a ton since last year," Bradford said.
I was really intrigued by back Benjamin Cunningham out of Middle Tennessee State leading up the draft -- a speedster who missed almost all of his senior year with a patella injury. He was signed un-drafted out of Middle-Tennessee State, and his explosiveness has returned. Even in this crowded backfield I bet he makes the team.
"It's all back," Fisher said of the speed that jumped out to him on film. "I wouldn't hesitate to play him."
However, some within the organization have cautioned about Pead's issues in pass protection and that there is still much debate about whether or not he can get it together at this level. One name to watch in this bunch is Zac Stacy , who looks like a good fit in a lot of the one-back stuff Schottenheimer wants to run to spread the field and attack defenses.

Stacy, a fifth-round pick out of Vanderbilt, has explosion and could be a sleeper who emerges as a rookie.
• Rookie TJ McDonald, a third-round pick, is showing breakout potential through the early stages of camp and there is a feeling he could be a real contributor from the onset. No one wants to get too carried away, but if he plays in the preseason like he's practiced, this kid will be given every opportunity to play.
• There remains great uncertainty about the future of the team, with the Rams able to get out of their lease in 2014. Owner Stan Kroenke has strong ties to the Los Angeles area and the Rams have long been considered a top candidate to head back West. This will be a big year from an attendance standpoint and I didn't detect any strong rumblings of a new stadium getting built in St. Louis. The longer things progress without a plan for staying in St. Louis -- and renovating the dome doesn't seem realistic -- the more you will hear about the franchise moving. Sources said to this point that Kroenke hasn't given any strong indications internally about what the next step will be, either.
• Top pick Tavon Austin is everything the Rams hoped. Think of him as a smaller Percy Harvin , because that's the role they have envisioned for him. He's a dervish in the return game and they will line him up outside, in the slot, in the backfield. Anywhere.
"In addition to the talent, he's really instinctive," Fisher said. "He's a smart football player, the playbook is not going to be an issue. We'll do all those things with him." Austin's West Virginia teammate Stedman Bailey is also making a strong impression in his first camp.
Of the group of 2012 rookie receivers who struggled a year ago, Brian Quick is making some strides and Bradford praised his physicality.
The Rams aren't getting nearly the hype surrounding Seattle and San Francisco in their division, but that seems to suit them just fine.
"We can't go in here with any mindset of being too ambitious or relying on what we did last year," corner Cortland Finnegan said.
"When you're a team that lost more games in a five year span than any in NFL history, you're not going to get a lot of attention," Fisher said. "But it's a really fun team to coach."
You can find every official injury designation for each NFL team shortly after its Friday report...

Everything you need to know for Week 3 of the 2017 NFL season is here

Two NFC East divisional foes face off this weekend in a big battle for both teams
Matt Ryan and Matthew Stafford, two of the NFL's best quarterbacks, face off in a Week 3 m...

Wilfork has always wanted to be a tailgater, and now he finally can be

It's finally time for Russell Wilson and company to pick things up in Tennessee