Rams could release Sam Bradford with no financial constraints
With two first-round picks, the Rams could be eyeing a QB and if they that's the case there are no penalties in parting ways with Sam Bradford, Jason La Canfora reports.
• 2 min read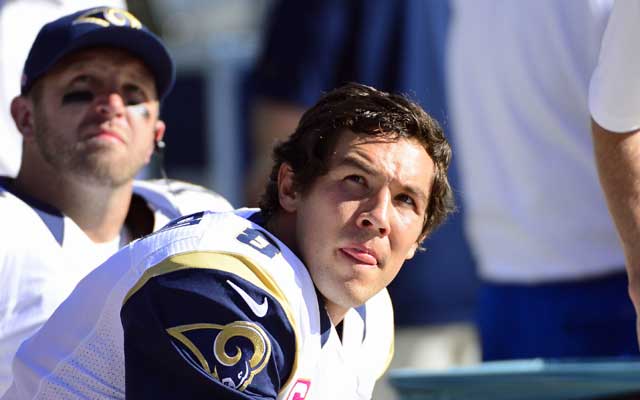 For more news and notes from Jason La Canfora, tune into The NFL Today Sunday at noon ET on CBS.
The Rams could be facing a crucial dilemma this offseason with Sam Bradford, the first-overall pick in 2010, coming off another injury and the team now possibly ending up with two top 10 picks. That's including what may be the first-overall via the RGII trade they made with Washington in 2012 (St. Louis has the Redskins' top pick).
Several NFL execs, when assessing that situation, believe it could lead to Bradford's departure, while team sources have indicated the organization remains very comfortable with Bradford and while "all options would be on the table" if St. Louis has the top pick, the likelihood of drafting a quarterback is more remote than most other scenarios. The dream scenario for the Rams would be other teams coveting that pick -- as the Skins did with St. Louis' second-overall selection in 2012 -- and then offering a bounty to trade down and pick up a bunch of selections, able to fill multiple holes.
The Rams will do their due diligence on the college quarterbacks, of course, but drafting a quarterback when considering their other needs is not very likely, sources said. There could well be a tackle who makes sense if they keep the pick, but the team will explore options for trading it as well, and that approach has been favored by them with good results to this point.
Even if the Rams don't get the first overall pick -- let's say it's second overall -- and it ends up there are two consensus best-of-breed quarterbacks, they could find themselves in a similar situation to where they were in 2012. There are no shortage of teams who will be drafting quarterbacks -- Houston, Cleveland, Jacksonville, Oakland, and Minnesota will be taking one high -- and only so many of them will end up picking before the Rams.
However, it is also not lost on the organization that the Rams no longer owe Bradford any guaranteed money, having paid him $50 million already, and they owe him $14M for 2014 and $13M for 2015. And a quarterback taken with the first overall pick in 2014 would earn roughly that same $27M over the first five years of his deal. Still, dealing or cutting Bradford is very unlikely.
Although it must be noted that the Rams have been publicly united in their support of Bradford.
Last week the Rams restructured the deal of Chris Long to free up some cap room.
White said he didn't even watch his own game-winning touchdown when watching Falcons film

SportsLine tapped into its Vegas sources to see which NFL teams professional bettors like this...

He'll reportedly appeal the suspension
Rodgers is eligible to return after eight weeks and the Packers reportedly aren't giving up...

The Packers think the hit is dirty, but the NFL apparently disagrees

Here's every official injury designation for each NFL team for Week 7