Rams DE Michael Sam: 'It's OK to be who you are'
Michael Sam answered questions about football, his teammates and his sexuality during his introductory press conference in St. Louis on Tuesday.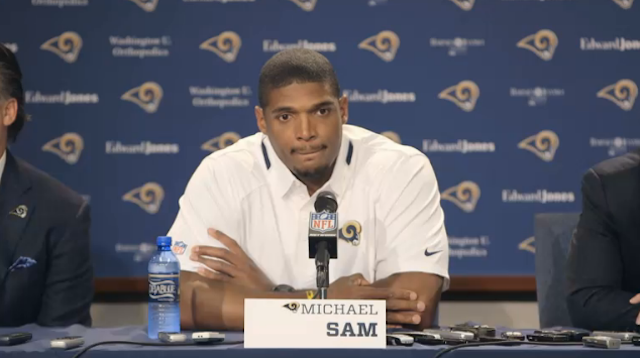 More Draft coverage: 2015 Mock Drafts | 2015 Top 100 | 2014 Draft Grades | News
It's not very often that the 249th pick in the NFL Draft gets his own introductory press conference, but that happened Tuesday as the Rams introduced Michael Sam, the first openly gay athlete to be drafted into the NFL. 
"I feel like I'm a part of the NFL right now," Sam said. "I'm blessed." 
When the press conference started, Sam actually shared the podium with the Rams' five other late-round picks. After about 20 minutes of questioning, the other draft picks left and Sam had the podium to himself. 
One of the first topics? Sam's sexuality. "It's OK to be who you are," he said. "Whether you're gay, straight, black or white. It's OK to be comfortable in your own skin."
The former Missouri defensive end was also asked how he might react when opposing players say something about his sexuality. Sam got a taste of that during the draft when Dolphins defensive back Don Jones tweeted "horrible" after ESPN showed Sam kissing his boyfriend.  
"I have every confidence in myself that I will make this team," Sam said. "So when I do make it and when I put my pads on, if someone wants to say something, then you'll see No. 96 running down the field and making big plays for this team."
Jones has since been fined for the tweet and the Dolphins have banned him from team activities until he completes sensitivity training. 
As for Sam, he explained how he personally handles hateful tweets: "You want to know how I handle that? I don't read them," Sam said. 
Falling to the seventh round in the NFL Draft may have been bad for Sam when it happened, but now he seems kind of happy about it. "Feels just like home," Sam said of St. Louis. "Mizzou is only two hours away and I think one of the biggest Mizzou alumni [bases] is in St. Louis, so it's home." 
The Dallas Cowboys running back has high expectations for his performance against the Seah...

Mike Tierney has owned NFL totals and has a strong play for Chargers-Chiefs on Saturday

The former No. 2 overall pick drew interest this offseason but did not play in 2017
This matchup isn't quite as glamorous as it looked when the schedule was released in the s...

Patriots-Steelers highlights a week filled with playoff-caliber games

Cleveland's quarterback has recently improved, but his turnovers have been a big part of the...