Rams GM Les Snead in talks with teams about trading No. 2 pick
Just like the Texans at No. 1 overall, the Rams are in talking with multiple teams about trading the No. 2 overall draft pick.
• 2 min read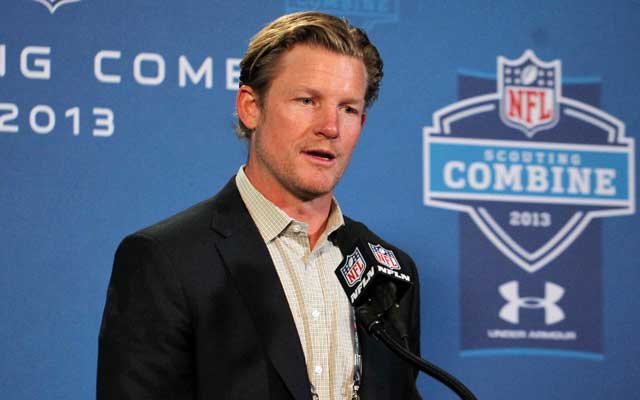 More NFL offseason: Mock Drafts | Prospect Rankings | Pro Days | Top free agents
The Rams, because they traded away the right to draft No. 2 overall in the 2012 draft so the Redskins could take Robert Griffin III, have the No. 2 overall and the No. 13 overall picks in this year's draft.
Aside from the Texans at No. 1 overall, the Rams might have the most leverage or power of any squad in the draft, mostly because they don't need a franchise quarterback and they have a pretty decent left tackle in Jake Long (so they wouldn't necessarily need to draft Auburn tackle Greg Robinson, as four of the five CBSSports.com mock drafters are predicting-- unless they wanted to place him on the right side of the line). Jadeveon Clowney would be a strong pick, but St. Louis already has one of the best pass-rushers, Robert Quinn, on its team.
So, why not think about a trade? That seems to be the thought process of Rams general manager Les Snead, who told theMMQB.com's Greg Bedard that St. Louis has been talking to teams.
"We have had some conversations with multiple teams," Snead said. "They're more flirtatious calls than anything. We have numbers 2 and 13, but Houston has No. 1. Nobody can really seriously chat with us until they are happy with at least two players. I think what might happen as we get closer to the draft, maybe it comes to fruition what Houston is going to do, maybe it doesn't, you have more serious talks probably the week of the draft going, 'Hey, if our player is there at 2, this is what we're going to offer.' I think it will get more serious."
Making matters even better for Rams are the depth of this year's draft and the notion that a number of players could fit into the top-2 taken (Clowney, Johnny Manziel, Blake Bortles, Robinson, Teddy Bridgewater, maybe even Khalil Mack all are legitimate players that could be grabbed at either No. 1 or No. 2).
"I actually think there's more than one player that people would want to move up for. I just don't know what they'd want to give to move up," Snead said. "At the top maybe there's four or five players who were one step or one notch ahead of the very good, and sometimes a team might say we need to get that guy. You don't know the value of what people would be willing to give. The fact that there could be multiple teams eyeing one of those guys could drive up the price a little bit."
Much of it, of course, might depend on what the Texans do with their pick. Though a selection like Clowney or one of the quarterbacks would make sense for Houston, it's been reported that the team also wouldn't mind trading down.
"Maybe we'll trade down and still get a quarterback that can do the job and get an outstanding defensive player," Texans owner Bob McNair said in January. "It's an exciting time. Everything's a moving target. Lot of different pieces."
And lots of different teams who might want to take a crack at either the No. 1 or No. 2 selections. For now, we wait, because by this time next week, a team's thought process might have changed completely. 
The 2018 draft class is shaping up to be absolutely loaded at the running back spot

Micah Roberts is gunning for nine straight winning NFL picks on 'Thursday Night Football'

Did Jackson text Deshaun thinking it was DeShone? Not the case, according to the Browns co...
The Vikings coach says the way that linebacker Anthony Barr tackled Rodgers was within the...

The defending NFC champs look lost after home defeats to the Bills and the Dolphins

Wondering which NFL teams are going to win in Week 7? You've come to the right place to find...