Rams owner: I love St. Louis, moving to L.A. in best interest of team
It's taken two decades, but owner Stan Kroenke finally got his wish: the Rams are headed back to Los Angeles.
It's taken two decades, but owner Stan Kroenke finally got his wish: the Rams are headed back to Los Angeles.
So yeah, it's been real, St. Louis.
Those aren't the words Kroenke used. He was far more eloquent in his remarks, though some folks living in the town he just abandonded likely won't confuse that eloquence for sincerity; Kroenke has wanted to leave town for some time and on Tuesday night he finally got his wish.
"This has been the most difficult process of my professional career," Kroenke said in a statement. "While we are excited about the prospect of building a new stadium in Inglewood, California, this is bittersweet. St. Louis is a city known for its incredibly hard-working, passionate and proud people. Being part of the group that brought the NFL back to St. Louis in 1995 is one of the proudest moments of my professional career. Reaching two Super Bowls and winning one are things all St. Louisans should always treasure."
Kroenke then addressed the reasons why the Rams are moving.
"While there understandably has been emotionally charged commentary regarding our motives and intentions, the speculation is not true and unfounded. I am a Missouri native named after two St. Louis sports legends who I was fortunate enough to know on a personal level," continued Kroenke, whose first name is Enos. "This move isn't about whether I love St. Louis or Missouri. I do and always will. No matter what anyone says, that will never change. This decision is about what is in the best long-term interests of the Rams organization and the National Football League. We have negotiated in good faith with the Regional Sports Authority for more than a decade trying to find a viable and sustainable solution. When it became apparent that we might not be able to reach an agreement, it was then and only then that we looked at alternatives."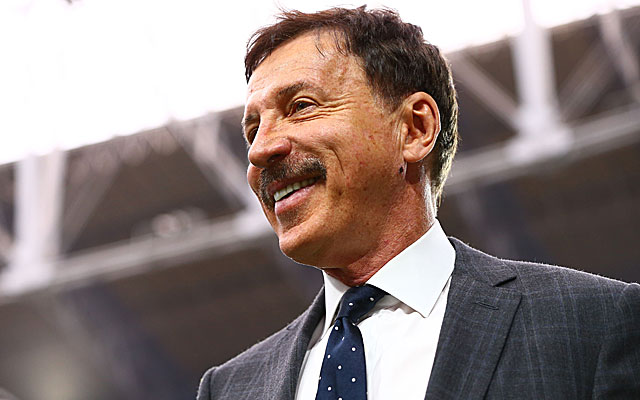 To recap: the reasons the Rams are bolting west isn't because Kroenke doesn't love Missouri -- he does -- it's because of money. (For future reference, anytime you have a question about why anyone does anything, the answer, invariably, is money. This concludes today's Lessons in Microeconomics.)
And while St. Louis Rams fans are reeling, Raiders fans are celebrating because their team isn't leaving Oakland (yet).
The 49ers cornerback thinks his new team's former safety deserves 'top-five' money in free...

Keep up with the latest moves in free agency as teams try to build a Super Bowl contender

The phrases 'going to the ground' and 'slight movement of the ball' will be eliminated
The proposal would permit ejections after instant replay reviews

The league is the brainchild of the man who directed the '30 for 30' documentary about the...

The Jaguars also let star receiver Allen Robinson walk in free agency this offseason