Randy Moss, Terrell Davis freaked out by Los Angeles earthquake
If you're looking for former NFL players reacting to an earthquake, you've come to the right spot.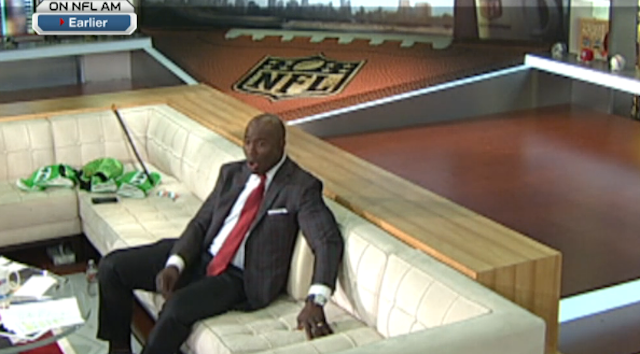 What do Randy Moss, Terrell Davis and Terrell Owens have in common besides being former NFL players? They were all in Los Angeles during Monday morning's earthquake and they all freaked out. 
Davis was on set at the NFL Network in Culver City, Calif., when the earthquake hit at 6:25 a.m. PT. The epicenter of the 4.4 earthquake was in Westwood, Calif., just five miles away from Culver City. In the photo at the top of the page, you can see the fear and shock on Davis' face. He wants to be anywhere but there. 
The NFL Network studio was a safe place compared to where Moss was. The former NFL wide receiver was in pretty much the last place anyone wants to be during an earthquake: 10 stories up in a tall building. 
10th floor of a hotel an feeling a earthquake for the 1st time! Mommy

— Randy Moss (@RandyMoss) March 17, 2014
Then there's T.O. We don't know exactly where in L.A. he was, but we do know he was looking for someone to cuddle with. 
I'm scared!! ? Can I get someone to come cuddle with me?! I'm from Alabama, we don't get stuff like this! ?#earthquake

— Terrell Owens (@terrellowens) March 17, 2014
Finally, we leave you with these two morning news anchors from KTLA. If you don't know what to when an earthquake hits, just watch this video, these two practically wrote the book on earthquake safety.  
The Steelers beat the Falcons while the Saints topped the Chargers

Boldin, 36, who ranks ninth in career receptions, is calling it quits after 14 NFL seasons

Reed's toe is healed but can the oft-injured tight end stay healthy?
The Cardinals rookie safety might have a career in break dancing when he's done with the N...

All signs point to Lynch, the former first-round pick, not beating out Siemian in Denver

The NFLPA executive director comes out out firing in a 'Real Sports' segment