Nick Foles is free -- free from Jeff Fisher's mediocrity, free from an offense lacking adequate receivers, and free to partially pick his next NFL team. Foles' movement might not have been as catchy as #FreeBrady, but it apparently worked.
On Wednesday, the Rams released their former starting quarterback, an inevitability after they moved up to draft Jared Goff and then failed to find a trade partner for Foles. Now, Foles enters free agency as possibly the best quarterback available.
Exciting, right? Now, before you laugh at the idea of someone finding Foles' free agency exciting, keep in mind, this is a quarterback who once did this:
That's nuts! And, as Chase Stuart pointed out on Twitter, Foles actually entered last season with a higher stock than that of Ryan Fitzpatrick, who finally re-upped with the Jets on Wednesday. But, in large part because of their supporting casts, Foles has been cast aside as the lesser quarterback.
A year ago, Foles' stock was a lot higher than Fitzpatrick's stock. One year playing with Marshall/Decker vs. Britt/Austin has changed that.

— Football Perspective (@fbgchase) July 27, 2016
Anyway, let the speculation start and spread like wildfire at King's Landing. To light the match, we're breaking down the Foles market by ranking teams from least likely to most likely to sign Foles, starting with the team that definitely won't bite.
Note: These rankings would change dramatically if any backups or starters suffer preseason injuries.
32. Rams
Unless the Rams plan on bringing back Foles mid-camp to provide some much-needed excitement for Hard Knocks, this isn't happening for obvious reasons.
31. Patriots
Jimmy Garoppolo is the next Dan Marino, didn't you hear?
In all seriousness, Bill Belichick seems committed to Garoppolo as the team's starter during Tom Brady's suspension. He'll return to being the team's backup after Brady's suspension runs out.
30. Bears
The starting job belongs to Jay Cutler, they already spent money on a backup in Brian Hoyer this offseason, and they still have the forever-developmental prospect David Fales on the roster.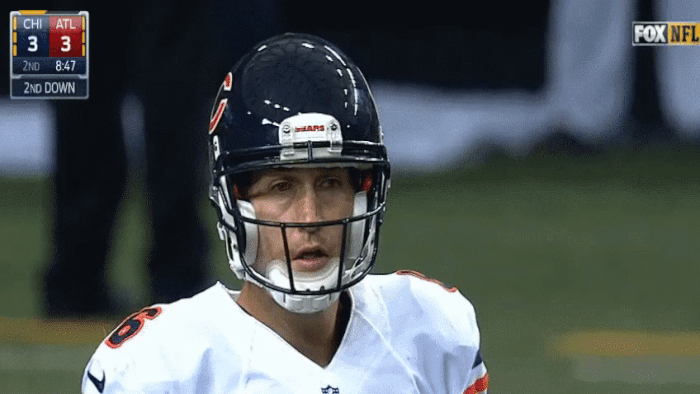 For what it's worth, Bears fans have previously advocated for Caleb Hanie and Josh McCown to start over Cutler. So if this were left up to the fan base, the Bears would be moved up a few spots.
29. Cardinals
The Cardinals told Drew Stanton that they might hand him the starting gig when Carson Palmer calls it quits. So, clearly, they feel just fine about their backup. And with good reason.
28. Panthers
Cam Newton, the league's reigning MVP, has missed just two starts in his five-year career, while backup Derek Anderson brings legit experience to the table. In those two Newton-less games, both of which occurred in 2014, Anderson led the Panthers to two wins and posted a 105.2 passer rating in the process.
Once upon a time, he even won 10 games with the Browns. Seriously.
27. Saints
Drew Brees' backup, Luke McCown, has his own commercial. Enough said.
26. Eagles
The only reason the Eagles aren't on this end of the list is because they seem to love their mediocre quarterbacks. Not only did they sign Sam Bradford and Chase Daniel this offseason, they then proceeded to trade up to snag Carson Wentz in the draft.
But no, this doesn't make sense, even if Foles once experienced a career year in Philly.
25. Jets
Before the Jets finally worked out a deal with Ryan Fitzpatrick, I had them at No. 2. Now, they have little need for Foles with Geno Smith or Bryce Petty locked in as the top backup and Christian Hackenberg to develop.
24. Buccaneers
Some believe Mike Glennon could start for a quarterback-needy team. He's clearly good enough (83.7 career passer rating) to have locked down the position of Jameis Winston's backup.
23. Chargers
They have the best quarterback in the division ( Philip Rivers) and two experienced backups in Kellen Clemens and Zach Mettenberger.
22. Bengals
Andy Dalton might actually be #elite and AJ McCarron is the self-proclaimed next Tom Brady.
21. Falcons
Stable starter: Matt Ryan. Experienced backup: Matt Schaub.
20. Dolphins
I'm pretty sure Matt Moore is actually the prototypical backup quarterback. Like, in the sense he's going to be cloned in the near future by the NFL so all 32 teams have a Matt Moore waiting on their bench. Now, there's a future we can all believe in.
19. Bills
Tyrod Taylor is good, even if he doesn't get the recognition. If he goes down, the team might want to see if former first-rounder EJ Manuel has any remaining value or how Cardale Jones fares at the next level.
18. Vikings
Shaun Hill has actually posted a career 85.2 passer rating, which is nearly identical to Foles' 87.3. There's no need to make a change behind Teddy Bridgewater.
17. Raiders
Backup Matt McGloin has been with the Raiders since 2013, has started six games, and has posted a 76.2 rating. He's bad, but all backups are bad with a few notable mediocre exceptions.
The Raiders also have rookie Connor Cook, who many presumed would be drafted near the end of the first round, which makes the room a tad crowded for Foles to join. If he did, they'd most likely have to part ways with McGloin, who at least knows the system.
16. Titans
Matt Cassel isn't good, but he's experienced as a starter. The Titans aren't in win-now mode, so rolling with Cassel as Marcus Mariota's sub should work for them.
15. Jaguars
Ditching Chad Henne for Nick Foles might be an upgrade, sure, but it'd be minimal. Henne has at least started 53 games in his career.
14. Texans
I'm not even certain Brock Osweiler will be a decent quarterback. They did, however, invest a ton of money at quarterback already.
13. Redskins
For the first time, Kirk Cousins has the starting job tucked away. If he can repeat his success from last season, though, is in doubt. Behind him is Colt McCoy. He is not good. That is not in doubt.
The Redskins probably consider themselves a playoff team, but they don't currently own a good insurance policy if Cousins goes down.
12. Lions
Behind Matt Stafford is Dan Orlovsky, whose stats page features more gaps than any other active quarterback. Yeah, the Lions could use a better backup. They aren't a playoff contender, though, so they might not see a need to upgrade at the position this year.
11. Giants
Is Ryan Nassib even decent at quarterback? We at least know Foles is.
10. Steelers
When Ben Roethlisberger went down last season with an injury, Landry Jones helmed one of the most dynamic offenses on the planet and proceeded to throw more picks than touchdowns. That's not optimal.
Neither is Bruce Gradkowski, who's pieced together a career passer-rating of 65.8.
9. Colts
The Colts lost Matt Hasselbeck, but signed Scott Tolzien (67.1 passer rating) because he learned from Aaron Rodgers. Statistically, Foles would be an upgrade.
Remember Luck's injury luck last year?
8. Packers
A quarterback room with Aaron Rodgers and Brett Hundley -- the team's second-year quarterback -- is probably already full. Still, Hundley's never thrown a pass in the NFL. There's really no way to know how the Packers feel about Hundley, but if they're doubting his readiness to back up Rodgers, then bringing in someone with real experience, who can keep the team afloat if Rodgers misses a small chunk of time, makes sense.
This is a team almost guaranteed to make the playoffs. Having a decent, proven backup matters.
7. Browns
They're not in win-now mode so it doesn't really make sense to grab a "meh" quarterback. But you can't say Nick Foles couldn't beat out RG3 and Cody Kessler.
6. Ravens
They did not fare well when Joe Flacco tore his ACL last season, trying out quarterbacks like Jimmy Clausen and Ryan Mallett, who is currently second on the depth chart. Mallett can't even wake up on time for practice.
5. Seahawks
Russell Wilson's spot is secure, but can you even name their backup? It's not Tarvaris Jackson anymore.
Like the Packers and Steelers, the Seahawks will be a playoff team, so they need an insurance policy in case Wilson is forced to miss a game or two.
4. Broncos
Mark Sanchez? Trevor Siemian? Paxton Lynch?
Put Foles in that competition, and I'm betting he wins the job.
3. 49ers
Reminder: Chip Kelly is the one who coached Foles to that 27-touchdown, two-interception season. Reminder: Chip Kelly is currently working with Blaine Gabbert and Colin Kaepernick.
The only issue: The 49ers won't even be decent, so I see no real incentive to provide a slight upgrade at quarterback.
2. Chiefs
They lost Chase Daniel, they figure they're a playoff team, and head coach Andy Reid helped draft Foles in Philly.
1. Cowboys
The Cowboys went 1-11 in games that weren't started by Tony Romo last year. Romo's collarbone is fragile, to put it nicely. And I doubt Jerry Jones wants to throw Dak Prescott, a developmental rookie, into the fire.
And no, Kellen Moore is not the answer.