Ranking Super Bowl XLVIII starters: Going from Peyton to Paris
As you'd expect when a No. 1 offense faces the No. 1 defense, lots of Broncos offensive players (ahem, Peyton Manning) and Seahawks secondary folks (Richard Sherman, Earl Thomas) top this list.
More SB: Corry: How Broncos were built | La Canfora: How Seahawks were built
Ranking the starters (or, in some cases, the players who get the most snaps) for the two teams squaring off in Super Bowl XLVIII told the story I expected it to tell:
The Denver Broncos are damn good on offense and the Seattle Seahawks are nasty on defense.
Of the 44 players I ranked, Denver had seven offensive players ranked in the top 20. Seattle had six defensive players in the top 20 and four of the top five players were Seattle defensive players.
Is it any wonder why the Broncos were the top­rated offense in the NFL and the Seahawks the top­rated defense?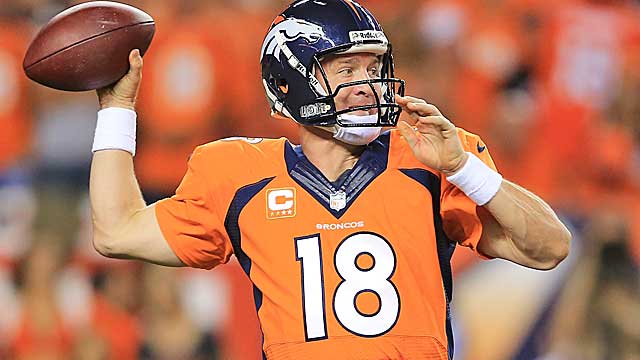 Peyton Manning tops the list, and, truth be known, he could probably take the top three spots based on his value compared to every other player in the game. Manning is followed by Seattle's four best defensive players, led by Richard Sherman in the No. 2 spot.
Some other interesting things from the list, which includes no specialists:
• Seattle's top­rated offensive player is running back Marshawn Lynch at No. 8, the only Seattle offensive player in the top 10. Russell Wilson is ranked No. 14.
• Denver had one defensive player in the top­10, with that being tackle Terrance Knighton, who is at No. 9.
• The bottom 10 is full of Denver defensive players and Seattle offensive players. Telling.
So dive in and analyze it, rip it, shred it and complain about it. That's coming. I know it is.
But I think these rankings tell us a lot about the two teams in Sunday's game. Don't you?
1. Broncos QB Peyton Manning : Is there any doubt who tops this list? He could be the top five on this list. That's how valuable he is to the Broncos.
2. Seahawks CB Richard Sherman: He is a big talker, but he also has a big game. He is an elite corner. Just ask him.
3. Seahawks S Earl Thomas: This rangy safety is the prototype for the position. The ability to run and tackle is second to none.
4. Seahawks DT Brandon Mebane: He is a force in the middle of the Seattle defense. He keys their run defense.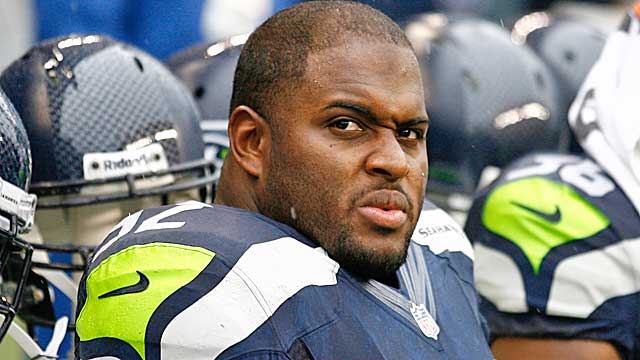 5. Seahawks DE Michael Bennett: He signed a one­-year deal and has played like man looking for a big contract. He had nine sacks coming off the bench, but he played more snaps than any other defensive linemen on the roster.
6. Broncos WR Demaryius Thomas: He is big, strong and fast and presents matchup problems for the opposing corners.
7. Broncos G Louis Vasquez: He is one of the best guards in the league. He is tough and powerful.
8. Seahawks RB Marshawn Lynch: He runs with power and he can make people miss. He shakes off a ton of tackles and makes it look easy doing it.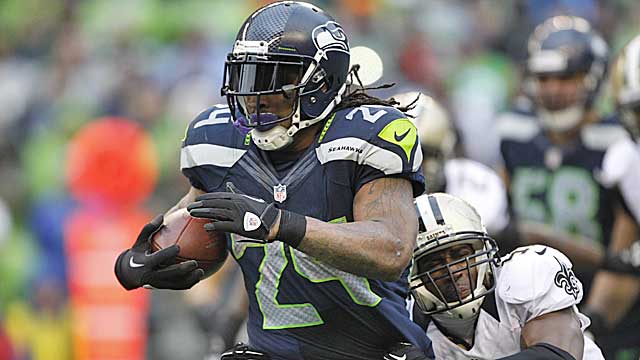 9. Broncos DT Terrance Knighton: The guy known as "Pot Roast" has been a force this season and is having a heck of a postseason. If Seattle wants to run, they better get him blocked.
10. Broncos CB Dominique Rodgers­-Cromartie: He is a quality cover corner who can lock up the other team's best receiver. His only downfall is inconsistency.
11. Seahawks SS Kam Chancellor: This big­hitting safety plays more like a linebacker against most teams, but he probably won't play that way against the Broncos. He can be a liability in coverage.
12. Broncos DE Malik Jackson: He is an underrated part of their defense. He can play the run and gets push from a down spot against the pass.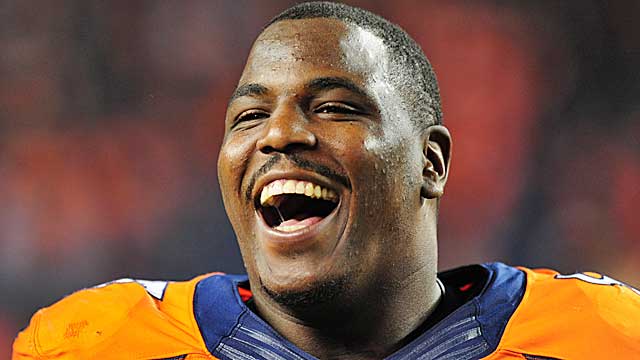 13. Broncos T Orlando Franklin: He is a mauler in the run game who has improved in pass protection.
14. Seahawks QB Russell Wilson: He is a good player, but he isn't as good as his reputation. He still struggles in a big way inside the pocket. But he is damn good outside of it.
15. Seahawks T Russell Okung: He missed time with injuries this season and hasn't played to his usual high standards. But he's still talented.
16. Broncos WR Eric Decker: This free­agent-to-be is a big receiver who runs good routes. He is perfect for this offense.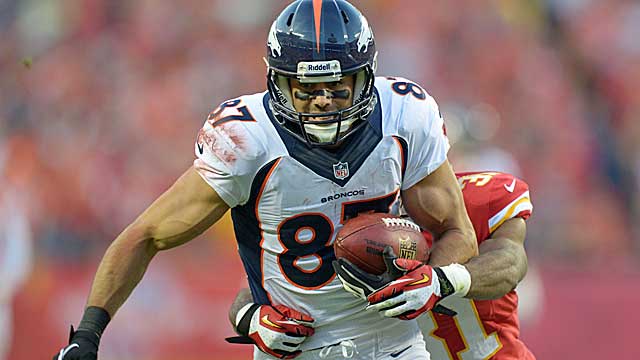 17. Broncos C Manny Ramirez: When the top two centers went down, he stepped in and performed at a Pro Bowl level. Who knew he could do that?
18. Seahawks MLB Bobby Wagner: He's an athletic linebacker who can also rush the passer. He had six sacks this season and he has the speed to chase down runners from behind.
19. Broncos TE Julius Thomas: An outstanding receiver who will create matchup problems for the Seahawks. But he is a terrible blocker.
20. Broncos CB Champ Bailey: Yes, he might not be what he was a few years ago, but he had a nice game against the Patriots and he can still play good man-to-man coverage.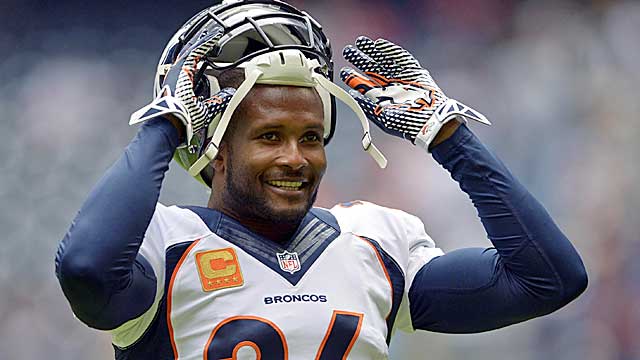 21. Seahawks CB Byron Maxwell: Stepped in when Brandon Browner was suspended and played better. He does a great job in man coverage, but sometimes drifts in zone coverage.
22. Seahawks DT Clinton McDonald: You might not know him, and he doesn't start, but he's a good player who played more snaps inside than starter Tony McDaniel. That's because he's a much better pass rusher with six sacks.
23. Seahawks C Max Unger: The anchor of the Seattle line is smart and athletic. He will be key in blocking Knighton.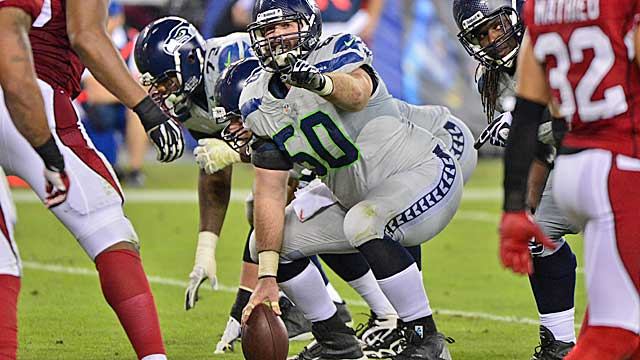 24. Broncos OLB Danny Trevathan: He is an athletic linebacker who can run and chase. He isn't big, so he can get beat up at the point of attack at times.
25. Broncos T Chris Clark: He stepped in when Ryan Clady went down and has done a nice job, earning Clark an extension.
26. Broncos RB Knowshon Moreno: Had his best season in 2013 and is a big part of the Denver offense. He can run it inside and he is a threat in the passing game.
27. Seahawks LB Malcolm Smith: He had the interception in the end zone to clinch the NFC title game. He has been a pleasant surprise this season and his speed is a big asset.
28. Broncos DE Shaun Phillips: This veteran came over as a free agent and helped the pass rush, leading the team with 10 sacks.
29. Seahawks TE Zach Miller: He is a nice weapon in the middle of the field and does a solid job blocking.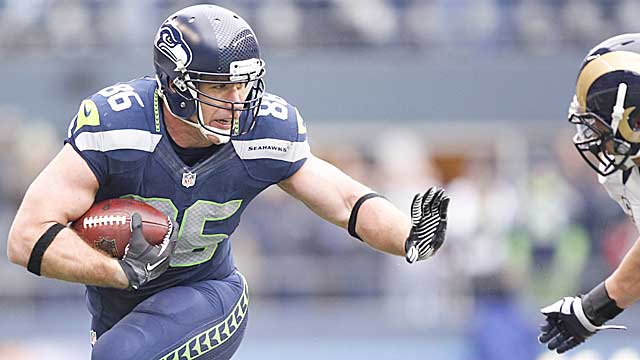 30. Broncos WR Wes Welker: He isn't the player he once was, but he can still do damage in the middle of the field. He seems to be slowing down to me.
31. Broncos G Zane Beadles: He will be a free agent after the season, and it's unlikely Denver keeps him. He's been just OK and might be the weak link of the line.
32. Seahawks WR Golden Tate: On a team that isn't pass­happy, he had 64 catches for 898 yards and five touchdowns. His per­catch average of 14.0 is solid.
33. Seahawks WR Doug Baldwin: He had 56 catches, but he averaged 15.6 per catch with five touchdowns.
34. Seahawks DE Chris Clemons: Coming off an ACL surgery, he hasn't had the same explosiveness as in year's past. He also has problems in the run game.
35. Seahawks T Breno Giacomini: He missed time with injuries, but now that he's back he's an important part of their running game. He is a mauler with limited athletic ability.
36. Seahawks TE Luke Willson: Seattle uses double tights on more than half their plays, so you will see a lot of Willson on the field. He is a good receiver, but he isn't much as a blocker yet.
37. Broncos S Mike Adams: He is inconsistent and tends to get lost at times in coverage. But the former corner has good range.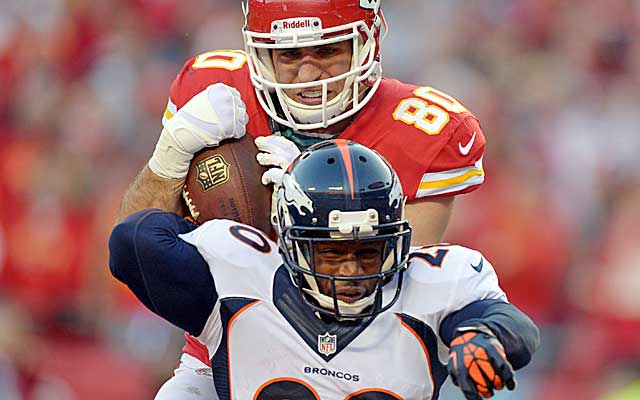 38. Seahawks OLB Bruce Irvin: He converted from a rush end to outside linebacker and has done a solid job.
39. Broncos OLB Nate Irving: He has six starts in place of Von Miller this season, including the past three since Miller went down for the season. He isn't close to being the pass rusher Miller is, but he has been pretty good against the run.
40. Seahawks G J.R. Sweezy: This former defensive lineman is a battler who is limited athletically. But he will mix it up.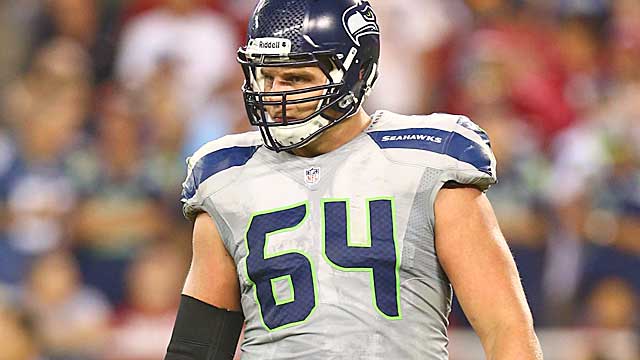 41. Broncos DE Sylvester Williams: This rookie from North Carolina has come on late in the season. He comes out most of the time on passing downs.
42. Broncos S Duke Ihenacho: He struggles in a big way in coverage. He is decent in the run game.
43. Seahawks G James Carpenter: This former tackle moved inside and started 10 games this season. He has had his share of ups and downs.
44. Broncos MLB Paris Lenon: He started the last six games and has been little more than solid in that role. He's a veteran who sees things, but doesn't always get to them. He comes out in passing situations.
For whatever reason Seattle decided to try a fake before the end of the first half

The Giants aren't the only NFC East that might've quit during a game this season

The Cowboys owner is not going to get his way, and he probably won't be happy about it
Gilbert will miss games against the Packers, Bengals, Ravens, and Patriots

Thompson fractured his fibula while Pryor has been dealing with an ankle injury for weeks

The Cowboys have dropped two straight in embarrassing fashion but are not ready to make a change...