Ranking the NFL coaches 1-32: No easy choices, except at No. 1
Bill Belichick has been the NFL's top head coach for years, and his fourth Super Bowl title confirms that. Pete Carroll, almost a repeat Super Bowl winner, is No. 2.
PHOENIX, Ariz. -- With the league's coaches spending the past two days meeting with the media here at the NFL Meetings, it struck me as a good time to rank the coaches from top to bottom.
It is not an easy thing to do.
There were a lot of tough decisions, but the easiest was picking the top guy. That is New England's Bill Belichick, who is arguably the best ever. Belichick won his fourth Super Bowl in February, joining Pittsburgh's Chuck Noll as the only men to do so. Belichick has been to six, the most of any coach.
Forget the Spygate talk and the Deflate-gate talk, as well as his prickly persona. This is a man who was born to coach and does it as well as anybody in the history of the game.
Belichick is a clear No. 1.
The rest of the list was a battle of sorts. I decided to put the three first-time coaches together at the bottom because it's unfair to judge them without any history. They are Dan Quinn of the Falcons, Todd Bowles of the Jets and Jim Tomsula of the 49ers. That's only fair.
So here's the list: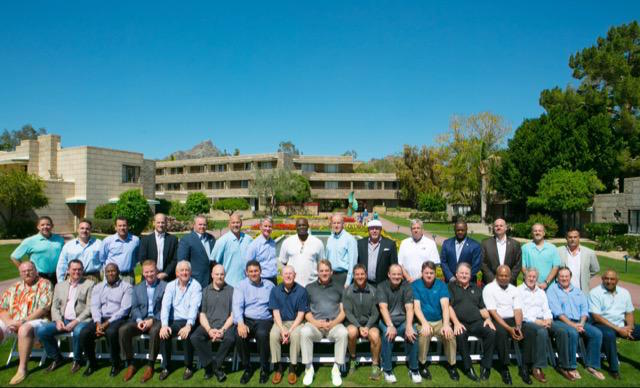 1. Bill Belichick, New England Patriots -- His four Super Bowl rings end any debate about who's the best now -- and might be the best ever. In 20 seasons, including five with Cleveland, Belichick is 211-109-0 for a .659 winning percentage, the best of any active coach. His winning percentage in 15 seasons with the Patriots is an amazing .729 with 12 consecutive seasons of 10 or more victories. The Spygate stuff hurts in some eyes, but there is no debating he's the top guy now.
2. Pete Carroll, Seattle Seahawks -- He came close to winning back-to-back titles. But even with one title and two NFC championships, he deserves this spot. Carroll's winning percentage is .576, but it's .625 in his five seasons with the Seahawks. He had a 33-31 record in two previous stops with the Jets and Patriots. He also won a BCS title with Southern Cal.
3. Mike McCarthy, Green Bay Packers -- He is 94-49-1 in his nine seasons with a Super Bowl victory in 2010. McCarthy has only one losing season as the Packers coach, and has six seasons of double-digit victories. He is 7-6 in the playoffs. His winning percentage of .656 puts him second behind Belichick among active coaches. Why he doesn't get more due as a top coach is mystifying.
4. Tom Coughlin, New York Giants -- His past two years haven't been good, but he has the two Super Bowl rings and has a 12-7 playoff record and seven 10-win seasons. He has five division titles, two with Jacksonville and three with the Giants. He faces a big challenge this season coming off a 6-10 record, his worst since 2004.
5. John Harbaugh, Baltimore Ravens -- In his seven seasons with the Ravens, Harbaugh is 72-40 for a sizzling winning percentage of .643, which is third best of all active coaches. He is also 10-5 in the playoffs with one Super Bowl victory. His worst record in seven seasons is 8-8.
6. Mike Tomlin, Pittsburgh Steelers -- He has one Super Bowl title and another AFC championship. He has four division titles in eight seasons and five seasons of double-digit victories. His winning percentage is .641, fourth best among active coaches and significantly better than the .566 of Steelers coaching legend Chuck Noll.
7. Sean Payton, New Orleans Saints -- The 2014 season didn't help Payton's résumé as the Saints went 7-9, only his second losing season in nine with the Saints. He is 80-48 in the nine seasons with five playoff appearances and one Super Bowl victory. He remains one of the game's best offensive minds.
8. Bruce Arians, Arizona Cardinals -- In two seasons with the Cardinals, Arians is 21-11 and has been to the postseason once, that coming last season. But he also led the Colts to a 9-3 record when he took over for Chuck Pagano in 2012 when Pagano was battling leukemia. Arians has been voted Coach of the Year twice in his three seasons -- winning when he was interim coach in 2012.
9. Andy Reid, Kansas City Chiefs -- In 16 seasons as a head coach, Reid has an impressive 150-105-1 record. He is 20-12 the past two seasons with the Chiefs, but was 130-93-1 in 14 seasons with the Eagles. He has been to the playoffs 10 of his 16 seasons, and has one Super Bowl appearance.
10. Chuck Pagano, Indianapolis Colts -- In three seasons with the Colts, he is 33-15, although he missed 12 games his first season as he battled leukemia. The Colts have been to the playoffs in each of the past three seasons, and in 2014 they advanced to the AFC Championship Game. This is a coach who has his team making progress -- which is always a good sign.
11. Bill O'Brien, Houston Texans -- Surprised to see him this high? He did an amazing job in his first season in 2014. I thought the Texans would win two or three games. He got them to nine victories and nearly had them in the playoffs. He has the feel of a really good coach. I think he will be higher on this list in the coming years.
12. Chip Kelly, Philadelphia Eagles -- I know he as won 20 games the past two seasons, but he hasn't won a playoff game, which holds him down here. I know most would put him in the top 10. He's just outside it for me. But with all the power he has in the building now, he can help change that. This is a big season for him with the recent roster turnover. He is innovative and creative, which you have to respect. At least he does it his way.
13. John Fox, Chicago Bears -- He is now on his third team, leaving Denver to take over in Chicago. In his two previous stops -- Carolina and Denver -- Fox went to the Super Bowl at each spot, losing both times. In 13 seasons, Fox has a 119-89 record.
14. Ron Rivera, Carolina Panthers -- In 64 games, Rivera is 32-31-1, with back-to-back division titles -- although he won a bad NFC South with a 7-9 record last season. He is 1-2 in the playoffs.
15. Jeff Fisher, St. Louis Rams -- He has been a head coach since 1994, missing only the 2011 season after getting fired in Tennessee. He was 162-147-1 with the Titans, going to the playoffs six times in 17 seasons and getting to one Super Bowl. In three seasons with the Rams, he's 20-27-1. Fisher hasn't had a winning season in his past five.
16. Marvin Lewis, Cincinnati Bengals -- There was talk the Bengals should have fired Lewis after they lost their first playoff game for the fourth consecutive year last season. That's absurd. Lewis is 100-90-2 in his 12 seasons and has been to the playoffs six times. Not winning a playoff game holds him down here.
17. Rex Ryan, Buffalo Bills -- After a bad ending to his Jets tenure, Ryan is back with another AFC East team in the Bills. With the Jets, Ryan was 46-50, but fell off after going to the AFC Championship Game in each of his first two seasons. He is 26-38 the past four seasons.
18. Jason Garrett, Dallas Cowboys -- In 72 games, Garrett is 41-31 and has not had a losing season. He is coming off an impressive 12-4 season with a division title and a playoff victory, his first.
19. Mike Zimmer, Minnesota Vikings -- He has always been a highly regarded coach in my book, and when he got his first job in 2014, he did a solid job leading the young Vikings to a 7-9 record. He will be ranked higher on this list in the coming years.
20. Ken Whisenhunt, Tennessee Titans -- He is in his second stint as a head coach. In his first season with the Titans, they went 2-14, which drops his overall record 47-65, which also includes his six years in Arizona. He did take the Cardinals to the Super Bowl in 2008 and came within seconds of being the champs.
21. Mike McCoy, San Diego Chargers -- In two seasons with the Chargers, McCoy is 18-14, going 9-7 both seasons. He has one playoff appearance and is 1-1 in the postseason. He is another bright offensive mind.
22. Gary Kubiak, Denver Broncos -- Kubiak takes over in Denver for his second stint as the top man. He was the head coach of the Texans from 2006 to 2013, going 61-64 in that span with two division titles.
23. Jim Caldwell, Detroit Lions -- In his first season with the Lions, he helped lead them to the playoffs in 2014. He previously had three seasons with the Colts, going 26-22, but going to the Super Bowl in 2009. He has had double-digit victories in three of his four seasons as an NFL head coach.
24. Lovie Smith, Tampa Bay Buccaneers -- In his return to a top spot last season, Smith had a tough time, going 2-14. But in his nine-year stint with the Bears, Smith was 81-63 with three playoff appearances. He did lead the Bears to Super Bowl XLI.
25. Jack Del Rio, Oakland Raiders -- He is back for a second go-around as a head coach after a nine-year stint in Jacksonville. He was 68-71 with the Jaguars with two playoff appearances. He had a four-year stint from 2004-07 where he went 40-24.
26. Joe Philbin, Miami Dolphins -- He has been a .500 coach the past two seasons and his career record in three seasons is 23-25. This is a big season for him. You would think he needs a playoff appearance.
27. Gus Bradley, Jacksonville Jaguars -- He has had a rough go of it in two seasons, but the roster has been totally turned over. It's hard to coach a bunch of rookie starters. This is the year we will find out more about Bradley's coaching. But seven victories in two seasons makes it hard to argue for him being higher on the list.
28. Mike Pettine, Cleveland Browns -- His first year was a brutal one with all that went on, especially with the Johnny Manziel and Josh Gordon situations, and yet he went 7-9. It's tough to judge him -- and I think he can be a really good coach -- but based on his first season, this is where he belongs.
29. Jay Gruden, Washington Redskins -- He is fighting an uphill battle coaching the Redskins with a quarterback situation that isn't good and a roster that doesn't have a ton of talent. He was 4-12 in his first season. I think he will be better in his next job.
30 (tie). Jim Tomsula, San Francisco 49ers; Todd Bowles, New York Jets; Dan Quinn, Atlanta Falcons -- All the first-year coaches without NFL head-coaching experience get lumped together. It's too hard to judge them when they've never been the top guy.
Here's an up-to-date look at the 2018 Pro Bowl roster

New England is 3-0 wearing white in Super Bowls under Bill Belichick

Bettors are favoring the Eagles to keep Super Bowl LII close, but the Patriots remain clear...
No one wants to give the Eagles any respect

The three-time Grammy winner will sing before Super Bowl LII on Feb. 4

Here's a look at the NFL's entire postseason schedule for 2018