Ravens' answer at slot receiver? How about RB Ray Rice?
Joe Flacco confident Ray Rice can become the slot receiver for the Ravens with Dennis Pitta out with an injury.
• 6 min read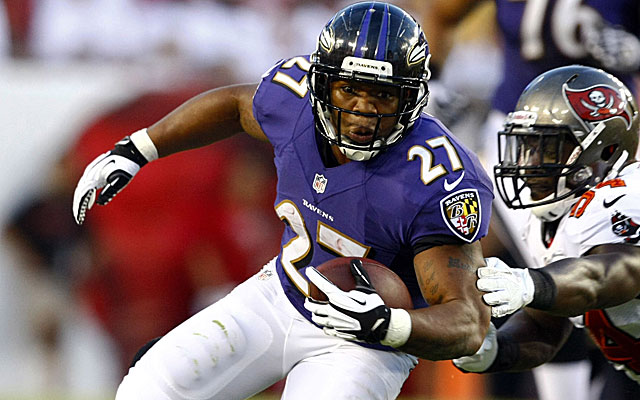 Anyone who watched Ray Rice collect a check down on fourth-and-forever against the Chargers last season and dance through their entire defense to convert it, knows what the running back can do as a receiver in the open field.
And with receiver Anquan Boldin gone and tight end Dennis Pitta -- who was primed for a vital role in this offense -- out for the season following hip surgery, Rice is going to remain a big cog in the passing game. He may also end up doing it from places other than the backfield. For years Ravens coach John Harbaugh watched Eagles running back Brian Westbrook catch balls out of the slot as a member of Andy Reid's coaching staff in Philadelphia, and perhaps we see more of that from Rice this season.
Baltimore has no shortage of running backs. Bernard Pierce emerged as a force in a limited role last year, and the Ravens will need to think creatively to find matchup scenarios without Pitta being that top target option in the slot.
Quarterback Joe Flacco is among those who believe Rice could excel there.
"Ray can definitely do that stuff, and it definitely will be something we need to look at," Flacco said, "because a lot of his effectiveness comes from catching the ball out of the backfield, and when we do motion him out and get him lined up on a linebacker, he's good at that stuff. It's just matter of getting reps with him and allowing him to do it, and our coaches getting some confidence in all of that."
Flacco seemed excited by the prospect of Rice in the slot and Pierce (who will miss some time with an injury picked up in Thursday's game) in the backfield at running back.
"That would afford us to be a little more creative," Flacco said of Pierce's presence as a run threat as well. "It's definitely a possibility we do some of that."
Westbrook himself, who is doing NFL analyst work in the Mid-Atlantic region, maintains a dialogue with Rice and believes he could thrive in the slot.
"It's a different mind-set in the slot," Westbrook said, "and you really want to let your guys prepare for that before the season starts so they can get their body set, thinking totally different than just running between the tackles.
"If you run between the tackles, that extra 10-15 pounds is good. If you're in the slot, that's not needed and you want to be as agile as possible. I've seen Ray's body change some and in the last few years it seems to be a little bit thicker, but I definitely think he can do it. There's no doubt in my mind he can do it; he has hands and agility to do it. I think it's something they should do more of."
Observations
• Terrell Suggs, being scrutinized by some more closely as a team leader with Ray Lewis and Ed Reed departed, handled a situation in the preseason opener with aplomb. A young defensive back attempted to lateral a ball after an interception -- something Reed made famous -- and Suggs, still engaged in the game long after he had stopped playing, raced to the field on the change of possession to scold him but also to pump him back up. Suggs' focus could be questioned at times, ditto for his conditioning, but he's been an inspiration in this camp and could be back to his 2011 form.
• Haloti Ngata says he is healthier than he has been in a long time and with the Ravens looking to have their deepest rotation along the defensive line in a long time, it stands to reason he too could be on the cusp of getting back to his dominant ways.
• After Torrey Smith, the Ravens have a wide-open competition for receiving spots. It has become the biggest question mark on what is again a strong roster, and it could play out for quite some time.
Jacoby Jones didn't have a great start in the preseason opener and isn't a natural catcher of the ball, though he has great speed and instincts. Still, he isn't the typical No. 2 guy.
After that, things really get muddled. A few years ago the staff thought David Reed would emerge -- he hasn't come close but is getting another shot. LaQuan Williams, in his third year out of Maryland as an undrafted free agent, and seventh-round pick Aaron Mellette had strong outings in Thursday's win (Mellette struggled at Saturday's practice, however). It would be difficult to call this a particularly deep position group and at some point maybe the Ravens explore the free-agent market (and it's slim pickings there as well), or sign players who get cut elsewhere.
The organization is confident that candidates will emerge and Flacco will hasten their development, and the competition between these guys, as well as Tandon Doss, a fourth-round pick in 2011; Marlon Brown, who missed last season due to injury; and Deonte Thompson, a 2012 undrafted free agent, will likely go down to the final cuts.
"Tandon and Deonte, they've caught my eye for a while," Flacco said. "Deonte with the way he runs and Tandon with the way he catches the ball. And Marlon Brown tore his ACL last ear, but I think he's got potential. He's big, fast, strong. He doesn't know that much yet, and he's just really starting to get out there and run around for us, but I think he's got a good amount of potential. I'm not sure how much we'll be able to use him, but he's a guy I think could be pretty good."
• Left tackle Bryant McKinnie has clashed with the Ravens at times over his weight, conditioning or contract, but it was shrewd of them to retain him on the cheap as a free agent, and even some in the organization who have been skeptical of him in the past have been enthusiastic by the "fire" he's showing in this camp, as one team official put it. A year ago he was AWOL from the start of camp but ended up regaining his starting spot late in the year and was a key part of their Super Bowl run. • The battle between Gino Gradkowski and AQ Shipley for the center spot could go on for quite a while. I asked if there was a need to settle the center/quarterback exchange sooner rather than later given its import, but got the sense it could continue through all the preseason games if need be.
• One player who could emerge in the absence of Pitta, and by the return of fullback Vonta Leach, is rookie fullback Kyle Juszczyk. The Harvard product is being used as a "move tight end" with the ability to get out in the slot. He must continue to work hard on his blocking, though the return of Leach, a superb lead blocker, should lessen that somewhat. Even Juszczyk's Ivy League background didn't prepare him for the full volume of the Ravens' playbook, the rookie said, but expect to see more and more of him as the real games approach.
• Veteran linebacker Daryl Smith is likely another in a long line of value, late-signing free agents who provides big dividends -- something this astute front office has made a habit of. Harbaugh, not one for false platitudes, was gushing about Smith's performance in the preseason opener.
"There wasn't one negative aspect in his performance," Harbaugh said, saying he expects the former Jaguar to be "a big part" of his defense.
• Don't worry about any complacency around here. Even after his team spanked Tampa in the preseason opener, Harbaugh was loud, vocal and critical of his players for missteps in Saturday's practice. Feisty as ever.
• Backup quarterback Tyrod Taylor won't see the field much as long as Flacco is healthy, but he executed read-option principles very well in the opener and provides a great look in that regard for the defense when need be.
"It definitely throws the defense off," he said of the option look.
Jeremy Lane also stood near Bennett along with pass rushers Cliff Avril and Frank Clark

Bennett also dedicated it to 'all of the other athletes using their platform to promote ch...

The Patriots quarterback shows commitment from Day One
Cardinals' running back says he's feeling more energized

The Vikings' receiver is wearing his heart on his foot

The Ravens need help on the offensive line after dealing with injuries and a surprise reti...