Ravens GM Ozzie Newsome on Ray Rice video: 'It doesn't look good'
Ravens general manager Ozzie Newsome said he was concerned about the Ray Rice incident but that he was reserving judgment.
• 1 min read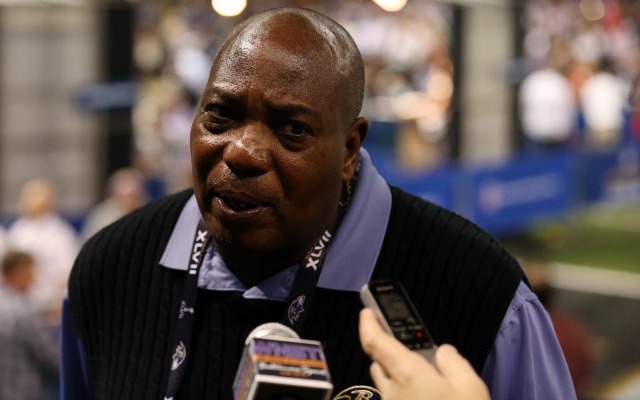 More Draft: NFL Mock Drafts | Prospect Rankings | NFL combine workout results
INDIANAPOLIS -- It's been more than a week since Ravens running back Ray Rice was arrested for simple assault, and although a video from the apparent aftermath which appeared to show Rice dragging his unconscious fiancee out of an Atlantic City hotel elevator was released three days ago, general manager Ozzie Newsome hasn't spoken to Rice.
But Newsome acknowledged Saturday that the video wasn't a great-looking visual for Rice.
"It doesn't look good," Newsome said.
Newsome went on to say, though, that he'll reserve judgment of the incident until he has the chance to talk to Rice. While Newsome has been wrapped up in rules committee meetings and the NFL combine and, thus, hasn't had the chance to speak to his running back, John Harbaugh and other members of the Ravens organizations have done so.
"It's very concerning," Newsome said. "Up until we get all of the facts, we'll allow the process to run its course. As coach Harbaugh said, we'll let the facts determine what the consequences will be."
When news of the arrest first appeared, the team said it still planned to use Rice moving into the 2014 season. And while Newsome said he feels good about Rice's side of the story -- though he hasn't heard it directly from Rice -- he knows the league also might have a say in Rice's on-field availability.
"As a league, we have a conduct policy," Newsome said. "As a member of the league, we'll follow that from A to Z. Up until we get to that point, he falls under the personal conduct policy with the league. We'll allow the league to takes its position before we do."
Nobody will mistake Joe Looney for his star teammates

Osweiler is being benched in favor of DeShone Kizer

Madden season is almost here again. Here's everything you need to know.
Rob Gronkowski, in an attempt to stay healthy, is turning over a new leaf in 2017

Cyrus Mehri says players have gone backward under Smith's leadership

Preseason Week 3 is go time -- jobs are won and depth charts are solidified