Ravens hope to unveil Ray Lewis statue before 2014 season starts
If things go as planned, Ray Lewis will have a statue outside of M&T Bank Stadium in Baltimore before the 2014 NFL season kicks off.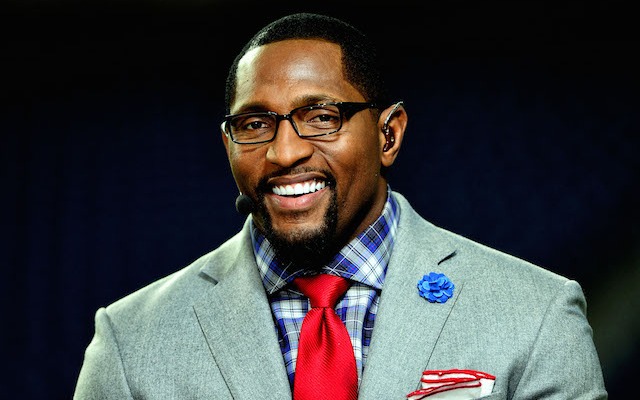 The Johnny Unitas statue that stands outside of M&T Bank Stadium in Baltimore is about to have some permanent company. Ravens owner Steve Bisciotti said this week that he hopes to have a Ray Lewis statue up before the 2014 NFL season kicks off. 
According to Bisciotti, artist Frederick Kail is well on his way to making that happen. Kail is the same artist who sculpted the Unitas statue. 
"He's well into it," Bisciotti told ESPN.com. "I haven't seen any progress pictures, but the original stuff was just off the charts. We think we'll have it done before the season starts."
Bisciotti first announced plans for a Lewis statue after the Ravens won Super Bowl XLVII over the 49ers in February 2013. However, at the time, Bisciotti said it was probably a 'year or two' away. 
The statue won't be the first time the Ravens have honored Lewis, the team also honored him last season when he became the sixth player in franchise history to be inducted into Baltimore's Ring of Honor. Lewis joined running back Jamal Lewis (2012), kicker Matt Stover (2011), tackle Jonathan Ogden (2008), outside linebacker Peter Boulware (2006) and defensive end Michael McCrary (2004).
Lewis spent his entire 17-year career in Baltimore and during that time he won two Super Bowls, made 13 Pro Bowl appearances and won two Defensive Player of the Year awards (2000, 2003). He was also named the best middle linebacker in football history -- that honor was given to him by Brian Urlacher. 
It looks like we're going to have a quarterback competition in Jacksonville

Smith is facing up to seven years in prison if convicted

Plus everything else you need to know about Week 2 of the 2017 NFL preseason
This is why being a rookie in the NFL isn't fun

The Raiders running back went Beast Mode on reporters

Elway tried his best to emphasize how complicated the situation is