Ravens hopeful of extending left tackle Eugene Monroe
Eugene Monroe has thrived since coming over from the Jaguars, and the Ravens are hopeful of extending the left tackle, Jason La Canfora reports.
• 1 min read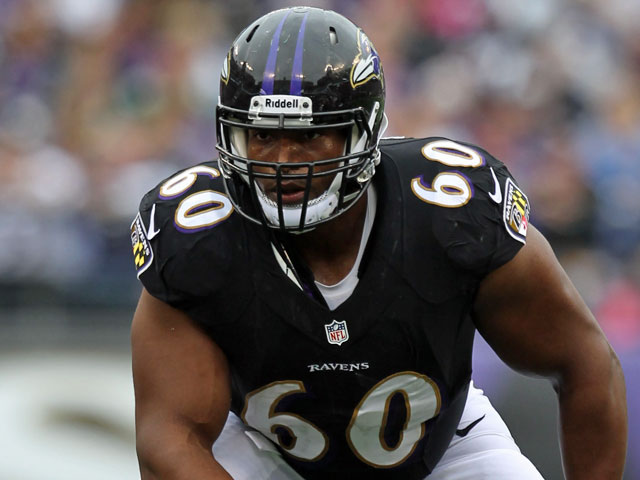 For more news and notes from Jason La Canfora, tune into The NFL Today Sunday at noon ET on CBS.
The Baltimore Ravens are hopeful they can retain left tackle Eugene Monroe, according to team sources, after acquiring him from Jacksonville in a midseason trade. Monroe is eligible for unrestricted free agency in March, but keeping him is a priority for Baltimore, which has gone through some instability at left tackle since Hall of Famer Jonathan Ogden retired.
The Ravens parted with a fourth and fifth round pick to land Monroe -- a steep price for a "rental" and especially steep for a team that prizes draft picks as the Ravens do -- and with right tackle Michael Oher's future very much in doubt with the team, the team will attempt to secure Monroe long-term when then season ends, sources said. Oher, a former first-round pick, has shown he can not play left tackle and even as a right tackle, struggles in pass protection and commits a lot of penalties. Contract talks with Oher prior to the season yielded no real progress, sources said, and the team is unlikely to make Oher among the highest-paid right tackles in the league.
Monroe, after an adjustment period, has fit in well in Baltimore on the field and off and if the Ravens can keep him at left tackle -- the team has gone on a 5-2 surge with him manning the position -- and invest some of the money Oher would command there, it opens up other opportunities. Guard Kelechi Osemele, who is on IR with a back injury, has shown an ability to thrive at right tackle as well, and if the Ravens make that move and then draft a guard on the second day of the draft, it could be a cost-effective and prudent tact to take rather than trying to find another left tackle.
Monroe is a former first-round pick himself and several other teams tried to secure his services after finding out the Ravens were on the verge of acquiring him from the Jaguars, but by that point it was too late. Monroe, after spending his entire career on losing teams, is  very open to the idea of remaining in Baltimore, and securing a deal with them prior to the start of free agency, sources said.
If Thomas is right, that means it's bad news for DeShone Kizer's chances of starting early

The NFLPA denied the accusation and fired right back at the league

The Raiders bangwagon continues to take on passengers ahead of the 2017 season
Madden season is almost here again. Here's everything you need to know.

The Rams' No. 1 pick is anything but fazed after taking his lumps during a brutal rookie s...

Breaux, who emerged as the Saints' No. 1 cornerback during the 2015 season, could miss 4-6...