Ravens' Justin Tucker: I could probably hit a FG from 70 yards
If the perfect situation came up in a game, Ravens kicker Justin Tucker said he thinks he could make a field goal from 70 yards out.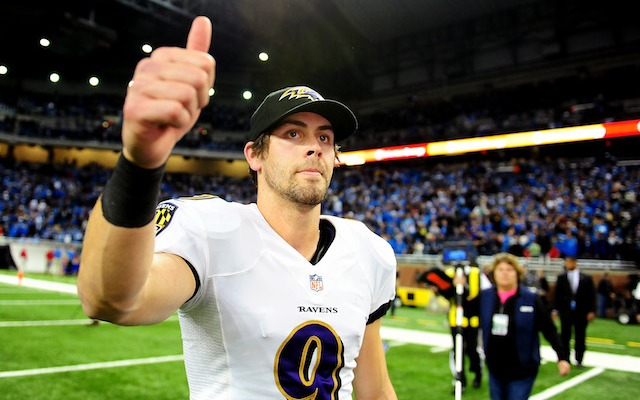 Denver Broncos kicker Matt Prater set an NFL record this season when he hit a field goal from 64 yards, the longest kick in league history. However, Prater probably shouldn't have a plaque made because by the time it's done, Ravens kicker <player idref=er might have the record. 
Tucker hit a 61-yarder against the Lions in Week 15, but that's nothing compared to what he thinks he can do. If the conditions are right, Tucker said he could hit a field goal from 70 yards in a game. Of course, Tucker explained this using golf metaphors because that's how kickers explain things. 
"If I pulled out the 8-degree driver -- on a day when I'm feeling real fresh -- I could probably hit one from 70 yards," Tucker said, via USA TODAY Sports. "I hit one from 70 yards in pregame in Detroit this past Monday night."
Seventy yards sounds impressive, but then Tucker keeps talking and it becomes less so. "In practice I've hit from 79 yards," Tucker said. "That was in Denver before our opener in September. The weather was perfect; the field was good. With the altitude in the Rocky Mountains, the ball jumps off your foot."
HE JUST SAID HE HIT A KICK FROM 79 YARDS. There's video of Raiders kicker Sebastian Janikowski hitting a 70-yarder in warmups against the Broncos in 2011, but that's not 79 yards. 
Although Tucker says he can hit from 70 yards in a game, he knows that opportunity is not going to present itself often. "The reality is a situation like that will come up once in a blue moon. But if you have that club in your bag, you never know when you're going to need to use it," Tucker said. 
If Tucker can hit from 70 yards, the real winner here would be the Baltimore offense because that means Joe Flacco wouldn't even have to lead the team across midfield anymore to get the Ravens in field-goal range. 
The other real winner here would be Tucker. Dr. Pepper sent Tucker some free Dr. Pepper after the Lions game. If Tucker ever connects from 70 yards, they might just give him all of the company's stock. 
Here's a look at the NFL's entire postseason schedule for 2018

Carter spent three years in Philly at the beginning of his career before becoming a star in...

CBS All Access allows viewers to stream every NFL game on CBS in their local market
Our computer model simulated the AFC and NFC title games 10,000 times with surprising resu...

The troops will be able to watch the AFC and NFC Championship games thanks to the NFL

Burkhead has been out with a knee injury since Week 15