Ravens owner Steve Bisciotti: Ray Rice will 'definitely be back'
Baltimore Ravens owner Steve Bisciotti said on Monday that his team has no plans of cutting ties with Ray Rice, who was charged with simple assault-domestic violence in February.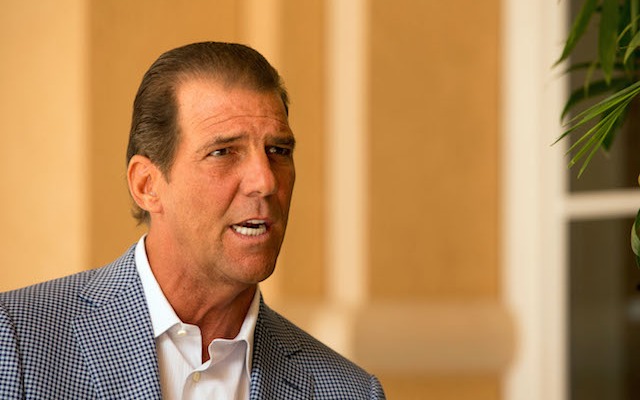 Ravens running back Ray Rice is facing a simple assault-domestic violence charge in New Jersey, but that won't cost him his job in Baltimore. Ravens owner Steve Bisciotti said on Monday that Rice will 'definitely' be back with the team for the 2014 season. 
Bisciotti said he's willing to give Rice the benefit of the doubt because of all the goodwill the Ravens running back has built up. 
"I don't know of any other player that's ever generated as much goodwill in our building and in our community as Ray in those six years," Bisciotti said at the NFL owners meetings, via the Ravens official website.
Rice and his fiancee Janay Palmer were involved in an altercation at a casino in Atlantic City, N.J. in the early morning of Feb. 15. Palmer has also been charged with simple assault-domestic violence stemming from the incident.
"I know how terribly disappointing it is to Ray and his fiancée, how embarrassing it is for them. I have to have compassion towards him," Bisciotti said. "He'll be back with the team. He'll definitely be back."
Bisciotti then went on to say that it's important for the organization to support Rice, "Ray has not experienced any [adversity]. He's just been lauded as the nicest, hardest working, greatest guy on the team and in the community. So we have to support him," Bisciotti said. "I think we'll be rewarded by him maturing and never putting himself in a situation like that again."
Ravens coach John Harbaugh said in early March that Rice and Palmer have agreed to attend couples counseling, something that might help the two of them, but Bisciotti doesn't think it will help the public's perception of Rice. 
"This is going to hurt his reputation, regardless of how it works out," Bisciotti said. "It's humiliating to him and his fiancée, and they're both dying over this negative publicity."
Rice was one of three Ravens to be arrested over a 22-day period this offseason and Bisciotti says his players need to just stop putting themselves in bad situations.
"They are a smudge on the organization," Bisciotti said of the arrests. "But these guys have to realize that they're not kids, they're grown men. You've got to find your balance in life to make sure you don't put yourself in these kind of situations; whether it's hanging out with the wrong people or being in the wrong places or drinking too much in public, which I think contributed to one if not maybe all three of those issues."
The other Ravens arrested this offseason include Deonte Thompson, who was arrested and charged with marijuana possession on Feb. 22. Backup offensive lineman Jah Reid was also arrested. Reid was charged with misdemeanor battery on stemming from an incident on March 9. 
The Chiefs took a big step toward winning the AFC West title

The Lions cruised to a victory but will need to win out to have any chance of reaching the...

Here's every official injury designation for each NFL team for Week 15
This might go down as the best catch of Week 15

Our computer model simulated every Week 15 NFL game 10,000 times with very surprising resu...

Ryan Shazier and the Steelers were the big winners in Pro Bowl voting that was unveiled on...