Ravens RB Ray Rice not a fan of fantasy football anymore
Ravens running back Ray Rice took to social media on Sunday to let some fantasy football players know he wasn't the 'spiteful' words he received on Twitter.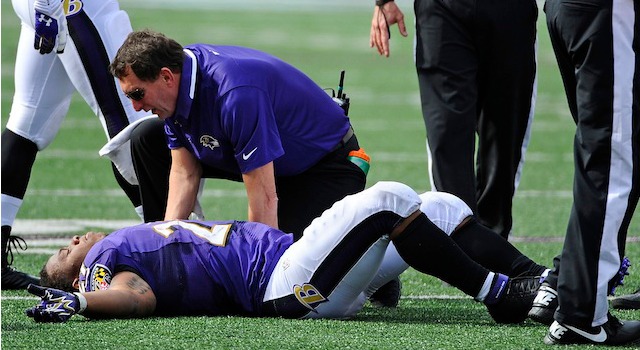 People on Twitter have officially ruined fantasy football for Baltimore Ravens running back Ray Rice.
Rice struggled on Sunday in Baltimore's 14-6 win over Cleveland, he carried the ball 13 times for 36 yards before leaving the game in the fourth quarter with a hip injury. Some fantasy football fans weren't happy with Rice's production and they let him know on Twitter.
Rice wasn't thrilled with the 'spiteful' things people had to say, so he fired back: 
I was a fan of fantasy football until today so many spiteful and hateful words I still love you all God Bless great win today #Ravens

— Ray Rice (@RayRice27) September 15, 2013
Personally, when I don't like the way one of my fantasy guys plays, I bench him or trade him or release him. For instance, last week I totally traded Peyton Manning because he didn't throw eight touchdown passes against Baltimore. I know what you're thinking, 'that's dumb,' but it's not because I lost my fantasy game by five points and if Peyton had thrown eight touchdown passes, I would've won and it's his fault and now I have Chad Henne and I'm happy. 
Anyway, lets all promise to be nice to Ray Rice on Twitter. 
Worley faces six charges from his arrest on April 15

The Seahawks need a backup quarterback and Kaepernick needs an NFL team

Several members of the Eagles' Super Bowl roster have made it clear they wouldn't make the...
The horse named after the Patriots tight end has an unspecified injury ahead of one of the...

Brooks used some colorful language to explain his restructured deal

The former first-round pick faces three felony charges, including one for domestic violenc...