Ravens RB Ray Rice on retirement: It's always something to think about
Ravens running back Ray Rice wants to play at least 10-years in the NFL, after that, the fifth-year running back might start thinking about retirement.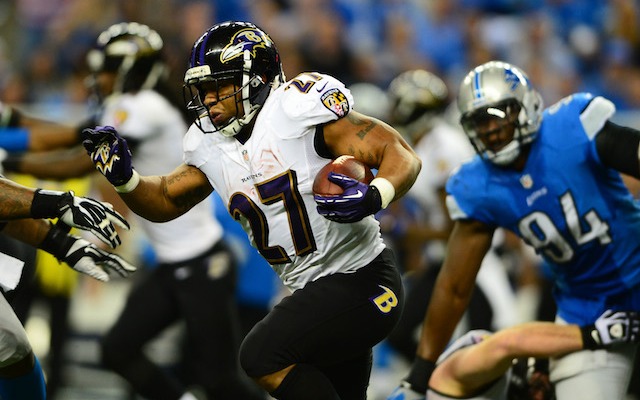 Baltimore running back Ray Rice signed a five-year, $40 million deal with the Ravens in July 2012 that will keep him in Baltimore until after the 2016 season, after that though, don't be surprised if you hear Rice start to talk about retirement. 
The sixth-year running back said on Wednesday that his goal has always been to play in the NFL for 10 years, then after that, he might call it quits. 
"It's always something to think about at the running back position," Rice said. "I'll just put it out there -- my goal was to make it 10 years in the NFL. Anything after 10, if I can't do it the way I want to, then it's something to think about."
Rice is in the middle of the worst season in his six-year career. The 26-year-old running back is on pace for 698 yards, a number that would be his lowest total since he ran for 454 yards in his rookie year. However, in his rookie year, Rice averaged 4.2 yards per carry. This season, Rice is only averaging 3.1. 
Even though he's struggling, don't look for him to call it a career before he makes it to 10-years in the league, "I'm still young; I'm only going to be 27 in January," Rice said. "So, there's a lot of football left to be played. With that being said, I have priorities too. You know I have a young daughter, and you've just got to put all that in perspective when you're going out there week-in and week-out, especially when you get older in your career."
It sounds like Rice wants to the Barry Sanders path to retirement. The Hall of Fame running back retired at the top of his game in 1998, after playing for 10 seasons. Sanders led the NFL in rushing in four of his 10 seasons and ranked fourth in the league during his final year in 1998.
Plus Christian McCaffrey looks awesome, Mariota delivers and more from Saturday's preseason...

The second-year quarterback already looks fantastic for the Cowboys

If you're an NFL team and you want Phillip Dorsett, just give the Colts a call
Carolina's offense featured McCaffrey in a multitude of ways on Saturday

This is why you should only eat dinner alone

The Kaepernick situation is slowly turning into a black eye for the NFL